Every sports fan would agree that Kristine Leahy certainly has one of the most enviable jobs in the world. The gorgeous American lady is a sports journalist who often rubs shoulders with some of the biggest superstars in the world of sports. This includes the likes of heavyweight boxer Deontay Wilder, NFL wide receiver Josh Reynolds, and NBA forward Jeff Green.
Leahy dispels the wrong notion that ladies and sports do not mix; another gender jinx that has ailed the world for centuries. Though she experimented with so many other career paths, the Boston University alum has always known from childhood that her passion lies in sports reporting and started early to pursue it. Needless to say, Leahy's hard work and dedication in her chosen field has finally paid off as she is today one of the most recognizable names in sports reporting.
Kristine Leahy Grew Up in Chicago When The Bulls Were Dominating the NBA
Kristine Leahy was born on the 16th of October 1986 in Chicago, Illinois. Having spent all her formative years in the city during the time Michael Jordan and the Bulls dominated the NBA, it is no surprise to see that she took a great interest in sports as a child. Many other kids in the city felt the same way as the legendary basketball player promoted not just basketball but other sporting activities as a result of his competitiveness and stint as a baseball player.
It further happens that Kristine has a couple of brothers who she must have also gotten the sporting fever from. The young girl thus kept at it as she attended Prairie Ridge High School in Crystal Lake, graduating in 2005. She subsequently moved to the New England Area for college, enrolling at Boston University to study Journalism and earning her degree in 2009.
As she already had her preferred field in Journalism well mapped out, Kristine Leahy focused on sports journalism during her college days. She joined the school's TV station, BUTV, where she helped to create the first and only campus-based sports show which she equally produced and hosted. In this role, she got the opportunity to interview Theo Epstein, the general manager of the Boston Red Sox.
Her First Job After Graduating Was at a Sports Radio Station
Kristine Leahy did not let the grass grow under her feet after leaving college in 2009 as she almost immediately landed a job at a local Boston sports radio station known as WEEI. While she spent only two years there functioning in her capacity as a reporter and host, it was thanks to this particular exposure that she was subsequently able to become an official reporter of the Boston Celtics of the National Basketball Association.
Leahy was equally the official reporter of Celtics.com. She spent three years with the team, from 2009 to 2011, a time during which she covered various activities of the team. The young reporter later left the Celtics for Fox Boston in 2011. She spent a year with the news outlet, covering all professional sports teams in Boston. In 2012, she took the conscious decision to move to Los Angeles, California in the hopes of landing a position on a major network.
Her Move To Los Angeles Gave Her The Exposure She Needed To Excel
Kristine Leahy covered a plethora of different sports and worked with various outlets after arriving in the City of Angels. Most notable among them is her stint as a sideline reporter for Turner Sports where her beat involved covering March Madness – the climax of college football and basketball season in America.
Leahy also worked with a variety of CBS affiliated sports outlets, including the local CBS Los Angeles news. She also served as the sideline reporter for American Ninja Warrior, a sports entertainment competition where competitors are required to overcome various obstacles.
In 2015, Kristine Leahy took up what is currently her most popular role to date. She began to serve as a co-host and newswoman of Fox Sports 1's simulcast of The Herd with Colin Cowherd. She joined Colin in September 2015 after the former ESPN Radio host migrated to Fox. Colin helped pave way for Leahy to land at Fox when he cited a lack of female voices in sports talk radio. Also, her history of developing very useful sources as a sports journalist made her the preferred candidate for the role.
Kristine has had quite a few intense interviews on the show. The most notable of them is her confrontation with LaVar Ball for which she claims to have received death threats.
In 2018, the television host was given her very own show titled Fair Game with Kristine Leahy on Fox Sports 1. The show debuted in October of that year and featured up-close and personal interviews with different sports personalities. Unfortunately, it lasted just over a year as it was canceled in December 2019.
Her Work Has Been Well Rewarding
Conservative estimates put Kristine Leahy's net worth at $2 million although her annual salary is not known. The Chicago native certainly deserves commendation for succeeding in a male-dominated industry. Her achievements have, however, not come without some hiccups. She has had to deal with several challenges including sexism but has managed to come out on top due to her determination.
Leahy has further received several awards for her exploits in sports journalism. She notably received the 2016 Gracies Award (On-Air Talent Sports) for her work on The Herd with Colin Cowherd.
Kristine Leahy is the Girlfriend of Fitness Instructor Aaron Hines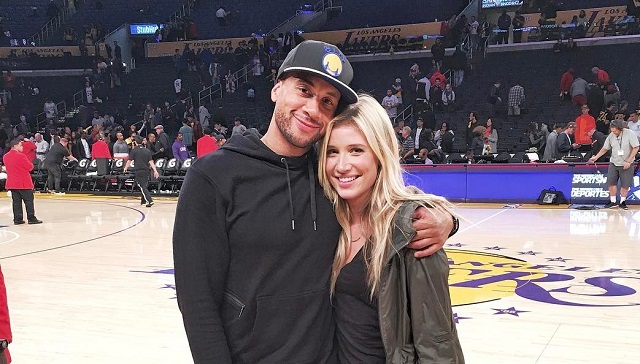 While the 5 feet 10 inches tall Kristine Leahy is yet to take the walk down the aisle with any man, she is known to be in a relationship with renowned fitness instructor and personal trainer Aaron Hines.
Hines is a training director at the popular workout outfit, Cycle House. He has also appeared on the E! Reality TV series, Hollywood Cycle. Additional information on him shows he is an alumnus of the University of California and has worked for pharmaceutical companies such as Pfizer and Allergan in his capacity as a professional health trainer.
The exact timeline of Leahy and Hines' relationship is not known. However, it is not hard to see that they are very much in love. Searches have revealed no other relationships for the sports reporter but that is not to say that she never had any. These things are sometimes kept under lock and key.