Kristy Althaus is a controversial pageant queen popular for allegedly losing her place in the Miss Colorado Teen USA pageant after being ensnared in a porn scandal.
Naturally, beauty pageants depict an air of perfection but it is no longer news that even beauty queens are subject to scandals. From controversial comments to indecent photos/videos, lawsuits, drug use, secret pregnancies, and lies, pageant history has had its fair share of fascinating drama. While some pageant queens and winners come out unscathed from such scandals, others have ultimately been stripped of their crowns or titles. However, Kristy Althaus' case may not be the most scandalous yet.
Who is Kristy Althaus?
Born on May 2, 1994, in Aurora, Colorado, Kristy Althaus was a promising college student when she contested for the 2012 edition of the Miss Colorado Teen USA pageant and emerged a runner-up behind that year's winner Jacqueline Zuccherino, implying that she could step in if the winner was unable to fulfil her duties.
Why Was She Stripped of Miss Colorado Teen USA? 
After an adult video of Kristy emerged online more than a year later, it appeared the judges changed their minds and stripped the beauty queen of her title. The porn clip shows Althaus seated on a bed, facing the camera and when a male voice behind the camera asks how old the model is, she replies that she's 18. The man also inquires if the video was her first adult video and she replies in the affirmative.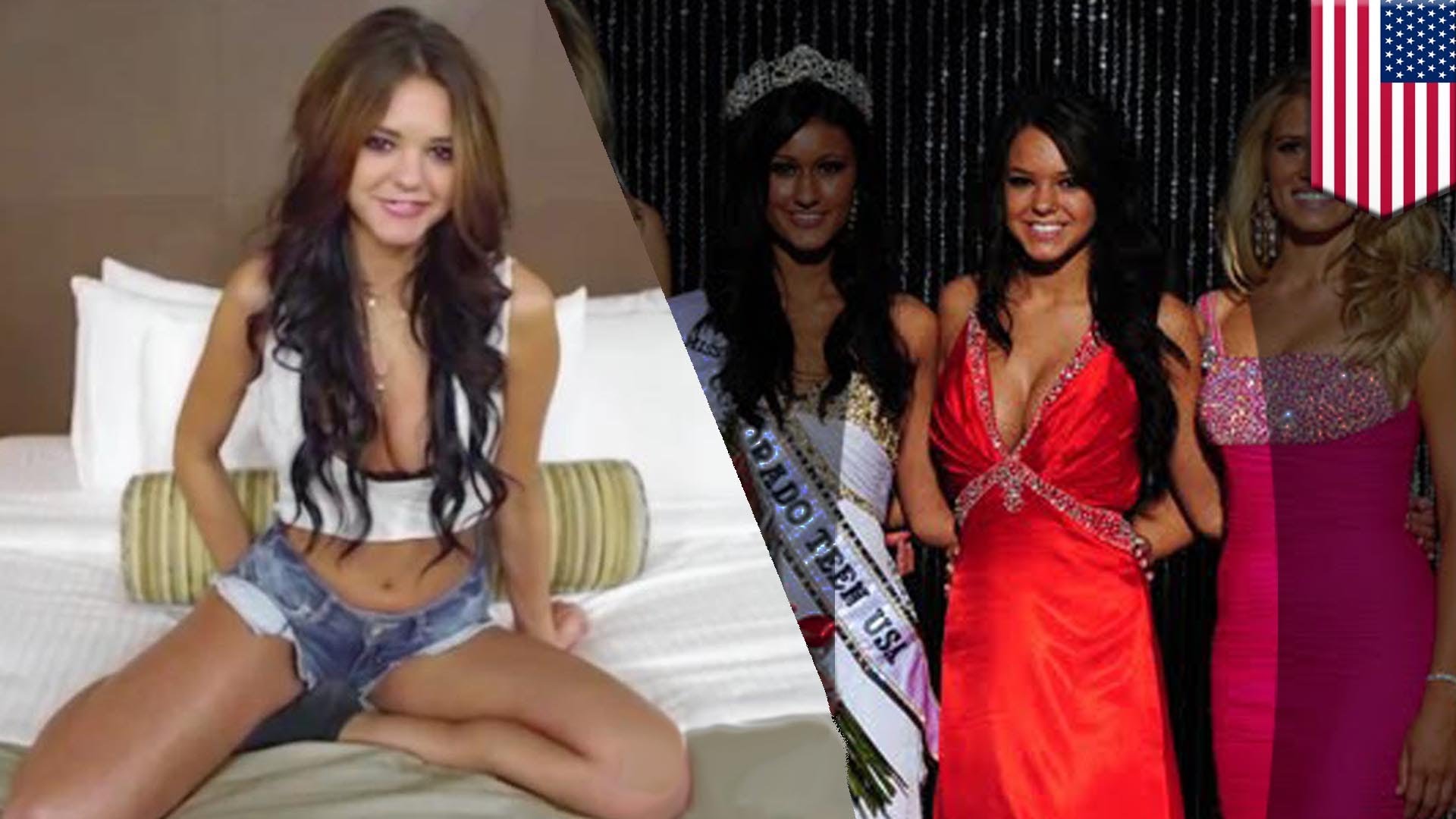 Though it was never officially confirmed that Kristy Althaus was stripped of her title following the infamous video, Future Productions the promoters of the pageant, however, cleared all references to Althaus after evidence of the video emerged. They not only removed her name from the 2012 Official Results website but also deleted a YouTube video showing the moment when the results were called out during the pageant.
It remains unconfirmed that it was actually Kristy Althaus in the viral video, but the beauty queen deleted her Twitter page, shortly after the brouhaha. Moreover, neither Kristy nor the organizers of the Miss Teen Colorado USA pageant have made a public statement about the adult film porno scandal.
There have been arguments that Althaus did not do anything wrong in the eyes of the law, but another school of thought believes she's guilty as charged based on morality. However, on the Miss Teen USA pageant website, the only official moral standards stated for eligibility in the competition are that contestants must have never married or had a child, and must remain single throughout their reign. This then defeats the argument that the young beauty queen did any wrong with her infamous video.
A few months later, Kristy Althaus, however, appeared to have taken the decision to make a career in the adult entertainment business. She excited porn enthusiasts with a comeback after another video featuring a woman who bears a striking resemblance to her surfaced online on Girls Do Porn – a site that specializes in amateur girls. In the second video, the woman blows a kiss to the camera but not before quickly saying 'I just wanted to come back'. The video was reportedly being used to promote sales on another site.
See Also: Lebohang Monyatsi – 5 Things To Know About The First African Woman To Model In A Wheelchair
Pageant queens have had to live with the pressure of not jeopardizing their reputation and Kristy Althaus is one of the many who has pushed the boundaries a little too far. She has now become more popular as a beauty queen turned pornstar which is contrary to the expectations people naturally have for beauty queens that are supposed to be role models for youths. While she appears to be enjoying her new profession, it doesn't change our perception of beauty pageants which will remain one of those competitions we love to hate!
Relationship, Boyfriend 
Kristy Althaus is linked to having dated Derek Wolfe, an American professional football player who played for Denver Broncos, a successfully popular team of the National Football League. Kristy who was then a college student in Colorado was in a long-distance relationship with Derek while he was playing for Denver Broncos.
After the porn video scandal, Derek who thought the indiscretion was a one-off, stood by Kristy and proudly proclaimed his love and affection for her on social media. But the duo eventually quit the relationship after Derek purportedly discovered that Kristy intended to take up porn as a career. Derek also deleted all of his social media accounts thereafter.