Established under section 55 of the Universities Act, 2012, the Kenya Universities and Colleges Central Placement Service (KUCCPS) is a state institution that guides, coaches and selects students for admission into several accredited universities, polytechnics, technical training institutes, and other institutions of higher learning.
Simply put, this is a program sponsored by the government of Kenya whereby they organize and place students into Kenyan universities and colleges, equip them with all information on available programs, implement and develop career guidance, and retain their data relating to the university's placement. It is a part of the government of Kenya which is responsible for the selection of students for admission into institutions of higher learning for government scholarships. Before a candidate is offered admission, there are various requirements to be met. Read through to know about all the details.
What Are The Requirements For KUCCPS Placement?
Opportunities are given to all Kenya Certificate of Secondary Education (KCSE) examination candidates to select and submit the courses they wish to study after their secondary education at degree, diploma, craft, and artisan levels. To be eligible to apply for KUCCPS admission placement, there are basic requirements that should be met. Below are the requirements:
KCSE index no
KCPE index no
Birth certificate number
Enough money in your Mpesa account for payment of revision
Application/Revision Charge
To gain admission through KUCCPS, candidates must have a minimum grade of C in core subjects of the Kenyan Certificate of the Secondary Examination (KCSE) which must be relevant to the course you are applying for.
Step-by-Step Procedures and Guidelines to Apply For Placement at KUCCPS
Male candidates with an overall grade of 60 points (B) and 58 points for females are allowed to make a total of 6 choices for either degree or diploma programs. Then, male candidates with grades of C and above but below 60 points (B) and B for females are allowed to make a total of 6 choices from diploma programs. Follow the easy steps below to apply for your KUCCPS.
Using your desktop or smartphone, log in to the KUCCPS application portal
You will be required to input your index number, birth certificate number, and the year you sat for the KCSE examination. Students could also use their KCPE index number as an alternative to their birth certificate number in case it is not available.
All courses have minimum subject requirements and you will only be able to apply for a course which you met its requirements
Check and enter your preferred courses or programs of study. You can access this by entering the particular program you want to study e.g Bachelor of Engineering (Civil
Engineering), click on it
The next page will show the subject requirements for the course and the codes that will be used on the application. View all available programs and their requirements by clicking on the Programmes tab in the portal. You can alternatively search for courses by institution, using the Institutions tab
After you have selected your preferred course, you will be required to enter the program code
Click on the Application/Revision tab to view and enter the program code
Confirm that the code you entered is correct, and click on submit, then follow the application fee payment instructions.
This is the stage to make the application fee payment (follow the steps discussed below). Note that the placement processing fees can only be made after you have successfully selected courses.
Is KUCCPS Application Free?
KUCCPS application processing is not free. The first-time application fee is Kshs 1500 and Kshs 1000 if you had applied before but want to make revisions. Ensure to write down your transaction code in a safe place as you will need it when you want to make changes or revisions to your first application.
How to Make Application Payment
Go to your Lipa na M-PESA Menu
Click on Pay Bill
Enter the Business Number 820201
For the Account Number, enter your KCSE Year and KCSE Index Number (enter the numbers without space)
Input your M-PESA PIN and Send
Other essential changes can be made by the students subsequently after they had successfully processed their application.
Application Tips to Note
Process and submit your application early. Do not wait for the last day.
An application must be done online following the guideline given above.
All payments for application MUST be made through MPESA as any other payment will not be accepted
Ensure not to delete the Mpesa message you receive after payment. Record the details somewhere as stated earlier but if you mistakenly delete it, you can recover your Mpesa statement from Safaricom to retrieve the code.
Pay your application fee at a go and not split it for any reason. For example, don't pay 1000 and afterward 500, or 500 and then 500, etc
Check and cross-check your index number before clicking on submit. If you enter a wrong index number, it will take a while to reverse, and then you have to start all over again.
University applicants should note that private universities might require a higher fee than public universities.
KUCCPS Contacts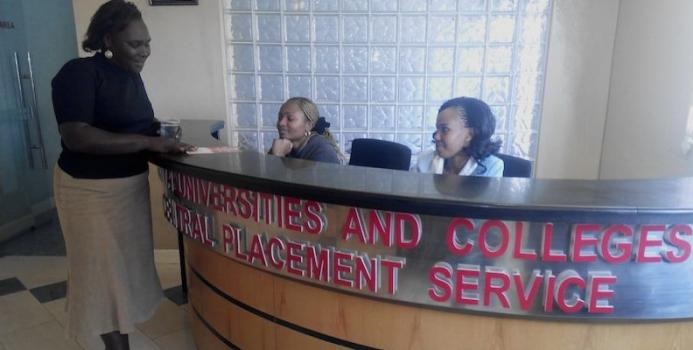 For further assistance or inquiries during the application period, you may visit the KUCCPS offices at 1st Ngong Avenue, ACK Garden Community. Inquiries can also be made by sending an email via [email protected], Website: kuccps.ac.ke, or Call 0723-954-927 or 0734-879- 662 between the working hours of 8 am and 5 pm.
All the Programs and Courses Under KUCCPS placement
Below are the full details of all the courses offered by the Kenya Universities and Colleges Central Placement Service (KUCCPS)
List of KUCCPS Bachelor Courses
Law
Business & Related
Arts & Related
GeoScience & Related
Special Education
Kiswahili & Related
Engineering, Technology
Architecture, Design, Planning
Computing, IT
Agribusiness & Related
Science & Related
Mathematics, Economics
Design, Textiles
Sports, Physical Education
Medicine, Nursing, Health
History & Related
Agriculture, Food Science, Environment
Geography, Natural Resources Management
French & Related
German & Related
Music & Related
Education Science & Education Arts
Religious Studies & Related
List of KUCCPS Diploma Courses
Education Arts
Clothing Textile
Health Sciences
Tax Administration
Tourism and Hotel Management
Technical
Computing
Education Science
Custom Administration
Business
Social Sciences
Engineering
Sciences
Certificate Courses
Tax Administration
Health Sciences
Business
Hospitality
Technical
Clothing Textile
Engineering
Computing
Social Sciences
Customs Administration
Sciences