When you are worth millions of dollars, people want to know how you amassed all that wealth and the interest is no different for Kurt Angle's net worth. If you don't know Kurt Angle for his extremely successful wrestling career, then you may know him for his appearance in multiple movies or from being a published author. Although a vast amount of his wealth stems from his wrestling career, which we would explore in this article, he has also made quite a lot of money from other ventures like writing and acting.
His full name is Kurt Steven Angle and he was born on the 9th of December 1968 in the Pittsburgh suburb of Pennsylvania, United States of America. His father's name is David Angle and he worked as a crane operator before he died in a work-related accident when Kurt was only 16 years old. His mother's name is Jackie Angle and suffered from cancer before passing away in 2015. He was raised with 4 elder brothers and one sister.
Kurt Angle, a retired professional wrestler attended the Mt Lebanon High School and while he was there, he excelled in various sports including wrestling and football. He was so good at wrestling that he qualified for the state wrestling tournament while he was still in his sophomore year. He eventually won the Pennsylvania State Wrestling Championship in 1987 when he was still a high school senior. After high school, he attended the Clarion University of Pennsylvania where he obtained a degree in education in 1993. He spent his time in the university participating in amateur wrestling and bagged multiple championships including the National Collegiate Athletic Association Division 1 Championship and the USA Junior Freestyle Champion.
How He Made A Fortune from Wrestling
It appears Kurt Angle always had his vision on wrestling as a career as he started amateur wrestling when he was only seven years ago. He became an established amateur wrestler when he became the 1987 Pennsylvania State Wrestling Champion when he was a high school senior. When he got to college, he became even more popular when he became a two-time winner of the National Collegiate Athletic Association Division I Championship and a three-time winner of the NCAA Division I All American Championship. He soared even higher in amateur wrestling when he bagged a gold medal in 1995 at the Wrestling World Championships in Atlanta, Georgia. In 2016, he was inducted into the International Sports Hall of Fame for his achievements as an amateur wrestler.
Moving on to professional wrestling, Kurt Angle has also made a name and amassed a fortune for himself in this field. In 2001, he became a Euro continental champion because he won both the Intercontinental Championship and the European Championship. He is a four-time winner of the WWF champion, a one-time WWF Hardcore Champion, a ten-time Triple Crown Champion, a five-time Grand Slam Champion, and was inducted into the WWE Hall of fame in 2017. He was named Wrestler of the year, Best Technical Wrestler, and Best Gimmick in 2002. He was the Wrestler of the decade from 2000 to 2009 and was inducted into the Wrestling Observer Newsletter Hall of Fame in 2004.
If you're wondering how all achievements in wrestling boil down to his fortune, you should know that the top wrestlers of WWE make about $1 million a year. Kurt Angle has been in the WWE for about two decades so it's understandable how he was able to amass a fortune from wrestling.
See Also: Who Is Andy Roddick, Brooklyn Decker's Husband And Ex-Tennis Star?
Kurt Angle Net Worth: How Much Is He Worth?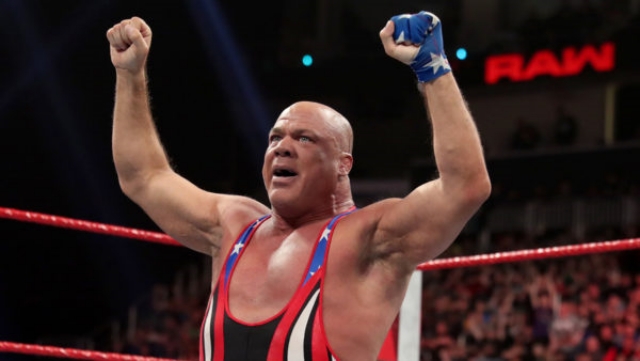 Kurt Angle has a net worth of $25 million which is befitting for a highly successful wrestler, actor, producer, and author. He makes his money from multiple sources especially from his years as an amateur and a professional wrestler. He is currently still signed to WWE where he is a backstage producer. Another way he makes his money is his appearance as a playable character in video games. For six years (2000-2006), he was featured as a playable character in every WWE video game made. He took an eleven-year break and returned in WWE 2K18 and WWE 2k19 as a playable character.
Kurt Angle has also added to his net worth by developing a successful acting career. His first acting role was in 2008 when he was featured in the short film, Chains. He also played the role of a serial killer in the 2009 film, End Game and played the role of Logan in River of Darkness. He also made money when he published his autobiography which was dedicated to his father who had died when he was just 16.