Kurt Warner is a former American football quarterback player who successfully lead a St. Louis Rams offense to a Super Bowl victory and was awarded the MVP honors. Warner's football career remains one of the most inspiring grass-to-grace stories in NFL history. The once-nameless player was projected to stardom in 1999.
After a 12-year career, he was considered the best undrafted NFL player of all time and was inducted into the Pro Football Hall of Fame in 2017. So far, Kurt Warner is the only person to be inducted into both the Pro Football Hall of Fame and the Arena Football Hall of Fame, however, more than that, Warner is a husband and a proud father of seven.
Kurt Warner's Bio, Age
Kurt Warner was born Kurtis Eugene Warner in Burlington, Iowa, on June 22, 1971, to parents; Gene and Sue Warner. Warner's parents divorced when he was just six. Consequently, Kurt and his brother lived with their mother. However, the two had a third brother, Matt Warner, from their father's second marriage to Mimi Warner, and the three boys became close brothers.
Growing up, Warner attended Regis High School, Cedar Rapids, Iowa, where he graduated in 1989. While there, he played as the quarterback of the school's Class 3A football team. Following graduation from high school, he proceeded to the University of Northern Iowa, where he graduated with a degree in communications in 1993. While at UNI, Warner was listed third on the Panthers' depth chart until his senior year; forming the foundation of his incredible career.
Pro Career
After his college career, Warner began his professional stint (undrafted) in 1994 trying-out with Green Bay Packers. However, he was released before the regular season began. Warner turned to stock shelves at a Hy-Vee grocery store in Cedar Falls. He later returned to his alma Mata (Northern Iowa) working as a graduate assistant coach with the school's football team, while hoping to get another try-out session with an NFL team.
When opportunities weren't forthcoming, he turned to the Arena Football League (AFL) in 1995; and signed with the Iowa Barnstormers. Warner became the AFL's First-team All-Arena for two consecutive years— 1996 and 1997 after he led the Barnstormers to ArenaBowl appearances in both seasons. In fact, Warner performed so remarkably well that he was later ranked 12th out of the 20 Best Arena Football Players of all time.
However, his big break came while playing for the St. Louis Rams from 1998 to 2003. While there, he won NFL MVP honors in 1999 and 2001; and also won the Super Bowl MVP award in Super Bowl XXXIV when the Rams beat the Tennessee Titans.
In the 2008 season, he led the Arizona Cardinals to Super Bowl XLIII and owns a whopping three out of the top five highest single-game passing yardage totals in Super Bowl history. As of this writing, Warner holds the 10th highest career passer rating of all-time (93.7); and the 4th highest career completion percentage in NFL history with 65.5%. Upon his retirement after the 2009 season, he was ranked 10th in yards per attempt (8.55), 5th all-time in completion percentage (66.5%), and 10th in passer rating (102.8).
Following his retirement, Kurt Warner joined NFL Network as an analyst in 2010. In August of that year, Fox Sports announced that Warner would be serving as a color analyst on it's NFL coverage for the 2010 season. He also served as a substitute analyst on Monday Night Football games for Westwood One radio in 2014. In 2018, he became the full-time radio analyst. Since early 2009, Warner began making appearances on TV through the NBC reality show The Biggest Loser. Since that time, he's appeared on Disney's The Suite Life on Deck (2010), The Jay Leno Show (2010), Dancing with the Stars (contestant, 2010), and the reality TV series, The Moment (2013).
Net Worth
Kurt Warner's 15-year incredible career coupled with his touching grass-to-grace story has translated to soaring popularity over the years and a sizeable fortune too. According to sources, his net worth is estimated at $30 million.
Family – Wife and Children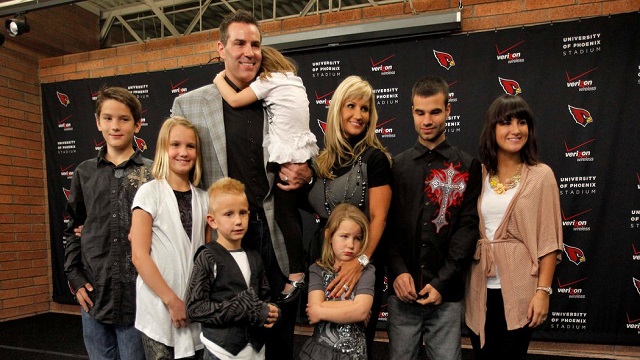 Kurt Warner is currently married to Brenda Carney Meoni. The duo first met during college. They married on October 11, 1997, at the St. John American Lutheran Church. At the time, Brenda— a former the United States Marine Corps corporal was divorced with two children. The couple had their fair share of hardship. When Warner was working as a graduate assistant coach at Northern Iowa, the couple lived in Brenda's parents' basement in Cedar Falls. Her parents had been killed by a tornado in 1996 when their Mountain View, Arkansas home was affected. After marrying Brenda, Kurt Warner adopted her two children. As of this writing, they've added five children.
See also: Johnny Hekker – Bio, Weight, Height, Spouse, Net Worth, NFL Career
Height and Body Measurement
Kurt Warner has a well-built stature. He stands 6 feet 2 inches (1.88 meters) tall and weighs 214 lbs (97 Kg). He has dark brown hair and dark-brown eyes.