'Love made in heaven' is the term that has been often used to describe the relationship that South African rapper and songwriter, Kwesta, has with his wife, Yolanda Mvelase. The couple has managed to keep the fire in their love life burning brightly for over a decade after they first met and, at this moment, it does not seem as if they are about to slow down the tempo in their romance.
Over the years, Kwesta and Yolanda Mvelase have become one of South Africa's most admired couples mainly because of the way they have handled themselves in the course of their romantic journey. Unlike most celebrity romance which ends up in breakups or divorce, this couple has managed to grow stronger with each passing day.
Kwesta First Met Yolanda on the Set of His Video Shoot
Kwesta and Yolanda Mvelase had their first meeting in a really interesting manner. It was in the year 2010 and Kwesta was shooting a music video. The musician was in need of girls who would serve as video vixens but he and his team were quite short of ladies to use. Because of this, one of Yolanda's friends who was also a friend of Kwesta set out to find more video vixens and decided to reach out to Yolanda, asking her to step in and do the job.
Yolanda accepted to feature in Kwesta's music video just to do her friend a favor and thereafter came to the video shoot. When Kwesta set his eyes on Yolanda, he got attracted to her and tried to get her attention. Speaking in an interview with Sony Music Africa, he revealed that he liked Yolanda quite instantly and loved how she annoyingly reacted to his jokes.
It Was Not Love At First Sight For Yolanda
Even though Kwesta got attracted to Yolanda when he saw her, this was not the case with Yolanda. Also speaking with Sony Music Africa, she revealed that when she first saw Kwesta she decided he was not her type at all. Because of this, she didn't think highly of the man at first. She just wanted to do the video job and go away.
However, Kwesta, who was already smitten by her, tried to get her attention by cracking some jokes but Yolanda was not having any of that. In fact, she found his jokes quite annoying and actually got irritated with the way he was trying too hard to get her to laugh. Eventually, however, she gave in and laughed. Talking about this, in another interview with Magzter, Yolanda explained that when she saw that Kwesta was not relenting in trying to get her to like him, she decided to give him a chance.
In the same interview with Magzter, Kwesta revealed that when Yolanda refused to laugh at his jokes, he was intrigued by her demeanor and this pushed him to try harder to get to know her. Eventually, the duo got along during the shoot and became friendly afterward.
How The Arrival of Their First Child Cemented Their Love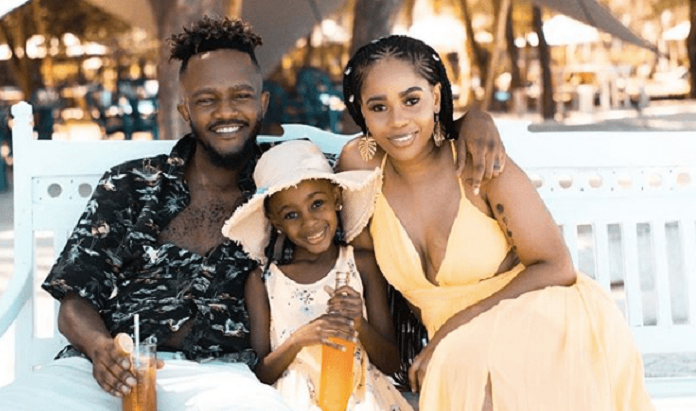 After their initial meeting during the music video shoot, Kwesta and Yolanda got in touch and their fondness for each other grew steadily. Eventually, they kickstarted a romantic relationship that continued to gather steam as each day passed.
Kwesta and Yolanda's romance progressed quickly and three years later in 2013, they welcomed their first child, a girl named Khai Asemahle Bulelwa Vilakazi. The birth of their daughter did a lot for their relationship. This was because it helped to bring them closer together. In the interview with Magzter, Yolanda confessed that when she first got pregnant, she was scared of how Kwesta would react because having a child was not part of their plans at the time.
However, when she told him she was pregnant, he was happy and promised to love her even more and be there for her. Yolanda explained that this singular act was what further endeared her to Kwesta especially when he kept to his promise and showered her with love during the pregnancy and after the child was born.
Fatherhood Forced Kwesta To Grow Up
On his part, Kwesta explained that the birth of Khai Asemahle Bulelwa Vilakazi forced him to grow up. In an interview with DRUM, the rapper revealed that his daughter's birth made him more responsible and this responsibility brought with it the need to love even more his woman and the child they share. It helped to make his relationship with Yolanda stronger.
Today, their daughter Khai is growing into a very adorable young woman and she is showing signs of taking after her father and becoming a singer herself.
Kwesta and Yolanda Mvelase Tied The Knot Eight Years After Their First Meeting
Kwesta and Yolanda dated for eight years before they decided to take things further and become man and wife. In 2018, the couple had their traditional wedding ceremony attended by close friends and family members who came to celebrate them. The next year, on the 23rd of March 2019, the couple had their white wedding. The wedding took place at an undisclosed location and was a very private affair which was attended by family members and close friends. Several celebrities attended the event to support the couple.
Talking about the wedding on her Instagram page, Yolanda explained that she had married her 'best friend'. She later posted videos of their wedding day. She called the videos a 'sneak peek' into their happy day.
The Kwestas Love Vacations
Kwesta and his wife Yolanda have always spiced up their romance with vacations. Over the years, the couple has been to different places to unwind and just reignite the fire that has been burning in their relationship since they met.
After their wedding in 2019, the couple jetted out to the Maldives for their honeymoon. While there, they basked in the euphoria of their renewed love and took photos and videos of their magical getaway which featured lots of crystal clear beaches as well as a spectacular sunset and even their plane ride to the island.
In January 2020, the Kwestas jetted out for another vacation, this time to Tanzania. With their daughter, the duo stormed the Mnarani Marine Turtles Conservation Pond in Tanzania among other places in the East African country. As expected, they also shared photos from this getaway on social media.
Kwesta and Yolanda are now seen in South Africa as a model and exemplary couple because of the way they have kept things going. Very often, they both post photos of each other online, showering praises on themselves and promising to never fall out of love.
Kwesta and Yolanda Became Two-Time Parents in 2020
Kwesta and Yolanda are now parents to two children. Their second child, also a girl, was born in 2020. In August of the year, Kwesta revealed that he and Yolanda were expecting their second child when he posted photos of a pregnant Yolanda posing with him and their daughter, Khai. His caption on the Instagram post moved his followers who praised him for working hard to make sure his marriage continues to work.
Eventually, their second daughter was born on the 11th day of November 2020. The excited father took to social media to show off his new baby girl. He posted a photo of the newborn girl with a sign that read "she's here" perfectly placed over the toddler's face. Yolanda also posted the same photo on her Instagram page.
In his post, Kwesta revealed that the newborn baby girl's name is Kenya Elihle Vilakazi. As expected, his posts attracted so many comments. Fans and his fellow celebrities took to the comment section to shower him with congratulatory messages on the arrival of the newborn.