The rate of divorce and heartbreaks in recent times are quite alarming. When it comes to his career, Kyrie Irving, a professional basketball player, has had a stellar record but looking at his love life, he hasn't been so lucky despite having been in a lot of relationships and has recently joined the band of celebrities with a baby mama.
In 2016, the basketball player was involved in a Twitter war with Chris Brown over his then-girlfriend, Kehlani. Simply put, Kyrie Irving's life off the basketball court is just as exciting to watch as his time on the court. We compiled a list of his past girlfriends and baby mamas, starting with his most prominent ex. You can also get the scoop on how his father has been a pillar of support in his career.
Kyrie Irving And His Father Have A Close Relationship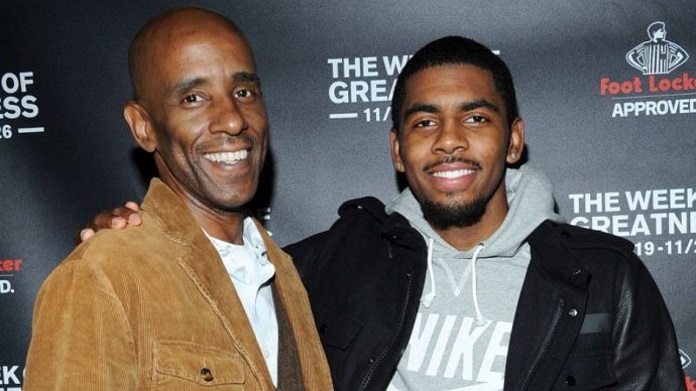 His public love life might be a shapeless and directionless mess. But, one relationship that remains solid and on fertile ground for Kyrie Irving is the one with his father, Dredrick Irving. If you are not familiar with his father, he is a former professional basketball player who played in the Australian National Basketball League.
Dredrick is a native of New York City, who played for Boston University between 1984 and 1988. He married Kyrie's mother, Elizabeth, who was also an athlete, and they were together until she died of an illness when Kyrie Irving was four.
Left with only his father as his biological parent, the Irving men forged a great bond. His father nurtured his interest in basketball and trained him from a young age. Out of his closeness to his father, Kyrie promised to play in the NBA, to achieve a dream his father couldn't.
Together, they worked, not only through physical training but also teaching Kyrie the social and mental skills to stay on the right path and achieve the dream. Since he realized the goal in 2011, his father has remained an important part of his life.
Often in the stands to watch his son, Kyrie Irving dedicates his achievements to Dredrick, and once made a public gesture by gifting him his jersey after a match for the Brooklyn Nets.
Kyrie Irving's Long List Of Ex-Girlfriends
As aforementioned earlier, Kyrie Irving has had a few relationships. Some were public and some were in secret. Notably, his kind of women ranges from stunning models, celebrities, and the "wanna be's" as you can see from the list below.
Kehlani Parrish (2015 – 2016)
Kyrie dated Kehlani Parrish, an R&B Singer. Their relationship was all smooth and perfect with the basketball player attesting to her as being the special one in his tweets. Things appeared so stable that they got engaged before they broke up.
Things became rocky for the two when Kehlani was accused of cheating on him with her ex-boyfriend. Kyrie Irving couldn't handle an unfaithful partner and called it quits. After their split, Kehlani went suicidal and also deleted her Instagram account.
To quell the onslaught of hate messages against Kehlani, which lasted well into 2018, two years after they broke up, Kyrie wrote a heartfelt message on a now-deleted Instagram post. He clarified that the singer never cheated on him and that both of them parted ways because they had to grow on their own.
Gabrielle Lexa (2017)
Kyrie Irving's next affair was with Gabrielle Lexa, who was a dancer for the Atlanta Hawks. She caught his attention after he watched her dance in an interview, then the two decided to kick it off in a love boat. No one knows what went wrong between the two, but we know they have long called it quits.
Chantel Jeffries (March-August 2016)
Chantel Jeffries is the next woman in the basketball star's life. She has been linked to a lot of professional athletes, including Kevin Durant, Johnny Manziel, and Desean Jackson. We wouldn't leave out the rumours that also linked her to Justin Bieber. Kyrie and Chantel were seen together on a date and were also said to have gone to the movies together to see Incredibles 2.
Andrea Wilson (2013 – 2015)
Kyrie then started a relationship with his eventual baby, mama, Andrea Wilson. Andrea is popularly known as the Texas beauty Queen. The two had it all going smoothly and welcomed their baby girl, Azure Elizabeth, in November 2015. He named his daughter after his mother.
Unfortunately, the notions of romance and affection that started their relationship weren't enough to keep it. Their relationship went down the drain and led to a separation. Kyrie Irving, on his part, has tried everything within his capacity to be a responsible father to his child and also pays $4,500 for child support and co-parents with Wilson.
Hannah Stocking (2014)
While Kyrie was in a relationship with Andrea, he started an affair with American vine star and YouTube star, Hannah Stocking. Their affair began during the fall of 2014 but didn't last up to a year. A lot of people believe that nemesis caught up with Hannah as she was the reason behind the ballers' breakup with Andrea Wilson.
Since they parted ways, Hannah Stocking has been involved with another pro-basketball player, Golden State Warriors, Klay Thompson.
Kyrie Irving Might Be Off The Market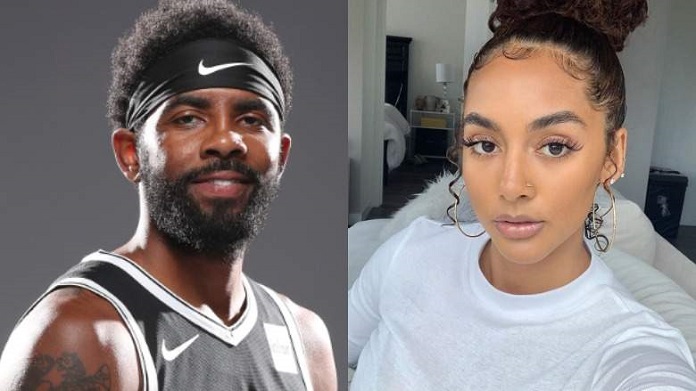 If clues and evidence from paparazzi and Instagram accounts are anything to go by, Kyrie Irving's unending trail of broken relationships may have ended. Since December 2018, he has been linked to Marlene Wilkerson, often referred to as Golden.
Neither of them has publicly confirmed their relationship, but they have been seen together, and she has appeared on his Instagram. Another clue is since the couple's possible relationship became apparent, he hasn't been linked to anyone else — a departure from the trend of the last two-three years of his love life.
Kyrie Irving's Girlfriend Flaunts Massive Diamond Ring Amid Engagement Buzz https://t.co/6CUqDC3gZQ

— TMZ Sports (@TMZ_Sports) September 16, 2019
The plot thickened in September 2019 when Kyrie Irving and Golden were spotted on an evening out together. She was seen wearing a massive diamond ring, suggesting they might be engaged. Still, none of them has confirmed the relationship, engagement, or not. But if the clues are right, Kyrie is finally off the market.