It is amazing the varied sources of income that the internet has made possible in this day and age. Internet fame can get its holder a whole lot of monetary and social benefits, but it must be noted that it does not come easy or cheap. For those who desire fame, content is the sacrifice the internet requires and there are fewer effective ways to deliver this than YouTube, a video sharing platform that is accessed by over 20% of the human population. A man who has taken solid advantage of YouTube and its capabilities is Lachlan Ross Power, a YouTube gamer – he streams his games on the platform.
Despite being an Australian, he has come to be a prominent part of a market that is mostly dominated by American gamers. His channel, Lachlan, is one of the most followed gaming channels on the platform. Learn more about the YouTuber by reading below.
Lachlan Ross Power – Bio
Lachlan Ross is a YouTuber who was born on August 25, 1995, in Australia. Not much is known about his parents and he hasn't spoken much about them in his videos either. Lachlan did not start his life hoping to be a YouTube star. He started out, walking the formal path to a sustainable career, from finishing high school to applying and enrolling in a University for a degree in Information Technology.
For a long time, he was immersed in the traditional rites of education, taking tests and writing exams, then he discovered YouTube. He took interest in video games, watching gameplay videos of some of his favorite games. One of those games is Minecraft, which he still plays till date. Inspired by the videos he had seen on YouTube, he decided to start posting videos of his own and created his own channel. His first uploaded video was of one of his of favorites, Minecraft.
The video was well received and it got a lot of views. The positive response to his first video encouraged him to post more videos regularly. In 2013, his fame in the gaming community grew when he started the PokeballersPixelmon Server. The server was created to offer opportunities for players to show off their skills in the game of Minecraft.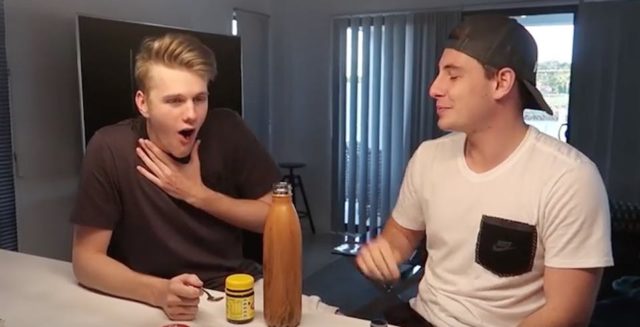 He was a part of other servers like How to Minecraft, playing alongside other gamers like Logdotzip, TBNRfrags, the Little Lizards. Other Minecraft servers he has been a part of include – Treasure Wars, Pixeltown Pixelmon Server, Crazy Craft Series, Mad Pack.
Being a part of these various servers, uploading and streaming the games on his channel has contributed to his popularity over time.
When Fornite debuted, however, his channel became extremely popular. He plays the game alongside other named gamers like Muselk, Lazarbeam, and others. Not just an average gamer, he has over 293 wins on Fortnite and 12,744 kills.
Lachlan has taken advantage of popular games to grow his channel. When Pokemon Go was the popular game in the world, Lachlan also streamed the game on his channel, posting regular videos of himself trying to catch several rare Pokemon in 2016 through to 2017. So far, he has over 2300 videos on his channel.
See Also: Jeffree Star Net Worth, Mom, Boyfriend, Age, Height, Is He Gay?
Although he has come to be known as an avid gamer, Lachlan Ross Power has other interests outside of video games. A few of them are television shows, with Breaking Bad being his favorite. He is also an athletic person who loves sports. He played football in high school and still follows the sport to date. He is also a technology fan, having originally enrolled in the university to study information technology before dropping out to focus on his YouTube career.
He has two YouTube channels, the first named after him as Lachlan while the second is LachlanPlayz. His eponymously named channel has nine million subscribers while the second has a total of 1.1 million subscribers.
Family Life Of The Australian YouTube Star
Lachlan Ross Power has kept details about his parents' life off the radar. He does, however, regularly feature his siblings Mitchell and Jackie on his channel, suggesting that he is quite close to his siblings.
He currently has no marital family, with every indication suggesting the YouTube gamer is currently single.