Lahna Turner is an American comedian, singer, writer, actress, and producer. One of America's most loved comedians famed for holding nothing back while entertaining her audience with her hilarious songs and sharp wit, the celebrated entertainer made her way to the limelight following her appearances on several popular networks such as VH1, among others.
She was married to Ralphie May, the late American stand-up comedian and actor who died in October 2017. May was vastly admired for his comedy specials and since his wife was also popular, the two were on their way to becoming a power couple in the entertainment industry when it emerged that their marriage had packed up. Following May's death, the question that was raised when they parted ways was revisited: what happened to their marriage?
Lahna Turner And Ralphie May Were Married For 10 Years
Lahna Turner was married to Ralphie May until his death, albeit they had been separated for about two years. They dated for several years before eventually tying the knot on the 3rd of July 2005. From what we gather, the first time they met was at an open mic event in Houston's Laff Stop which closed in 2009.
Two years after they got married, the couple had their first child, a daughter named April June May; she was born on the 5th of September 2007. Roughly two years later, it was reported that Lahna and Ralphie had welcomed their second child named August James May, he was born on the 24th of June 2009.
After a decade of being married to her husband, irreconcilable differences destroyed everything they built together. She then sought sole physical custody and joint legal custody of their two children.
Their Divorce Was Never Finalized And It Was Quite Messy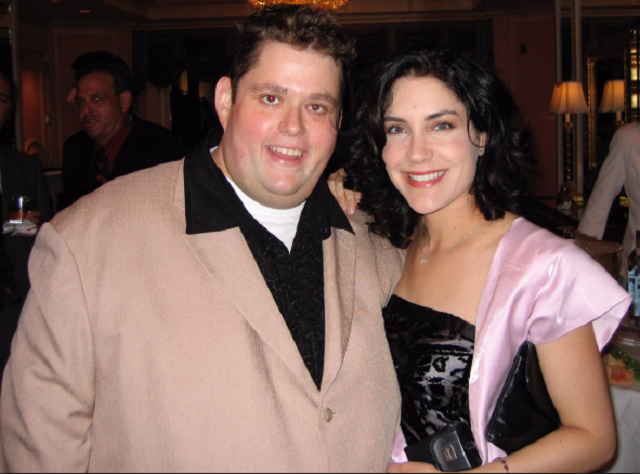 After ten years of being married to her husband, Ralphie May filed for divorce in October 2015, citing irreconcilable differences. Turner would later disclose that May's move to end the marriage broke her heart as she would never have decided to leave him even though they had been having problems.
She has been very vocal about what happened to their marriage and how she grieved the end of their union. An instance was her song Limeade which she regards as a comedic homage to Beyonce's Lemonade. Therein, she explored the five stages of grief which she lived through after the unexpected divorce filing from Ralphie.
It was reported that in addition to requesting spousal support, she sought sole physical custody and joint legal custody of their two children. She alleged that May had been physically abusive and demanded a restraining order which was denied. Among other things, she contended that May was fond of using drugs, suicidal and can't be trusted around their kids. Eventually, May had to settle for taking random drug tests twice a month while Turner was granted temporary sole custody of their kids.
As it was widely reported that Ralphie May filed for divorce, he related that Lahna Turner made it clear the marriage had reached its end. According to him, she destroyed their Jewish marriage contract in front of him and their kids.
Ralphie May's Death Ultimately Brought An End To Their Union
Lahna and Ralphie never got to finalize their divorce as the latter died from cardiac arrest at age 45, on October 6, 2017, after battling pneumonia for weeks.
Although they had had quite a messy exchange following the move to end their marriage, Ralphie's death was hard for Lahna to deal with. After his death was confirmed, she publicly proclaimed her love for him, asserting that no one had ever made her laugh or cry harder.
I loved Ralphie with all my heart. We shared a wonderful life and made beautiful children together.

— Lahna Turner (@LahnaTurner) October 7, 2017
Until his death, May struggled with obesity which often exposes him to several health issues, especially pneumonia. Sometime in 2004, he had gastric bypass surgery which significantly reduced his weight but he regained what he lost in the years that followed.
Lahna Turner Is Credited For Creating The First-ever Comedy Visual Album
In some quarters, Turner's Limeade has been described as the first-ever comedy visual album. Released on the 20th of September 2016 under the Dirty Vinyl Records label, the album is made up of ten songs: Symbiotic, Hate Your Balls, Masturbate, Condom, When You Die, Hated The Cunt, Fuck You In All Your Nine Holes, Fucked His Best Friend, Better When It's Used, and New Dick.
All of these comedy songs were about her divorce and she's delighted to be able to turn her sadness into something productive.
Lahna Turner began her career as a comedian in the early 2000s and has succeeded in carving a niche for herself in the male-dominated industry. She has made appearances in shows on several television channels, including CMT, VH1, Animal Planet, NBC, Netflix, Comedy Central, and truTV. Her exceptional comedy talent has also paved the way for her to perform in top-notch comedy venues and theatres both within and outside the country. Additionally, she has taken part in many United Service Organizations (USO) tours.
In 2014, Lahna Turner wrote a comedy television special titled So…I Wrote A Song About It. She also has two comedy albums titled If These Lips Could Talk and D!@k Jokes And Other Assorted Love Songs. Both have been played at top radio stations across America. The comedian is also the host of Perfect 10 Podcast, a show which has been downloaded more than a million times.
She Made Her Big-screen Debut In 2014's Teacher Of The Year
Spreading her wings in the entertainment industry, Lahna Turner decided to venture into acting. She debuted on the big screen in the award-winning indie film, Teacher Of The Year (2014), and has gone on to appear in a number of other films like This is Meg (2017), Brand New Old Love (2018), and TV series like The Mythicist Milwaukee Show (2016-2017).
Turner also has two works in her portfolio as a producer. She produced the TV special documentary titled Ralphie May: Imperfectly Yours in 2013 and is also the executive producer of 360 Degrees Down, another documentary.
Turner has equally appeared on TV shows like The Dr. Susan Block Show, Beverly Hills Royal, Getting Doug with Hig, Gotham Comedy Live, How to Be a GrownUp, The Playboy Morning Show, Dog Whisperer with Cesar Millan, and CMT Insider.