Mohammed Ali was not going to leave the world without a significant succession; he left us his daughter Laila. Like her father, Laila Ali is an unbeaten former professional boxer who transformed the face of women boxing during her time. Strong and with unshakable stamina, Laila defeated reputable women boxers and made a name for herself; something that her family especially her father least expected. There is a lot to know about the life of the legendary boxer. Here are the lesser-known facts about Laila Ali.
Laila Ali's Bio & Age
She was born on December 30, 1977, to Muhammed Ali and his third wife, Veronica Porche Ali. The athlete who graduated from Santa Monica College developed an interest in boxing when she was a teenager. She was 18 at the time; and after watching a women boxing game by Christy Martin, Laila had told her father about her intentions. But Muhammed Ali disapproved, citing the dangerous nature of the sports as his reason. But undeterred Laila proceeded and never gave her father a cause to say 'I told you so'.
Her first boxing stint was at the age of 21 when she faced off with April Fowler of Michigan City, Indiana, at the Turning Stone Resort & Casino. The fight attracted lots of viewers, most of whom came to watch the daughter of the legendary Muhammed Ali.
After winning her first bout, Laila went on to win her next match, the one after that, and the one after that; and eventually emerged as the best woman boxer during her active days. Her second match was with Shadina Pennybaker whom she beat by a knockout in Chester, West Virginia. She went on to face off with Jackie Frazier-Lyde, daughter of former professional boxer George Foreman' on June 8, 2001.
On June 7, 2002, Laila won her fight with Shirvelle Williams. In August that same year, she bagged the International Boxing Association (IBA) title after she beat Suzette Taylor in Las Vegas. She was never rid of the title, but instead, added more accolades to her name. She won the WIBA and IWBF belts after beating Valerie Mahfood in the eighth round on 8 November that same year.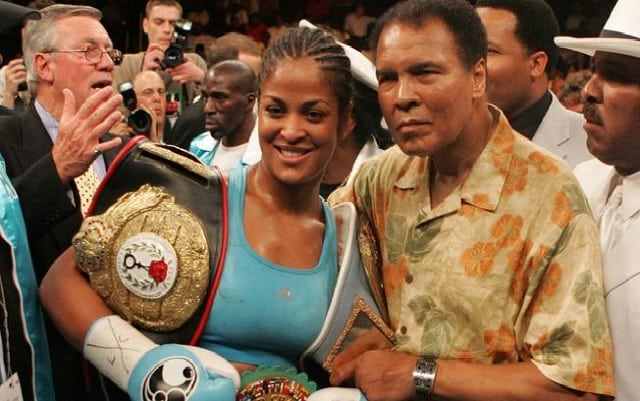 Ali still held on to her title, beating Christy Martin who used to be her role model, on August 23, 2003; and Nikki Eplion on July 17, 2004.
She added the IWBF Light Heavyweight title to her portfolio on September 24, 2004, after she beat Gwendolyn O'Neil at Atlanta Georgia. As part of the undercard to Tyson vs Kevin McBride fight in June 2005, Laila faced off with Erin Toughill whom she beat on the third round to bag the World Boxing Council title.
See Also: Dwayne Johnson (The Rock) Wife, Daughter, Ethnicity, Parents, Is He Dead? 
She remained unbeaten. In December 2005, Laila Ali beat Asa Sandell with countless hits on her head, defeating her by TKO. Her last professional bout was against Gwendolyn O'Neil whom she defeated on February 7, 200,7 in South Africa.
Who Are Laila Ali's Husband, Mother & Father?
To state the obvious, Laila Ali is the daughter of late professional boxer Muhammad Ali, from his third wife Veronica Porche Ali. She is the eight of all nine children of the legend.
The former professional boxer is married to Curtis Conway, a former NFL player. The couple who started out as friends tied the knot on July 23, 2007, in Los Angeles, in the presence of family and friends. Ali and Conway have two children together; their son Curtis Muhammad Conway Jr. who was born August 26, 2008, and their daughter Sydney J. Conway, born April 4, 2011.
Before Curtis, Laila was married to Johnny "Yahya" McClain. It was Muhammed Ali's 57th birthday, and Laila through her sister Hana came in contact with Johnny. Laila married McClain who later became her manager, on August 27, 2000. However, they divorced five years later in 2005.
Height, Weight and Body Measurements
The former professional boxer was not only mentally fit for the challenging profession, but was also ready on the physical. She was tall for a woman, as well as well built and strong for the boxing business.
Laila stands at a height of 1.78 m which is quite proportional to her weight of 72 kg. This not only gave her strong and sturdy stamina but built reliable support for the boxer. Ali's waist of 28 inches, her hips of 36 inches, and her perfect high arched feet which fits into size 12 (US) shoes; were all she needed for balance in her boxing days.