Lala Anthony is no new kid on the block; she came into the limelight in the early 2000s as an MTV video jockey on Total Request Live. Since then, she has hosted quite a few reality TV shows like Real Chance, Flavour of Love, For the Love of Ray J and more.
It was Joseph Sikora, an American actor and rapper, who actually gave her the moniker 'La La' before the name stuck permanently, almost overshadowing her real given name. In this article, we will let you in on all you need to know about Lala Anthony's bio, ethnicity, husband, son, her divorce, as well as her net worth so far in the entertainment industry.
Lala Anthony Bio (Ethnicity)
Alani Nicole Anthony was born on June 25, 1979, in Brooklyn, New York. Both her parents were Puerto Rican-born Americans. Lala Anthony is the first child in a family of four. She has one younger brother, Christian Vasquez and two sisters – Solana and Aviana. The Power star took to music at a very early age.
Lala Anthony speaks both English and Spanish fluently. She bagged a bachelor's degree in Communications from Howard University.
Entering the world of entertainment in her teens, at the age of 15, she did a brief internship with WQHT-FM and HOT 97.5 in the city of Georgia while in high school. Lala was given her own show which she co-hosted with American rapper and actor Chris Bridges aka Ludacris.
Four years down the line, at age 19, Lala Anthony was successfully running her own show on Los Angeles 92.3 The Beat tagged The B-Syde. She left the station in 2001 and joined MTV where she became one of the hottest talents on the network, co-hosting Total Request Live and Direct Effect.
Two years experience was all the enterprising Lala Anthony needed to start something on her own, she left MTV in 2003 to launch her own production firm Krossover Productions where she produced the critically acclaimed documentary on the former World Boxing Heavy Weight Champion Mike Tyson tagged Tyson.
As an actress, Lala Anthony made her first appearance in the movie Two can play that Game in 2001 and made other appearances in films like Urban Massacre (2002), Monster Island, You Got Served (2004), Think Like a man (2012) as Sonia with fellow actresses like Gabrielle Union, Baggage Claim (2013). She also appeared in the series Law and Order: Special Victim Unit as Ana in the "Poisoned Motive" episode in 2013. She also made guest appearances on TV dramas like NYC 22 and had recurring roles in series like the Lala Full Court Wedding, Lala Full Court Life, and Real Life Divas.
She came up with a clothing line tagged 5th & Mercer in 2013 and wrote a book titled The Love PlayBook which is a memoir of personal pursuit of love and success. The book was published on January 28, 2014, and it eventually became No. 1 on the Barnes & Noble Bestseller list as well as the New York Times Bestseller list. Armed with the success of her first book, she launched her second book in May 2015 entitled The Power Playbook and in 2016, she co-produced Diana Gurrira's play Eclipsed.
Her Net Worth
The multi-talented actress and entrepreneur have earned for herself immense wealth as a TV presenter, actress, movie producer, and writer. Her clothing line also contributed to her estimated net worth of $9 million.
Read Also: Gina Rodriguez Boyfriend, Sister, Husband, Net Worth, Weight, Ethnicity
Who Are Her Parents?
There is no much information about Lala Anthony's family although her parents are said to be of Puerto Rican and African origin. Her mother's name is given as Carmen Surrillo but there is no mention of the dad's name at the moment. There's also no information on what her folks do for a living.
What To Know About Her Husband, Son And Divorce
Lala Anthony filed for separation (not a divorce) from her husband Carmelo Anthony, an American Basketball player, in April 2017. This was after Carmelo was accused of impregnating another woman Mia Angel Burks.
The 5 ft 6 inches tall Lala Anthony has not made any move to file for a divorce yet, but hopes for a reunion of the couple is pretty slim. An E! News insider revealed that Lala doesn't look like she wants to save the relationship.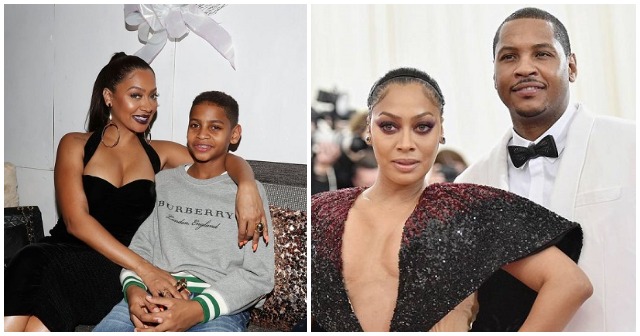 Carmelo Kyam Anthony was born on May 29, 1984, in Brooklyn. He is an American NBA small and power forward who plays for the Houston Rockets. The 6 ft 8 inches tall player has won 3 to 4 Olympic gold medals and has had an outstanding career.
On December 25, 2004, the couple announced their engagement and they got married 6 years later on the 10th of July 2010 at a luxury club/restaurant Cipriani's in New York. The wedding was filmed as part of the reality TV show La's Full Court Wedding which was followed by another show La La's Full Court Life.
The couple has a son whom they named Kiyan Carmelo Anthony, he was born on the 7th of March 2007. Lala Anthony got a primary custody for their son in April 2017 after their separation was approved by the court.