Lana Gomez is the wife of Sebastian Maniscalco, the popular American stand-up comedian. Lana was born on the 23rd of April 1983 and is presently 40 years old. She is a world-class artist who has made a name for herself as one of the A-list painters in America. She has also acquired a tremendous fortune from her amazing artistry and has gone on to launch her own showroom in West Hollywood.
Following her phenomenal artistic ability, Gomez's artworks have made appearances in notable journals such as Instyle, The New Yorker, Vogue, and also in Kelly Wearstler's book Hue. Read on as we uncover more facts about the dexterous painter.
How Old Is Lana Gomez and Where Is She From?
Sebastian Maniscalco's wife, Lana Gomez, is 40 years old and was born in Naples, Florida, the United States of America, on 23rd April 1983. Her parents are Barry Gomez and Simone Lutgert Gomez. She has two siblings, Heather Dockweiler and Rodney Weiss. She is of Spanish-American ethnicity.
Gomez completed her higher education at the University of Tennessee, where she studied Art. Since her early years, the skillful painter has had a very strong interest in drawing and painting. As a result of this, Lana Gomez made the decision to pursue a career in fine arts.
Upon her graduation from the university, the notable artist relocated to Los Angeles, where she started creating beautiful artworks through her acrylic experimentation and the elaborative combination of various kinds of elements. Following her hard work and great determination for success, Gomez's works subsequently captured the attention of the renowned interior designer Kelly Wearstler, which led to their collaboration.
She is a Talented Artist, Painter, and Sculptress 
During her collaboration with Kelly Wearstler, Lana Gomez gained a spot at the design studio of the interior designer, and there, she worked on their mural-sized piece. Interestingly, the top American painter's work eventually made an appearance in Kelly Wearstler's book Hue. Also, her works have gone ahead to feature in multiple art galleries.
In addition, Gomez has moved on to make a gorgeous display of her works in her showroom located in West Hollywood. Apart from her showroom display, her body of works has also been featured in several journals, including Vogue, along with several other magazines.
The beautiful artist, however, has attained much publicity through her creation of the gigantic 10-foot guitar sculptures situated in Guitar Town, West Hollywood. As a result of her exceptional creation, her works have captured the attention of a wide audience, which makes them rampantly seen in offices, residential homes, and, most notably, being starred in the iconic Greystone Mansion in Beverly Hills.
Lana Gomez's Life as Sebastian Maniscalco's Wife
Lana Gomez is married to Sebastian Maniscalco, who has gathered much fame as a comedian and actor. He runs a podcast titled The Pete and Sebastian Show alongside his friend, Pete Correale. He further works as an on-air host of Sirius XM radio program called Raw Dog Comedy. As an actor, Lana Gomez's husband has starred in The House and the Academy Award-winning movie Green Book.
The couple is reported to have met for the first time in a gym, as they were under the same personal trainer. Almost soon after, the pair began dating and eventually solemnized their union on 26 August 2013.
They have a daughter named Serafina Simeone Maniscalco, who was born in April 2017. Gomez and Maniscalco are happily married and love staying in each other's arms as they frequently share their loved-up pictures on social media.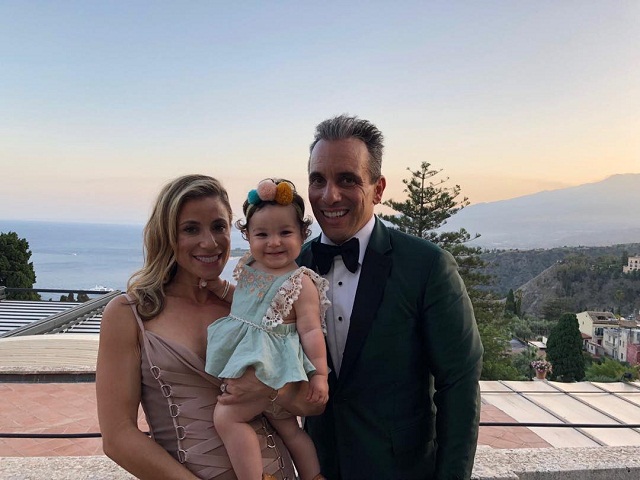 Facts About Sebastian Maniscalco's Wife
Lana Gomez has been honored with an award
Following the publications of her captivating artistic works in magazines such as Los Angeles Confidential and The New Yorker, among others, Lana Gomez clinched the Tastemaker of 2014 award by California Home and Design Magazine.
The notable artist and her husband bought a luxury home in 2014. The beautiful edifice was totally decorated by the famous interior designer Kelly Wearstler.
The A-list artist has a Stepfather
The talented painter's biological father, Barry Gomez, died in 2001, resulting in her mother's second marriage to Scott Lutgert in 2003. Lana Gomez's mother and stepfather live in Naples, Florida.
Lana Gomez Loves to Travel
Sebastian Maniscalco's wife loves to travel with her husband to his multiple comedy shows, and she often receives special recognition from Maniscalco during the show.
The origin of her daughter's name
Lana Gomez gave birth to her lovely daughter in 2017, and she was named Sarafina Simeone Maniscalco. The name Serafina can be traced to Sebastian Maniscalco's grandmother, while Simeone is the name of Lana Gomez's mother.