Just like her name, American social media star, and model Laneya Grace is grace personified. At the age of three, she had already broken into the modeling industry with her effervescent smile and photogenic looks. Physically, she can best be described as cherubic and cute, attributes that have also added to her world of fame.
To say that modeling is inherent in Laneya is not far from the truth, because the simplicity and comfort with which she performs before the camera is laudable. Her journey has been one of charisma, attractiveness and sheer intelligence from the photographer's lens.
While the young girl has not yet made a debut on the big screen, she is most popular for her appearance in Avicii's hit song, "Wake Me Up". She rose to stardom when Wilhelmina Models signed her, and later garnered more popularity when she featured in both Guess and Maleficent Toys' campaigns.
Laneya Grace Biography
Laneya Grace was born on June 23, 2004, in San Francisco, California. She is white American, and her zodiac sign is Cancer.
As earlier mentioned, Grace started modeling at the age of three. Her first photography session was with Macy's American departmental store. She has since that time modeled for several other companies, gathering a lot of experience in her field as well as earning decent sums of money.
Laneya Grace is also very active on her social media sites which her father manages. As of 2019, she has been able to accumulate over 338k followers on her Instagram account, and almost 8k followers on her Twitter account.
Thanks to the large number of followers she has, Grace qualifies to be described as a social media influencer. Through this, she is able to earn money by featuring ads on her page. Her exact salary, income, and net worth are, however, not known to the public although some sources have estimated her net worth to be around $1 million. Some other sources put the figure she earns per day at around $1,000 – $1,2000.
In addition to posing in front of the camera, Laneya Grace has featured in a number of music videos. In 2013, she starred in "Wake Me Up", a song by Swedish musician and suicide victim Tim Bergling, popularly known as Avicii (1989-2018). Grace also featured in a video titled Laneya Grace vs Kristina Pimenova in 2017 which received more than 29 thousand views.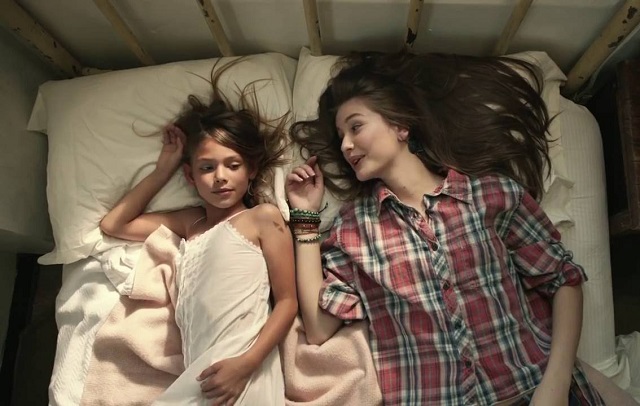 As of 2019, Grace is still trying to complete his middle school education. As a brainy and endowed child, she has been quite successful at combining her school activities with modeling without any hitches.
Family Life of The American Model
Laneya Grace is the older of two children of her parents. While her mother's name is not yet revealed, the name of her father is Stevenson Thomas. She has a younger sister named Kay.
Grace's parents from the onset have been truly supportive of her career. As soon as they saw their child's interest in modeling, they gave her attention and encouraged her to make the very first move. Her father was particularly the one who submitted her picture to Ford Models who later called and endorsed her for a promotional campaign.
Till date, Grace's parents have been relentlessly pushing her to be better both professionally and personally. The gifted teenage model is on her own part doing all she has to do and shows no sign of slowing down, with her positive attitude giving her parents more reasons to continue standing by her.
Laneya presently lives with her parents and younger sister in California. Her well-balanced family life so far remains instrumental to her career success.
Also See: Michelle Grace's Bio, Family, Facts About Ray Liotta's Ex-Wife
Body Stats
The fact that Grace Laneya started her modeling career when she was just three is sufficient to make her special. When children of her age were busy exploring their environment, learning how to pronounce words correctly, and grappling for attention, Grace was busy gracing the stage with her amazing smile, charismatic looks, and of course her charming green eyes.
Other facts that have ensured she stands out in front of the camera are her body statistics. As of 2019, the young girl stands at a height of 5 feet 2 inches (157.5 cm) and weighs 40 kg (88 pounds). Other notable features on her include a slim body build, light brown hair, and a sharp and defined jawbone.