Larry the Cable Guy is a self-professed "country kid" renowned for his trademark Southern accent and sensational catchphrase "Git-R-Done!" The famous comedian who talks about anything under the sun has gone on to become one of the most memorable characters in comedy history. Join us in unearthing lesser-known facts about the former on-air-personality, standup comedy superstar, movie star, and product pitchman…
Who Is Larry The Cable Guy and Where Is He From?
A Nebraska native, Larry the Cable Guy whose real name is Daniel Lawrence Whitney was born on the 17th of February 1963. Larry who describes himself as a cow kid, livestock kid, and a horse guy was raised by his parents Tom and Shirley Whitney on a pig farm in Pawnee City, Nebraska. Being the son of a Christian minister and a guitarist, Whitney had a religious upbringing. He attended The King's Academy, Florida and later the Berean Christian School. After high school, he proceeded to the University of Nebraska.
Career Success
Larry the Cable Guy is an American stand-up comedian and actor renowned for his sensational catchphrase "Git-R-Done!". Whitney began his entertainment career in radio media in the year 1990. He featured regularly in programs such as 'The Ron and Ron Show', and 'Greg and the Morning Buzz', among others. More recently and in collaboration with Jeff Foxworthy, Whitney created a new station on SiriusXM satellite radio. The 24-hour channel which features lots of comic materials has been a delight to comedy fans since 2015.
Blessed with a good sense of humor, Whitney went on to perform stand-up comedy and created the Cable Guy character. Larry the Cable Guy's debut comedy album, Law and Disorder, was released in 1995 and he has nine more albums to his credit including the 2005 platinum-certified album The Right to Bare Arms. He is also famed for his work on the Blue Collar Comedy Tour which included other stars like Ron White, Jeff Foxworthy and Bill Engvall. He performs comedy both in comedy clubs and at corporate retreats across the country.
As an actor, he has starred in various documentaries,  commercials, TV movies, and TV programs. Notably, Larry the Cable Guy is renowned for his Mater character in the animated PIXAR franchise Cars. He also starred in a string of big-screen comedies, such as Delta Farce, Witless Protection, and Larry the Cable Guy: Health Inspector.
His Wife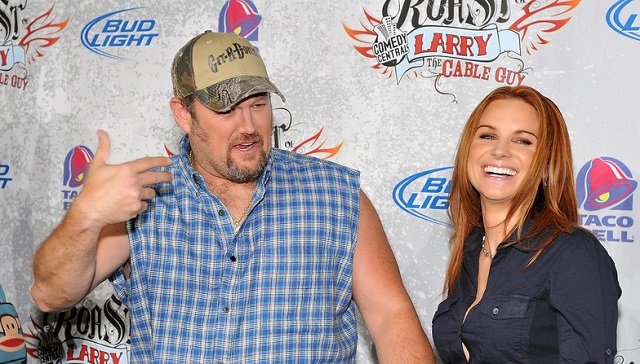 Larry the Cable Guy is happily married to his heartthrob Cara Whitney. The couple who have been married since 2005 are parents to two children, a daughter Reagan and a son Wyatt. A huge fan of former US President Ronald Reagan, Larry named his daughter after his favorite president.
Net Worth
The Blue Collar comedian has unarguably done well for himself in the showbiz industry. Larry the Cable Guy's net worth is currently estimated at $50 million.
Never Really Planned To Become A Megastar
Unlike most of his colleagues, the movie star, product pitchman, and star standup comedian never really set out to be this huge star and was surprised by his own success. According to Daniel Whitney, he ventured into showbiz in the early '90s, just because he enjoyed doing stand-up and wanted to earn a living from it.
A Cable Guy Indeed?
Ironically, Daniel Whitney who is best known for his stage name Larry the Cable Guy has never really worked for a cable company.
A Dedicated Philanthropist
Larry the Cable Guy is a philanthropist who donates heavily to causes he believes in. Notably, he is a grand patron of the Arnold Palmer Hospital for Children after donating five million dollars to the hospital in 2010. Larry's donation was inspired by his son Wyatt who was born with hip dysplasia but was effectively cured of the issue by doctors at the hospital. In fact, the hospital boasts of a Wyatt Whitney Wing named after the comedian's son.
Larry has also donated for different causes in his hometown of Pawnee City, Nebraska, as well as his high school. Larry the Cable Guy has his own charity the Git-R-Done Foundation, named after his sensational catchphrase. The foundation is known for aiding causes affecting veterans and children.
Great Friends with Lewis Black
One of Larry the Cable Guy's closest friends is fellow comedian Lewis Black. This is quite surprising to many given that the two friends have conflicting comedy styles, political perspectives, and backgrounds.
A Food Product And A Street Are Named After Him
Larry the Cable Guy's popularity in the U.S cannot be overemphasized. He inspired North Dakota's Bektrom Foods to name a line of food products after him. More so, a street in his hometown of Pawnee City is named after him.