There are just so many designations to use in describing the media mogul that is Larry David. You can call him a writer, actor, comedian, producer, or director; he surely fits into those caps and indeed has a lot of achievements to justify each title. Larry rose to fame in the late 80s when he wrote and produced the popular series Seinfield alongside fellow comedian and actor Jerry Seinfield.
The versatile entertainment figure has a whole lot of written works to his credit, works which shot him to prominence from his younger days. As a comedian, he has his roots traced to the popular program Fridays which he starred in and equally wrote. For his versatility in the industry, David has won numerous awards, including the Primetime Emmys and the Golden Globes. You're sure to find out a whole lot more about him as you scroll through.
How It All Began – First It Was Stand-Up Comedy
It was first and foremost, all about comedy for Larry David, although he had other hidden talents in him. After he graduated from the University of Maryland in 1969, he immediately went on to pursue his dreams of becoming an entertainer. He went into stand-up comedy in the early 70s, performing in bars and clubs on the streets of Manhattan, New York.
He was a natural and needed not to sweat to make people laugh. In fact, he had discovered this talent of his while in college. He received a lot of admiration for his works at the time and was encouraged to do more.
However, stand-up comedy alone was not enough to pay his bills. Larry also did a lot of jobs to sustain himself – he worked as a driver, clerk, as well as an assistant.
Larry David Soon Delved Into Writing and Acting
As earlier mentioned, David had other talents and was waiting for the right time or platform to exhibit them. His proficiency in writing started to manifest in the early 80s when he started working with comedy show Fridays. In 1980, Larry was a scriptwriter for the ABC weekly comedy show and worked with the outfit for 2 years. During this time, he also made appearances on the show which also marked his acting debut.
The talented writer also wrote for the popular Saturday Night Live comedy show. His stint with the outfit was not a rosy one at first, and was also short-spanned, as he didn't get the number of sketches he wanted to. Leaving SNL, he continued with his comedy and also wrote for a couple of shows. It was during this time that he joined forces with Jerry Seinfield to create the sitcom Seinfield. The two came together in 1989 to create the show which ran for a period of 9 years (1989 to 1998).
The show which was a massive hit had a total of nine seasons (180 episodes) and from season one to seven, Larry David wrote, and also executive-produced the episodes. During this time, he was also making appearances in movies like Radio Days, New York Stories, and a few others, as he got several roles where he showed his incredible acting skills
David was broadly recognized as an actor when he created, as well as starred in the HBO series Curb Your Enthusiasm. On the show which premiered in 2000, Larry David features as a fictionalized version of himself. With similar themes from Seinfield, the show has received critical recognition and several awards.
Awards And Recognition Won Over The Years
When it comes to awards, Larry David has had a fair share of them. The talented writer started as early as in the days of Seinfield to garner accolades to his name. David gained recognition for his works as early as in the 90s when Seinfield gained great momentum at the Primetime Emmy Awards.
The comedy series has been nominated numerous times on the platform for 'Best Comedy Series', 'Best Writing for a Comedy Series'; and David himself has also been nominated several times for 'Best Actor'. Interestingly, in 1993, Larry David's remarkable 'The Contest' episode earned him an award for Best Writing. He was indeed honoured for his versatility that year as he also won the award for Best Actor on the platform.
The 1993 awards were not going to be the last for him as he was just getting started. Larry David's Curb Your Enthusiasm has won awards for Best Comedy – Television Series – Comedy three times (2002, 2004, and 2005) at the prestigious Golden Globes. For his contributions in comedy, Larry was honoured by Writers Guild of America with the Laurel Award for TV Writing Achievement in 2010.
What Is Larry David Up To These Days?
Larry David is still significantly involved in Saturday Night Live and has had several remarkable moments on the platform. Through several guest appearances, the comedian has drawn many viewers to the show. His most recent moment on the show was in January 2020 when he made comments about the long-circulating news that he is related to US presidential candidate Bernie Sanders.
We're not forgetting America's favourite, Curb Your Enthusiasm on HBO. Larry still plays as himself alongside Cheryl Hines, Jeff Garlin, Susie Essman, and other comedians that make appearances on the show. In June 2020 it was announced that The show has been renewed for the eleventh season and that Larry David would also be making a return.
Inside Larry David's Family Life
Larry David came from a Jewish family. His parents – Rose and Mortimer Julius David raised him alongside his brother in accordance with Jewish values. But as he grew older and became independent, he deviated from his religious background. Larry is now an atheist.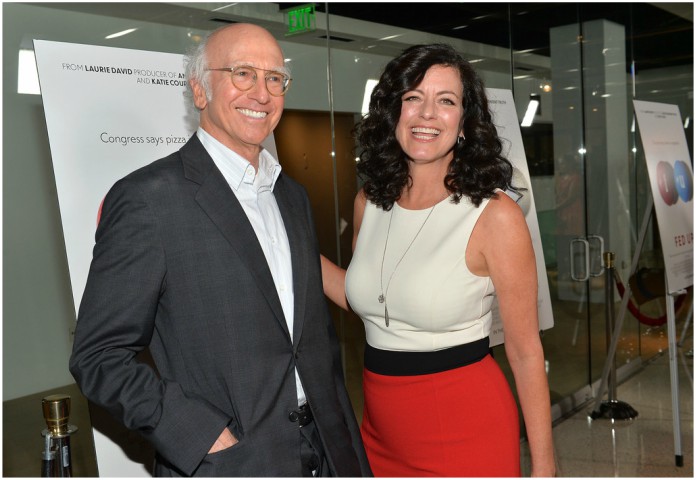 Why His Marital Bliss With Laurie Lennard Hit The Rocks
Talking about his love life, the comedian and writer used to be a married man. He was once married to Laurie Lennard for a period of 14 years (1993 to 2007). The couple had met back in 1986 before Larry came into the limelight. At the time, he was only into comedy and was struggling to make it as a stand-up comedian. Laurie, at the time, was said to be booking guests for the Late Night With David Letterman show.
It was while trying to book Larry that the two became friends and took things seriously later. They dated for a long time before they eventually got married. Larry and Laurie tied the knot in March 1993 in the presence of family and friends. They had two daughters – Cazzy born in 1994 and Romy born in 1996.
Things seemed to be rosy between the two until towards the year 2007 when reports were rife that the two were separated. Citing irreconcilable differences, Lauren reportedly filed for divorce and they eventually parted ways in 2007. He has not remarried since then.