Larry Nance Jr.'s impressive college stint with Wyoming earned him lots of recognition. He was regarded as one of the best big men in the Mountain West Conference. The very skilled basketball player did well to toe the line of his father, Larry Nance Sr. the legendary basketballer who graced the National Basketball Association (NBA) with his fast and furious prowess.
Looking at Nance Jr.'s amazing endowment in this reputable sports faculty, it would not be wrong to say that his talent is of a hereditary nature – having exhibited profound excellence like his father. But we cant credit it all to blood and fate, Larry Nance Jr. has independently made a great name for himself in the world of basketball.
Early Life
Larry Nance Jr. who was born on January 1, 1993, was a student of Revere High School, Ohio where he played basketball and recorded 18.2 points, 9.5 rebounds and 3.0 blocks per game in his senior year for the Minutemen. Nance Jr. who was 5 feet 3 inches in his junior, stretched to 6 feet 7 inches by his senior year to the surprise of many, who thought that the average boy would never grow to fit the required height for his field of interest.
Even before he was drafted by the NBA, Nance Jr. had gained prominence while in college, with his stint at Wyoming, which he led to their first NCAA Tournament appearance after many years.  He got even better; Nance Jr. averaged 11.3 points, 6.6 rebounds, 1.4 assists, 1.1 steals, and 1.1 blocks in 123 games during his time at Wyoming.
Career
Nance's outstanding school records formed the basis of his selection with the 27th overall pick in NBA draft for 2015. The player who kept getting taller and taller had stretched to a 6 feet 9 inches at the time he was drafted by the NBA. Joining Los Angeles Lakers, the power forward made his NBA debut in November 2015 at the game against Brooklyn Nets, which ended in a 104-98. He had recorded six points and five rebounds in the game. Next was the where he had to replace Lakers' Julius Randle at the game against Tronto Raptors. In December that year, the player clinched a remarkable record of a double-double with 17 points and 11 rebounds. He was later ruled out for a month (up to 11 games) after he sustained a bone injury during the game against the Portland Trail Blazers.
See Also: Who is LeBron James Wife? His Sons, Daughter (Kids), Mom, Dad, Family
Larry's next move was to the prestigious Cleveland Cavaliers after he was traded alongside Jordan Clarkson for Isaiah Thomas, as well as a 2018 first round draft pick. Nance Jr. was permitted by the NBA to wear his retired father's Jersey no 22 after he initially wore no 24.
Facts About His Mom, Dad & Wife
It's no longer a hidden fact that Larry Nance Jr. is the son of Larry Nance Sr., a retired American professional basketball player who also played for the Cleveland Cavaliers and the Phoenix Suns. Part of his epic records includes a three-time win of NBA All-Stars game. Lance Sr. who was very active in the 80's, also won the 1984 Slam Dunk Contest during his time at the Phoenix Suns. He was known as an outstanding mid-range shooter in his day.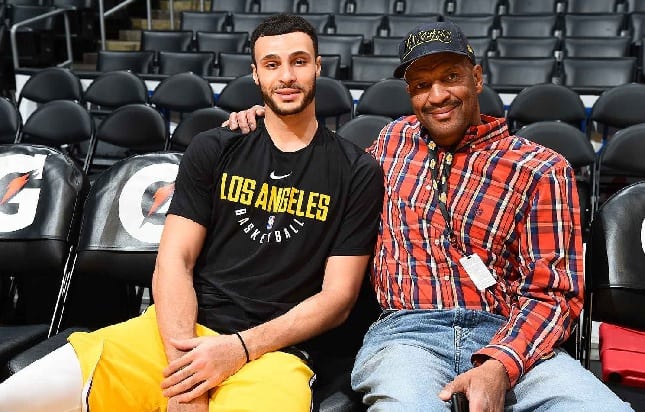 Not much information has been disclosed about Jr.'s mother  Jaynee Nance who rarely makes appearances with him. Jaynee the reserved mother of the player had wanted her son to come live in their basement after he was signed to the Cleveland Cavaliers.
Being a very private person not much is known about the personal life of the basketball player. But Nance Jr. calmly threw privacy to the wind when he started posting photos of his girlfriend on social media. He is said to be dating Hailey Pince whom he met during his time at Wyoming.
He and Hailey who was a swimmer at the time grew from friends to lovers and are still together. Pince has diverted her interest into modelling and now posts photos of herself modelling on her social media accounts. The couple got engaged in 2018 and their fans are more than happy for them. Nance has not been married before and has no kids with Pince or from any previous relationship.
Larry Nance Jr.'s Height, Weight & Measurements
Nance Jr. definitely has a lot to show for being the son of his father Sr. Standing at a tall height of 2.6 m (6 feet 9 inches) as against his father's 2. 8 m (6 feet 10 inches), he has the strongest proof that he is his father's son. With a wingspan that measures 217 cm, Nance Jr. proportionally weighs 230 lbs (104 kg).