Larry Page is a naturally creative and innovative personality and internet guru. The American Inventor founded Google, one of the world's fastest and most renowned search engines. He took to his family's career line and made a massive success out of it creating a brand that is sure to still be history books for centuries to come.
Page also holds credit for the creation of PageRank (an algorithm named after him), he is also the Chief Executive Officer (CEO) of Alphabet Incorporated. His contributions to the world's internet orderliness have earned him and his fellow founder Sergey Brin several awards and academic honorary degrees like a communication award known as the Marconi Foundation Prize in 2004, another Communication award from King Felipe of Austria in 2008, Fellow of American Arts and Science. Page was also given an honorary degree from his Alma Mataa – University of Michigan.
Still in testament to his major contributions to the internet world, he was voted one of the most Powerful People of 2015 and bequeathed with the Agrigento Italian citizenship in August 2017. The list goes on and on, but here's a peek into his beginnings.
Larry Page's Early Life
The google founder was given the full name Lawrence Edward Page at birth on the 26th of March, 1973. He was born to Computer Guru parents in Eastern Lansing, Michigan, in the United States of America. He has 2 other siblings; an older brother Carl Page Jr. and a sister Beverley Page. His dad Carl Victor Page was said to have been one of the pioneers in the development of Computer Artificial Intelligence, while his mother Gloria Page was a Computer Programming tutor at the Layman Briggs College and Michigan State University alongside her husband.
From the tender age of 6, a very curious Larry Page got very involved with computers, its accessories, programs, magazines among other IT components and gadgets that made up his growing up days as the son of computer wizards.
Education
A young Larry Page commenced his academic pursuit after his enrollment into the Montessori Radmoor School formerly called Okemos Montessori School, in Michigan where he studied from 1975 to 1979 and registered for his High School Education at the East Lansing High School graduating in 1991. He did a good job of combining his high school studies with summer classes for Saxophone at the Interlochen Center For The Arts.
He earned his first degree in Computer Engineering from the University of Michigan graduating with honors in his field. His exploits at the University of Michigan include the creation of Inkjet Printers from Lego bricks, ink cartridge mechanism, he even put forth plans to the school for the use of Podcars.
Immediately after his graduation, he proceeded to Stanford University where he obtained the Masters of Science in Computer Science and also bagged a Ph.D. from the same Stanford University without presenting his master's thesis – a rule that has been upheld in the school from then onward for aspiring students.
It was while studying at Stanford University, that Larry Page he struck up a bond of friendship with his buddy Sergey Brin, who would later become his co-inventor/founder of one the world's biggest search engine – Google.
What to know about his Co-Founder – Sergey Brin
Brin is a Computer Scientist and Internet Entrepreneur born on August 21, 1973, to parents of Russian Jewish origins in Moscow. Like Page, he did not stray far from his parents' careers. His father was a professor of mathematics at the University of Maryland whereas his mother did a bulk of research work at the Goddard Space Flight Center for NASA. He had all of his educational pursuits in Maryland after the family left Russia for the US.
Perhaps, one can safely say that fate and destiny brought the like minds Sergey Brin and Larry Page together at Stanford University where their association started way back in 1995 as friends. The pair joined forces together and formed Google Incorporated in 1998 after their university days. The company was borne from the need to obtain real-time ranking/relevant material or results inputted into the internet on the project 'Backrub' which after much funding from their loved ones and faculty members in addition to intensive research and scientific investigations, eventually gave rise to the web crawler PageRank algorithm that arranges search results according to relevance.
All these were achieved from their allocated small dormitory rooms at Stanford University. They first obtained a domain name for their company known as Googol, then operations took off with Larry Page assuming the position of the Chief Executive Officer (CEO), a position he held till 2001 when he relinquished same to Eric Schmidt who also doubled as the corporation's chairman, with Sergey Brin taking up responsibility as the president of the internet outfit.
Who Is His Wife? 
The internet Entrepreneur is happily married to Researcher Lucinda Southworth with whom he shares 2 kids. The couple got married in Necker Island, Caribbean, in 2007 in a ceremony with about 600 celebrities and important persons such as the then President of the United States George Bush, Oprah Winfrey, Gavin Newsom among others.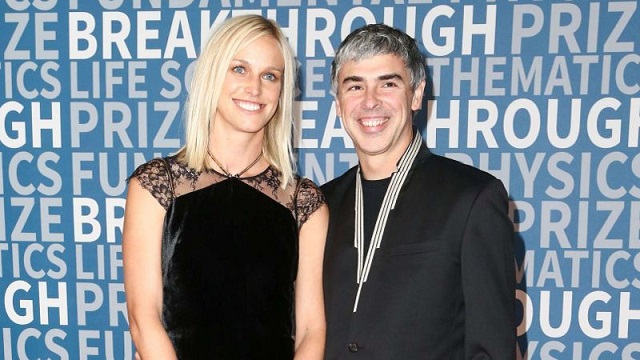 Lucinda Southworth was born on 24th May 1979 to Dr. Van Roy Southworth and Cathy McLain and she has a sister Carrie Southworth who is an actress and model.
She comes from a wealthy family and she is highly educated with a Ph.D. in Biomedical informatics. She is actively involved in scientific researches and supports her husband's causes and programs. She was estimated to be worth over $ 1 billion.
The power couple were said to have dated for about a year before they finally signed the dotted lines of the marriage register and from thereon, there's been no stopping them as they have made an impact in the world with works and philanthropic gestures especially with the donation of $15 million to combat the outbreak of Ebola virus in Africa.
Larry Page's Net Worth
The 5 ft 11 1/4 inches tall internet guru is definitely one of the richest and wealthiest inventors in the world. He moved from his previous Forbes rating as the 12th richest person in the world with his previous earnings pegged at $ 48.8 billion in the first half of 2018 to No. 9 richest person in the world in December 2018 with his net worth largely estimated to be $ 51.3 billion in its entirety.