With an impressive record during his days at the University of Central Florida, Latavius Murray stood out as one of the best footballers in his college then. He plays as running back for the Minnesota Vikings of the National Football League (NFL) after he was drafted by the Oakland Raiders (NFL) in the 6th round of the 2013 NFL draft as the 181st overall. A rundown of his professional career records has shown that he is noted as one of the best hands in all the teams he has joined.
Despite being from a broken home, Murray has never let his bad childhood experience come between his games. In the article below, you will be informed about every detail you should know about the Florida born footballer.
Early Life
Latavius Murray was born on January 18, 1990, in Orlando Florida. Just three years after he was born, he moved with his family to Upstate New York, settling in a small and quiet town called Nedrow.
Onondaga Central High School was his alma mater. There, he was noted as a three-sportsman who played football, basketball, and ran track. In the latter days of his stay in the school, he chose football over the trio. By his second year, Latavius rushed 2,030 yards recording 30 touchdowns which earned him the All-State honors. Subsequently, that same year, he was awarded the third-team All-State honoree after he rushed 1,609 yards and had 14 touchdowns. As a senior, the young footballer totaled 2, 194 yards, 28 touchdowns with 78 tackles, 3 forced fumbles and 2 interceptions on defense. With this record, he was named the Gatorade Football player of the Year in the whole of New York State.
By the time he was graduating from high school, Rivals.com rated him a three-star recruit and he was also the 5th best prospect in New York. He got a lot of scholarship offers from different colleges like Boston College, Maryland, the University of Central Florida to mention a few. He later chose the University of Central Florida (UCFL) over others.
Having developed enough skills in high school, Latavius Murray had it easy with his collegiate career. He played in 8 games as a freshman where he recorded 132 yards and had 3 touchdowns. In his offseason, he incurred an anterior cruciate ligament injury (ACL) which led to his absence on the field throughout the season. The following year, he had a major breakthrough in his career as he played in all 14 games and bagged a lot of awards including the MVP honors in the Conference USA Championship Game and the AutoZone Liberty Bowl.
In addition to that, Latavius played in all 12 games as a junior and rushed for 233 yards on 21 attempts with 2 rushing touchdowns while catching 2 passes for 24 yards and a touchdown. He was later named as an All C-USA first team selection. By the end of his collegiate career, the footballer totaled 2,424 yards, 37 rushing touchdowns in addition to 50 receptions for 524 yards and 6 touchdowns. Records have it that Latavius Murray is the first player in the college history to have recorded a rushing touchdown in 9 straight games.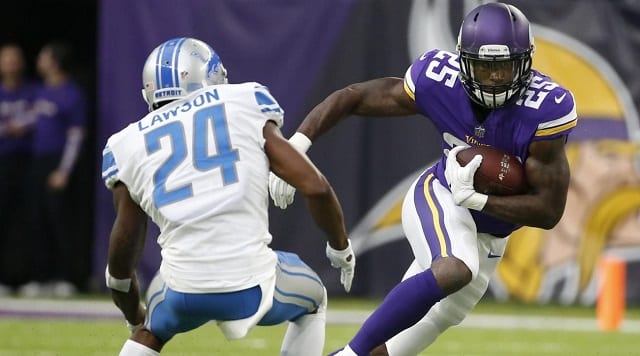 The football player had an impressive record with UCFL, so it was with ease he moved into the National Football League. Murray was picked by the Oakland Raiders in the 6th round of the 2013 NFL draft as the 181st overall. As a rookie, he didn't feature in most games because of an ankle injury he incurred that season. On his return, he recorded his first career high in a game against the Kansas City Chiefs where he had 122 rushing yards on 4 carries. With that record, Latavius was noted as the first player in NFL history to gain 110 rushing yards on 5 or fewer carries.
Come the 2015 season, he played with the Raiders as a running back and rushed a career-best 139 yards on 26 carries in addition to 1 touchdown in a game over the Cleveland Browns. Throughout 2016, he played in 14 games, rushed 788 yards and recorded a career-high, 12 touchdowns.
Latavius Murray's days with the Raiders were soon over and he later signed a three-year contract with the Minnesota Vikings. Ever since he joined the team, he has been at his best.
Family Details
The footballer's parents are Paul Murray and Tawanna Wright. The couple separated when the NFL star was just three. Latavius Murray has a sister named Eliana Murray and an older brother, Paul Jnr. In a bid to manage the responsibilities of the children, the couple decided to let the boys spend most of their days with their father.
See Also: Trevor Siemian Wife, Sister, Parents, Girlfriend, Salary, NFL Career
Paul Murray was said to have been involved in illegal activities and was once busted while trafficking cocaine sometime in 2010. He was later charged to court and was sentenced in 2013. Despite all these proven allegations, Latavius Murray loves his father and often visited him at the prison. Prior to his arrest, he earned little income as a chef but had to stop working after he underwent a back surgery in 2009. In 2016, Paul was released from prison and has been a loving father to his children.
Height and Weight
Latavius Murray stands at 6 foot 3 inches and has a balanced weight of 104kg. Like every athlete, he has maintained a good physique for his career by eating the right foods and working out at the gym regularly.