Temitope Balogun Joshua, popularly known as Prophet T. B. Joshua was a Nigerian prophet, televangelist, and philanthropist who at the time of death had an estimated net worth of  $20 million, making him one of the richest pastors in Nigeria and Africa.
He was the founder and lead pastor of Synagogue, Church of All Nations (SCOAN), a  megachurch in Lagos that recorded 15,000 worshippers every Sunday and was widely known across the continent of Africa and Latin America.
The church also has a TV station Emmanuel TV television station that runs from Lagos. His congregation and in fact the whole nation was thrown into shock when the news of his death hit the airwaves in June 2021. The clergyman reportedly died on the 5th of June 2021 after hosting a service. We explore all the details you need to know about the life and times of the late televangelist.
TB Joshua's Biography Summary
Full name: Temitope Balogun Joshua
Nickname: T. B. Joshua
Gender: Male
Date of birth: 12 June 1963
T. B. Joshua's Age: 60
Ethnicity: Yoruba
Nationality: Nigerian
Sexual Orientation: Straight
Religion: Christinaity
Marital Status: Married
T. B. Joshua's Wife:

Evelyn Joshua

T. B. Joshua's Children: 

Serah Joshua, Promise Joshua, Heart Joshua

T. B. Joshua's Parents: Kolawole and Folarin Balogun
T. B. Joshua's Siblings: Sunday Balogun
T. B. Joshua's Net worth: $20 million
Famous for: Televangelist,  philanthropist
T.B Joshua's Instagram: tbjoshua
Twitter: @SCOANTBJoshua
Facebook: @tbjministries
Where Was T. B. Joshua From?
The popular televangelist was a native of Arigidi Akoko, a town in Akoko North-West region of Ondo State, South-West Nigeria. He was born on June 12, 1963, to Kolawole and Folarin Balogun. His father was a former British translator translating Yoruba to English. His mother's occupation is not known.
Growing up, Joshua attended St. Stephen's Anglican Primary School in his hometown. After his primary education, he proceeded to a secondary school but unfortunately, he never completed it as he dropped out. This may explain his grammar and way of speaking the English language which so many people have criticized him for and called him uneducated.
T.B Joshua is not the only child of his parents as he had an older brother. Although nothing about this brother of his was known until his death when it was revealed that he had a brother by the name of Sunday Balogun. However, there is no further information on if he had any other siblings or not.
In a tribute to his mother, sometime in 2018, the late preacher had this to say about her:
"Let me pay a special tribute to my late mother, who always advised me to look into my love walk. Failing to do so can shut down our relationship with God. What a wonderful woman! She never failed to call us for prayer before going to bed."
The tribute gives a look at the kind of family Prophet T.B Joshua was born into; a religious one.
The Birth Of His Ministry: Synagogue, Church of All Nations (SCOAN)
There are claims that prior to his birth on June 12, 1963, a prophecy had gone forth that a man of God will be born in Oosin, a poor neighborhood in Arigidi Akoko where J.B Joshua hails from.
In Femi Success' biography book about the preacher titled Revealed! a Complete Revelation without Humiliation he revealed that after his primary education, his parents took him to live at the house of an Anglican Priest which was at the back of the school. This must have been where he discovered his calling just like biblical Samuel did in the house of Eli the priest.
Late Prophet T.B Joshua stated that growing up, he read the bible from Genesis to Revelation every two months and that back in Primary school, this was the only subject that he believed so much in, was interested in, and did so well in.
"In exams, I scored 99% consistently whereas I performed woefully in other subjects. By excelling in Bible knowledge affected the other subjects where I performed poorly."
After the death of his father,  the family struggled so much financially that he had to go live with his maternal uncle who was a strict Muslim. According to him, he was enrolled in a  strict Muslim secondary school where the reading of the bible was prohibited, he, however, recalled that he often hid under a mango tree to read the bible during break periods. And when he could no longer cope with the harsh realities he was faced with, he dropped out.
"So I left school. I left because my life was in danger. I could sense that since I was doing this thing secretly one day something is going to happen to me."
Leaving school meant leaving Ondo State entirely. He relocated to Lagos and got a job in poultry as an attendant. He worked in the poultry for one full year and was able to save up some money to go back to school.
He recalled how a madman walked into the classroom one of the days a teacher was teaching, because he was a notorious violent madman, everyone fled the class except him. He prayed and the madman became calm, from then on, people in the school and around began calling him a small pastor.
During school assemblies, the school principal will call him to open the school's activities with a few scriptures and a word of prayer.
"This is where the awareness of God's presence on me started," he says.
Not long, people began coming to him for prayers and the rest like they say is history. In 1987, he founded The Synagogue, Church Of All Nations (SCOAN) after he claimed to have received the divine anointing and a covenant from God in a heavenly vision to start the ministry.
The church began small but grew to 15,000 people attending its weekly Sunday service and 50,000 weekly both from Nigeria and beyond.
SCOAN Has Just One Branch In Nigeria
Despite how large the church has grown over the years, it has just one branch in Lagos which doubles as its headquarters. The church reportedly has just one branch in Ghana other branches in the United Kingdom, South Africa, and Greece.
Some years ago, the preacher during a Sunday service hinted at a possible relocation of the ministry headquarters to the Holy land of Israel.
Several prominent people, as well as members of his congregation, opposed it and urged him to remain in his country as moving the ministry to Isearl will cause economic setbacks to Nigeria this is because SCOAN has been described as "Nigeria's biggest tourist attraction" and "the most visited destination by religious tourists in West Africa."
Statistical findings released by the Nigerian Immigration Service stated that 6 out of every 10 foreigners coming into Nigeria were headed to SCOAN.
What Was T. B. Joshua's Net Worth?
The late televangelist and philanthropist's net worth was valued at $20 million at the time of his death but there have been debates and controversies over this figure. Some believe he is worth more than this and others think his net worth is less.
A source has claimed that the late preacher's net worth is valued at $150 million, putting into consideration that he had a private jet valued at $60 million at the time of purchase and other assets scattered across the globe.
In 2011, Forbes listed T.B Joshua as the third richest pastor in Nigeria, the claim was however denied in a statement by the church. The late preacher's name also made it on the list of other well-known pan-African magazines as either one of the richest pastors in Africa or the most influential people on the continent.
How Late T.B Joshua's Net Worth Accrued
Late Prophet T.B Joshua accrued his massive wealth through the following means:
Sale of Anointed Water & Stickers
T.B Joshua was renowned for the sale of anointed water which according to upheld belief by the worshippers had the power to cure all manner of sicknesses and diseases. The anointed water is one of the faith tools of the ministry and is referred to as "the blood of Jesus Christ" in a bottle; it is said to cost about N5000 for a 30ml bottle.
Another popular faith tool of the ministry that sells like hot donuts is the sticker. It is said to repel demonic spirits and boost business sales, thus, it was bought by many.
His Television Station
T.B Joshua is the founder of the church TV station Emmanuel TV. The TV station was founded in March 2006 and televised the ministry's Sunday services live from Lagos. It debuted on DStv and GOtv in November 2015 and on StarTimes in 2016 and it's another major source of income for both the ministry and the late preacher.
Social Media Presence
Another way the preacher had money coming in was through his presence on social media. Aside from the TV station, the ministry, and in extension the prophet had a YouTube channel with a lot of subscribers, of course, we all know what that means.
Emmanuel TV's YouTube videos were ranked by Google as the 4th most viewed clip ever within Nigeria. Unfortunately, the channel was suspended over homophobic statements made by the prophet in about 7 videos about homosexuality being the result of demonic possession and that it could be cured through spiritual deliverance.
Sale Of His Books
Not many people are aware that Late T.B Joshua was the author of many books. The preacher authored several books and made money from them too. Some of his books include:
Astounding Miracles of God: At the Synagogue
The Wicked Ordinances: Blotting Out Ancestral, Generational, Foundational, Witchcraft and Wiccans, Demonic Altars Attracting Curses, Frustration, Captivity, and Failure
How to Cast Out Demons and Evil Spirit: Breaking Satanic and Demonic Possession, Oppression and Occult Through Bible Scriptures, Spiritual Warfare and Exorcism
The God of Darkness: A Battleground Against God's and Goddess, Satanic and Demonic Lies about God, Lucifer and Grave with Wicca (Wiccans) Magical Deities, Imaginations That Sounds Like Truth Through Spir
Nigeria's newspaper Premium Times once claimed that the preacher incorporated a company called Chillon Consultancy Limited in the British Virgin Islands in June 2006. This was based on the reports stemming from the Panama Papers leak at the time. The prophet, however, came out on Facebook to refute the report, stating that God had given him enough and that he isn't a businessman and had no business.
"I am not a businessman and have no business whatsoever. What God has given me is more than enough".
TB Joshua's House and Cars
With the kind of money T.B Joshua had, one would expect that he used the most expensive cars on earth but there is nothing of such. The late man of God is said to own just a Mercedes-Benz and a Range Rover car.
The late preacher was said to have lived on the church premises and had no personal properties.
However, a video of his supposed mansion which began making rounds on social media after his death seems to suggest something different. In the video, the entire interior decor of the house was plaited with gold; from the walls to the doors, chairs and all.
It was later discovered that the video was fake and that the house that was displayed as the late preacher's mansion was actually that of the chairman of Orange Drugs Limited, Sir Tony Ezenna popularly known as Ikenga Akokwa.
In September 2015, Saharareporters reported that the clergyman secretly bought a $60 Million Gulfstream G550 Private Jet. The report claim that members of the church told the reporters that at least 8 African Heads of state bought the jet for the clergyman in 2014 but it had been kept in Israel.
His media aide however came out to dismiss the report as false and mere rumours.
T.B Joshua's Sudden Death
Members of Synagogue, Church of All Nations (SCOAN) and of course, all lovers of the preacher, woke up on June 5, 2021, to the news of his sudden demise. This came as a shock to many, especially to those who had seen him the previous day at the Emmanuel TV Partners Meeting held in Lagos, Nigeria.
He was reported to have walked out of the meeting after the Saturday night sermon to take a little break but never returned. When he was taking so long to get back to the meeting, a search team went to his apartment and found him dead.
His death happened just one week prior to his 58th birthday and no cause of death was given.
During the Emmanual TV Partners' Meeting which happened to be his last, the preacher was quoted to have said "there is time for everything – time to come here for prayer and time to return home after the service," and his last words were "Watch and Pray". According to many, this was just the man of God giving a hint of his death.
He reportedly suffered a stroke two months before his death and was flown by air ambulance to Turkey for treatment.
Where Was TB Joshua Buried?
The remains of Late Prophet Temitope Joshua, popularly known as TB Joshua was buried at the church's premises Ikotun-Egbe area of Lagos State on the 9th of July 2021. This was after controversies and disagreements about where to bury the clergyman.
The disagreements were between his wife, church members, his family and residents. While his family members and the people of Arigidi Akoko wanted him buried in his hometown, the widow of the deceased and church members were insisting that he be buried at his church premises.
The Zaki of Arigidi, Oba Yisa Olanipekun, had reportedly sent a delegate to console the family while requesting that the remains of the preacher be moved to Arigidi for final burial rites. He cited examples of notable clergymen in the country, including Moses Orimolade, Benson Idahosa, and others who were all buried in their hometowns.
However, a source close to the family revealed that the late preacher's wife and children insisted that he would be buried at a particular spot on the church premises where he had wished to be buried while he was alive.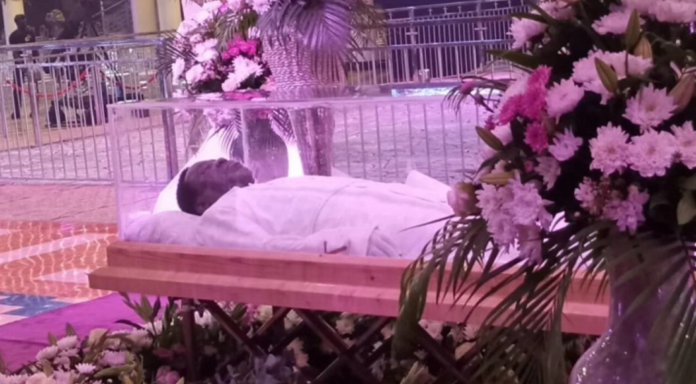 Who Is In Charge Of Synagogue, Church of All Nations (SCOAN) Now?
The church in September 2021 announced Evelyn Joshua, widow of the late preacher as the new leader of the church. This was after much fight and controversy among the leadership. Addressing the congregation after taking up the mantle of leadership, she stated that she is not their general overseer as that title belongs only to the late prophet and that she is stepping into his shoes as a servant.
However, her emergence as the leader of the church did not go down well with some influential members of the church who argued that the successor of the church should be among leaders he worked closely with as 'wise men' and senior disciples and not her who was either ordained a pastor in the ministry or involved in the church activities while the preacher was alive.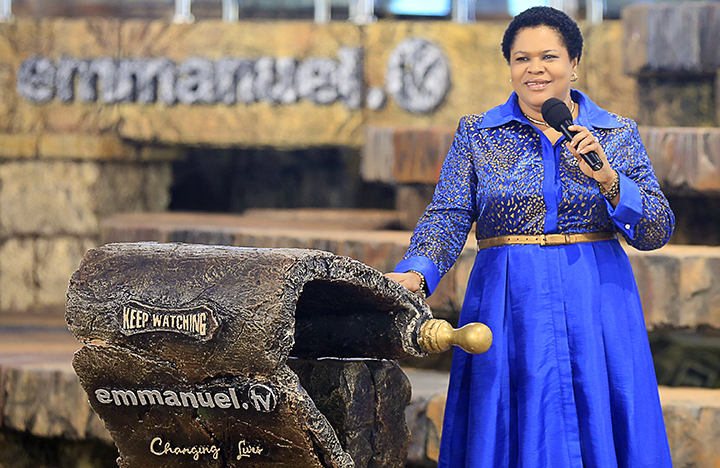 Inside The Family He Built With Evelyn Joshua
Asides from his parents, sibling(s), and extended family members back at Arigidi Akoko, Prophet TB Joshua left behind a wife and three children. Until his death, he was married to Evelyn Joshua.
Mrs. Evelyn Joshua was born on the 17th of December 1968. She is a native of Okala Okpuno in Oshimili North Local Government Area of Delta State. The couple met at Ikotun-Egbe during Evelyn's visit to her sister's house.
It was said to be love at first sight as the late prophet proposed to her on their first meeting and the rest like they say is history. They were married for over three decades before TB Joshua's sudden death.
They had three beautiful daughters together; Sarah Joshua, Promise Joshua, and Heart Joshua. Sarah who is the first of their three daughters graduated from the London School of Economics under the Department of Law and was later called to the bar in Abuja.
Their second daughter, Promise is a graduate of International Relations and Politics from the London School of Economics. Not so much is known about their third and last child, Heart.
Sarah reportedly tied the knots with her Tanzania sweetheart Brian Moshi in Arusha sometime in May 2021. This was said to be the third wedding they were having. According to reports, they had had a wedding in a Pentecostal church in Lagos, then in Dubai before the one in Arusha which was attended by the late prophet, his wife, and delegates from Nigeria.
Sarah and her husband welcomed a son on June 12, 2021, the same day the late prophet would have turned 58.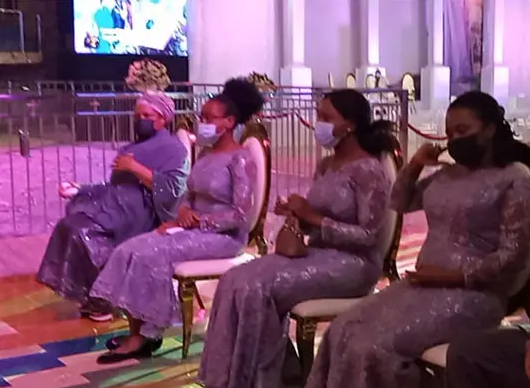 Key Questions About The Late T.B Joshua
TB Joshua was From Which State?
The late prophet was from Ondo State, South-west Nigeria. He was from Oosin, a poor neighbourhood in Arigidi, a town in Akoko North-West region of the state.
At What Age Did TB Joshua Die?
TB Joshua died at the age of 57; just a few days to his 58th birthday. He was born on 12th June 1963 and died on 5th June 2021.
What Was T. B. Joshua's Cause of Death?
The cause of his death was not made public, however, he was said to have been flown by air ambulance to Turkey for treatment two months before his death after he reportedly suffered a stroke.
Who Were TB Joshua's Parents?
TB Joshua's late parents were Kolawole and Folarin Balogun. His father was a former British translator, translating Yoruba to English. His mother's occupation was not known.
Did T. B. Joshua Have Brothers and Sisters?
He had an older brother by the name of Sunday Balogun, although nothing about him was known until after Joshua's death. There is no further information if he had any other siblings aside Sunday or not.
What Were the Names of TB Joshua's Children?
TB Joshua was married to his wife Evelyn Joshua from 1990 until his death. They had three beautiful daughters together; Sarah Joshua, Promise Joshua, and Heart Joshua.
What Happened to TB Joshua's Private Jet?
In September 2015, Saharareporters reported that the clergyman secretly bought a $60 million Gulfstream G550 Private Jet. Although his media aide came out to dismiss the report as false and mere rumors at the time, it seems it was not rumored after all as there have been reports of the plan to sell off the jet, after the death of the televangelist.