Africa has continued to produce lots of great and remarkable leaders. Many of them have come and gone but their memories live on. However, a lot of these great men and women of African descent handling public positions are still here with us, waxing strong in their various leadership positions. We cannot help but make mention of as well as laud these influential African leaders. According to the New African Magazine, influence in this context is not only on the positive aspect but also on the negative.
These heroes and heroines (or villains) have in one way or the other lent Africa greater prominence through their various remarkable moves and achievements which have either moved Africa forwards or backwards. But never mind, a greater number of them are worthy of commendation as their heroic acts promoted Africa's well-being in tremendous ways.
1. Abdel Fattah El-sisi – Egyptian President
Abdel Fattah Saeed Hussein Khalil El-Sisi, born 19 November 1954 is the sixth and current President of Egypt, and has been in office since June 8, 2014. He resigned from the military on 26th March 2014 in order to run for the post of the president. Among other remarkable achievements is Abdel's fight against terrorism that threatens the security and stability of the Arab region. He succeeded in stopping the eruption of a civil war in Egypt after the ouster of former president Mohamed Morsi. The new Egyptian president is driving forward the much-needed economic reforms in the country and is seen by the West as a moderate force in the region. He also came 51st in Forbes 2014 list of World's Most Outstanding Individuals.
See Also: 5 Richest Kings In Africa
2. Ellen Johnson Sirleaf – Liberian President 

Ellen Johnson Sirleaf (born 29 October 1938) is the 24th and current President of Liberia. Sirleaf is the first elected female president both in Africa and the whole world. She assumed the position of Liberian president in 2006 and was re-elected in 2011. She is known for peaceful, non-violent fight for women's rights and safety. For this reason, she was awarded the Nobel Peace Prize in 2011.
In 2013, she got the Indira Gandhi Prize from the Indian President, Pranab Mukherjee. She also ranked 70th and 96th in Forbes list of Most Powerful Women in the World in the years 2014 and 2015 respectively. Her leadership as the president of Liberia has really made world history because it takes a woman of valour to attain the heights she has attained. She once said that if your dreams do not scare you, then they're not big enough!
See Also: 20 Highest Paid African Presidents For 2015
3. Kofi Atta Annan – Ghanaian Diplomat
I need not say much about popular Kofi Atta Annan, a man who has made indelible marks in the history of Africa and the world. Kofi is a Ghanaian diplomat who served as the seventh Secretary-General of the United Nations from January 1997 to December 2006. It happened on the evening of December 13, 1996, that Annan was named Secretary General of the United Nations – making him the first black African to hold the post. His achievements which landed him on this list are too numerous to mention. Annan and the United Nations were the co-recipients of the 2001 Nobel Peace Prize "for their work for a better organized and more peaceful world. After the September 2001 terrorist attacks on the US, he played a crucial role in stimulating the General Assembly and the Security Council to take actions for combating terrorism. He is now 77 years old.
4. Ngozi Okonjo-Iweala – Nigerian Finance Minister
Ngozi Okonjo-Iweala is a globally renowned Nigerian economist best known for her two terms as Finance Minister of Nigeria and for her work at the World Bank, including several years as one of its Managing Directors (October 2007 – July 2011). She briefly held the position of the Nigerian Minister of Foreign Affairs in 2006. She is 61 years old.
Okonjo-Iweala has helped the country's economy, the largest in Africa, grow an average of 6% (per annum) over three years. She is credited with developing reform programs that helped improve governmental transparency and stabilizing the economy. She is the first woman to be the finance minister and the foreign minister of the West African country with a GDP of $502 billion. She was named by Forbes as the 44th and 48th Most Powerful Women in the World in the years 2014 and 2015 respectively.
5. Uhuru Kenyatta – Kenyan President
Uhuru Kenyatta is the fourth and the current President of Kenya and has been in office since 9 April 2013. He was born on 26th October 1961. Looking at the current criminal charges against President Uhuru for which he is yet to be tried, one would conclude he should not have made this list, and even if he does, it shouldn't be on a good note. But on the contrary, he emerged one of Africa's most influential leaders for the singular act of combining political shrewdness and the power of a suave public relations machine to overshadow his pending trial for international crimes at The Hague.
Mr Kenyatta made it to the exclusive list for successfully employing a smart political strategy that has turned Africa against the International Criminal Court (ICC) and away from the serious crimes he is accused of committing during Kenya's 2007 General elections. The report adds that Mr Kenyatta has "reframed his case as being about the dignity and sovereignty of Kenya and more broadly Africa, rather than about the political violence following the disputed 2007 election."
6. Obiageli Ezekwesili – Nigerian Woman Activist
Obiageli Ezekwesili is a Nigerian chartered accountant, a 52-year-old woman of no mean reputation. She has held the positions of the Nigerian Minister of Solid Minerals and Minister of Education respectively. Ezekwesili, one of the founders of Transparency International, serving as one of the pioneer directors of the global anti-corruption body based in Berlin, Germany used her voice to speak up for those who could not, as seen with what she is doing with the "#BringbackOurGirls" campaign – a campaign of which she is actually the founder. It is her continuous undying and selfless activism towards the recovery of the over 200 schoolgirls abducted by the Nigerian militant group – Boko Haram that was mostly acknowledged by The New African Magazine. The magazine noted that slowly but surely, this message went viral and the world began to listen.
7. Idriss Déby – Chadian Politician
General Idriss Déby Itno is a Chadian politician who has been the President of Chad since 1990. He mounted the position at the age of 38 and is now 63 years old. President Idriss since his reign has been facing challenges of series of opposition from rebels but he never allows this to set back his regional security pointman ambitions for long, stepping up counter-terrorism cooperation with France and the US as well as playing a prominent military and mediating role in the Boko Haram conflict.
8. Salva Kiir – South Sudanese President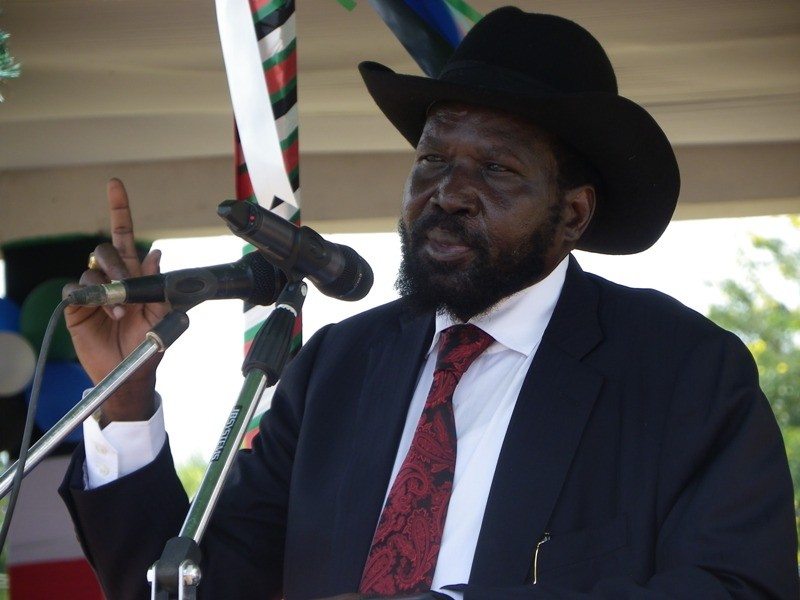 Though Salva Kiir has gained much prominence in recent times following the creation of his new state, South Sudan, but the fame that qualified him to be named among the Most Influential African Leaders is not quite on the positive side. It was actually the dust-raising squabbles and series of conflicts he has been having with his former Vice President,  Riek Machar that has taken his fame beyond boundaries. This is how The New African Magazine puts it: President Salva Kiir and his former Vice President Riek Machar have had great influence in their country this year – but not of the positive kind. Their rivalry has done much to smash the hope invested in their new state at independence in 2011. Their political dispute has developed into an ethnicized conflict, mainly between the Dinka and the Nuer. 1.5 million South Sudanese are internally displaced and thousands have been killed. As their representatives engage in on-off negotiations in regional capitals, the pair's inability to put their country's interests ahead of their own is not only causing damage today, but makes the task of building a sustainable state and society for the future more difficult. The two men hold enough power to end the conflict. If only they would choose to exert it".
9. Desmond Tutu – South African Social Rights Activist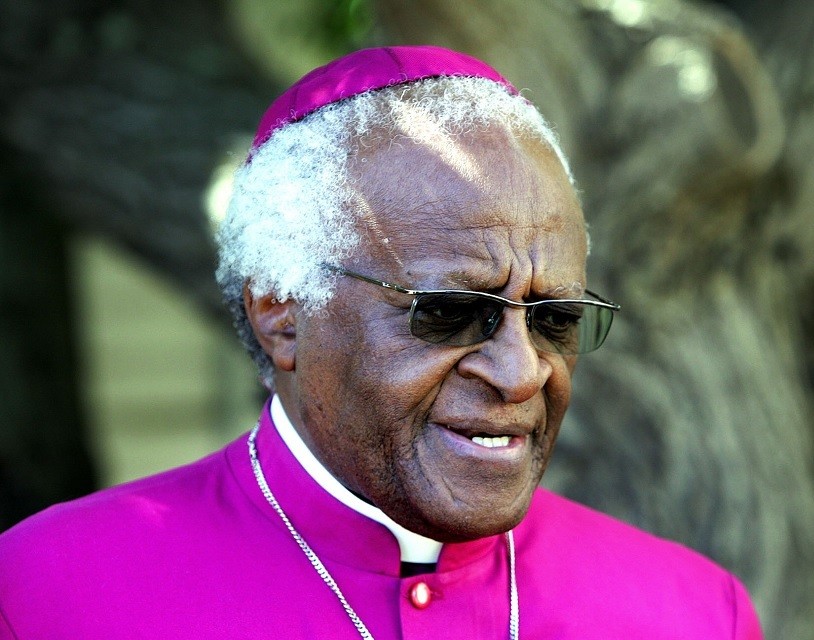 Desmond Tutu is a South African spiritual, religious leader as well as a social activist, (an outspoken critic of Apartheid). He is a retired Anglican archbishop of Cape Town and a Nobel peace laureate. He was the first black Archbishop of Cape Town and bishop of the Church of the Province of Southern Africa (now the Anglican Church of Southern Africa). Desmond is a member of the Elders, a group of independent leaders brought together by Nelson Mandela who works for peace, justice and human rights. His various areas of his activism as well as the awards he has bagged includes: campaign against poverty, unilateralism, HIV, AIDS and TB; the 'Pacem in Terris' Award, the 'Bishop John T. Walker Distinguished Humanitarian Service Award', the 'Sydney Peace Prize', Gandhi Peace Prize, the Lincoln Leadership Prize respectively. In fact, they are too numerous to mention.
10. Julius Malema – South African Politician
Julius Sello Malema is the leader of the Economic Freedom Fighters, a South African political party, which he founded in July 2013. He previously served as President of the African National Congress Youth League from 2008 to 2012. Malema was a member of the ANC until his expulsion from the party in April 2012. He occupies a notably controversial position in South African public and political life, having risen to prominence with his support for African National Congress president, and later President of South Africa, Jacob Zuma. He has been described by both Zuma and the Premier of Limpopo Province as the "future leader" of South Africa. At less than a year old, the EFF won over six percent of the vote in last year's 2014 elections. Julius is remarkably the youngest in this list; he was born on 3 March 1981.
11. Yoweri Museveni – Ugandan President
Ugandan President Yoweri Museveni, who is cited for his anti-ICC stand and continued military interventions in the region's conflicts, also made it to the list alongside South African politician Julius Malema. Yoweri has been president of Uganda since 1986. Looking at the various criminal charges against this old master, especially, the ones coming from his subjects, he would not have made this list but this is what The New Times Magazine has to say about him:
Yoweri Museveni has been in the spotlight this year again as he's dealt with a potential rival from his own inner circle, continued to criticize the International Criminal Court for being an "instrument of post-colonial hegemony", faced Western flak for passing the Anti-Homosexuality Act, and played a prominent regional military role with troops deployed in South Sudan, the Central African Republic and Somalia. Uganda's president has remained able to stay one step ahead of the game proving that, after all these years, he is still a political maestro".
12. Abubakar Shekau – Boko Haram Leader
It will baffle or even disgust you that such a fellow as this made this list of Most Influential African Leaders, but remember what I said in the introduction and pardon my excesses. The well-known Abubakar Shekau, aka, Darul Akeem wa Zamunda Tawheed, or Darul Tawheed ("the abode of monotheism"), is the leader of Boko Haram, a Nigerian terrorist group that has declared loyalty to the Islamic State of Iraq and the Levant. He served as deputy leader to the group's founder, Mohammed Yusuf, until Yusuf was killed in 2009.
Nigerian authorities believed that Shekau was killed in 2009 during clashes between security forces and Boko Haram until July 2010, when Shekau appeared in a video claiming leadership of the group. He has subsequently been reported dead with regularity and is thought to use body doubles. Shekau, who is believed to be in his 30's, began to stage an increasingly daring kidnapping and killing raids on schools, churches and mosques thought by Boko Haram to be violating their interpretation of Islam. The most prominent exploit which brought him and his group into the international spotlight was the abduction of over 200 schoolgirls at Chibok, Nigeria in April 2014.