Laura Dern is a multi-faceted Hollywood star popular for portraying the role of Frannie Lancaster in the movie The Fault in Our Stars (2014), Dr. Ellie Sattler in the 1993 science fiction adventure movie, Jurassic Park and also for featuring in Star Wars: The Last Jedi (2017).
For her outstanding performance in different film and television works, Dern has received 4 Golden Globe Awards for her roles in Afterburn (1992) Recount (2008), Enlightened (2011–2013), and Big Little Lies (2017–present). She also won a Primetime Emmy Award as well as numerous nominations, including two Academy Award nomination for Best Supporting Actress for the 2014 film, Wild and for Best Actress for her role in the film Rambling Rose (1991). Learn about other aspects of her life like her background, career, net worth and family life below.
Laura Dern Age
Born Laura Elizabeth Dern on  February 10, 1967, in Los Angeles, California, the actress is the daughter of two actors, Diane Ladd, and Bruce Dern. Her mother got pregnant with her while she and her father were filming the 1966 outlaw biker film, The Wild Angels. Sadly, when she was two years old, her parents parted ways. She was raised by her mother and grandmother in the Roman Catholic faith.
Laura might have become a ballerina as she began studying ballet when she was five years old but was forced to drop it at age 10 after she developed scoliosis. She later diverted her interest in acting and made her film debut as Sharon Anne in the 1973 movie, White Lightning.
Net Worth
Since the time Laura Dern made her professional acting debut, she has remained relevant in the industry and has shown no sign of slowing down any time soon. Apart from acting, she has also spread her tentacles to other aspects of the film business such as production and directing. As a result of her dedication and hard work, Laura has garnered an estimated net worth of $12 million.
Mother, Husband, Boyfriend, Children
Laura is the daughter of Diane Ladd, an award-winning actress, Diane Ladd has featured in more than 120 films and television series since her appearance in the 1957 television series, Decoy. Her role in the film, Alice Doesn't Live Here Anymore (1974) earned her a BAFTA Award for Best Actress in a Supporting Role and an Oscar nomination for Best Supporting Actress.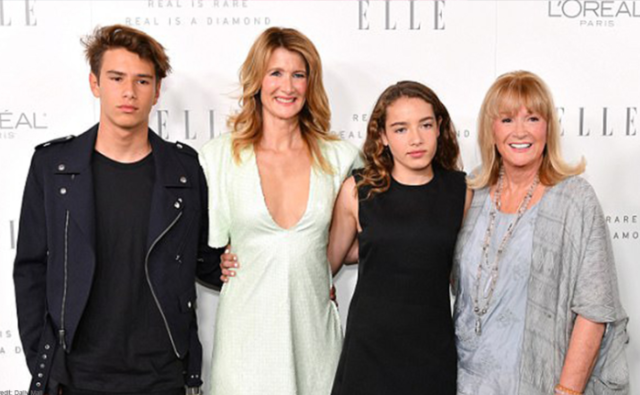 She also won the Golden Globe Award for Best Supporting Actress on Television for her role as Isabelle "Belle" Dupree on the CBS sitcom, Alice, which ran from 1976 to 1985. The mother and daughter have also starred side by side in a number of films which includes Wild at Heart (1990), Rambling Rose (1990) and the 2006 experimental thriller film, Inland Empire. Diane and Laura also played the roles of Helen Jellicoe and Amy Jellicoe in the TV series, Enlightened, aired on HBO.
Laura's mother got married in 1960 to Bruce Dern with whom she had Laura, but their marriage ended in 1969. She is now remarried to Robert Charles Hunter.
The beautiful actress Laura Dern has been romantically involved with a number of men in the film industry but decided to settle for musician Ben Harper, whom she met at one of his music concerts in the year 2000. While they were dating, the couple had two children – a son named Ellery Walker and a daughter named Jaya Harper. Ellery was born on August 21, 2001, while his sister arrived on November 28, 2004.
See Also: Jordan Peele Married, Wife, Parents, Son, Family, Height, Net Worth
After about five years of dating, Ben and Laura finally tied the knot on December 23, 2005, in a ceremony which took place at their Los Angeles home. Laura became a stepmother to Ben's two children (a son named Charles and a daughter, Harris) from his first marriage.
Almost five years after they got married, Laura sought to end the union citing irreconcilable differences. However, they were able to mend the fence and continue with the marriage until July 2012 when Laura Dern reopened the divorce case. This time, their marriage could not be saved and by September 2013, they officially parted ways.
Since the end of her marriage to Ben Harper, the actress has been linked to hip-hop artist, Common, and Baron Davis, the former NBA player. Nevertheless, neither of these relationships was confirmed by Laura.
Height, Wight
The super-talented Hollywood actress measures 5 feet 10½ inches (179cm) in height. Despite the fact that people usually gain weight as they age, Laura, who is now in her 50s, still maintains a healthy body weight of 61 kg (135 lb). Her beautiful face and physique are complemented by her platinum blonde hair and gorgeous blue pair of eyes.