Michael Cohen's name became a regular in the news especially after has was indicted with several charges and was convicted to a three-year prison sentence on the 12th of December, 2018. Michael Cohen was the right-hand man to the president of the United States Donald Trump until a string of federal investigations began against him in April 2018.
Since then, there have been several bombshell revelations about the backdoor deals Michael Cohen did on behalf of the president, as well as the several lies he told when speaking with Congress. Cohen lost his license to practice law after the federal investigation began. Named as President Trump's fixer, he has been trying to clear his name since then. No doubt, the events he has faced would affect his family, especially his wife whom he has been with since 1995. In this article, we look at his wife, Laura Shusterman.
Laura Shusterman Biography & Age
Laura Shusterman was born in 1970 in Ukraine to parents Fima and Ania Shusterman. Her parents, also Ukrainians, moved to the United States in 1975. Laura Shusterman and Michael Cohen met and got married in 1994 in a private ceremony with only family and close friends present. The marriage helped Laura get into the taxicab business, with her sharing the gains from the taxicab medallions her husband possessed. She also got into real estate, becoming an investor with stakes in the Trump empire.
A lot about Laura Shusterman's background is unknown, and she has been able to keep herself and her personal affairs private from the public eye. This changed when her husband received federal indictments after an investigation conducted against him revealed that he lied to Congress about how long and how integral he was about discussions to build a Trump Tower in Moscow.
Michael Cohen was also the one that paid off two women the president had sexual relations with; porn star Stormy Daniels, and Playboy model Karen McDougal. Cohen allegedly paid them for their silence before letting the president know about it, even though he states that he did it under the direction of Trump. President Trump denied having anything to do with paying the women off.
With the charges against Michael Cohen, you would wonder if there were any implications to his family. The Wall Street Journal made a report that evidence was found by prosecutors implicating Laura Shusterman in the criminal activity of her husband. But there were no charges filed against her. Michael Cohen was charged with eight federal crimes including giving false statements to Congress, financial and tax crimes, and two campaign finance violations. He was also ordered to pay $1.39 million to the IRS, $500k in forfeitures and $100k in fines.
Family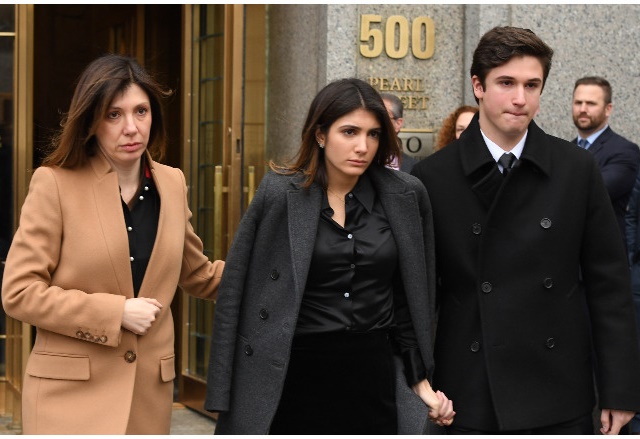 When Laura Shusterman and her parents moved to the US, they integrated themselves into the system and eventually became citizens. It's a well-known fact that Fima Shusterman, Laura's father, is the one that introduced Michael Cohen to Donald Trump. Mr. Shusterman got into the clothes business and co-owned several taxicabs with partners Shalva Botier and Edward Zubok. His success enabled him to work alongside Donald Trump, with sources stating he could have been a silent partner helping Russian investors own stakes in Trump properties. The rumor goes that Donald Trump gave Michael Cohen a position in Trump Organization, though Cohen has denied the allegations.
See Also: Nydia Stone – Bio, Profile And Facts About Roger Stone's Wife
In 1993, Fima Shusterman pled guilty to conspiring to defraud the IRS in a money laundering and tax fraud scheme. Details about Ania Shusterman, Laura Shusterman's mother, are not available.
Laura Shusterman and Michael Cohen have two children together; model and socialite daughter Samantha Blake Cohen, and son Jake Cohen. Samantha graduated from the University of Pennsylvania in 2018, and Jake is studying at the University of Miami. Laura and her husband came under scrutiny when Cohen shared a picture of his daughter in lingerie. Many tagged the move as creepy, however, the air was cleared when Samantha supported her father's move by letting the public know that it was a photo shoot that he had shared.
At a 2017 Senate hearing, Cohen stated that during the investigations and indictments, his wife and daughter have been victims of sexual harassment, insults, and threats so grave he could not share them. Even with all the harassment and the threats against them, Laura Shusterman and her children have stood by Michael Cohen, defending his case.