LaurDIY is the YouTube channel of Lauren Riihimaki which she created on December 1, 2011, when she was still a college undergrad with the sole aim of giving Do It Yourself (DIY) as well as practical fashion and beauty tips to her followers.  She has used the channel to establish herself as a YouTube personality commanding well over 8.7 million subscribers and over 1 billion content views. Prior to becoming a famous YouTube personality, she had a blog where she posted pictures that guide her readers on fashion. Find out more who LaurDIY is in her biography and in these 5 interesting facts about the talented vlogger.
LaurDIY Biography
Lauren Riihimaki was born on August 11, 1993, in Toronto, Ontario, Canada to Gail Riihimaki (mother) and Grey Rihiimaki (father). She is of mixed ethnicity of Japanese, Ukrainian and Finnish having been born to a Japanese mother and a mixed Ukranian and Finnish father. As an only child of her parents that lacked a playmate when growing up, she embraced sports and she also learned swimming and skating.
With a passion she developed in music, she enrolled and took music lessons on instruments like guitar and piano. Her expertise in sports during her middle school earned her an award of the best female athlete. Not until her 6th grade when she was transferred to Queen Mary Public School to conclude her middle school education, she had attended Alexandra public school. Finishing middle school with her head up, she joined Winston Churchill High school for her high school education before enrolling in Ryerson University where she majored in Graphic Communication and graduated with a degree in technology in 2015.
Lauren came to spotlight with her YouTube channel titled LaurDIY, the channel's name is traced to her first name which she abbreviated and the DIY suffix therein stands for Do It Yourself thus the combination LaurDIY. Though she joined YouTube in late 2011 when she was an undergraduate, she had been active earlier with her blog named Desire and Inspires which she used positively to teach fashion and beauty tips to her readers.
With a penchant for teaching, it got to a point that writing down instructions became quite tedious that she needed a better platform that would enhance and offer practical, visual and motion illustrations to her followers, through research and inquiries, friends suggested YouTube to her and she caved in.
With a high number of views and positive comments that followed her first video uploads, she didn't need to be reminded that her transition was welcomed. Lauren finished her college and went on to build a career as a YouTuber. Today she is known for her brand of contents which are basically Do It Yourself, fashion as well as beauty tips videos she uploads every Mondays.
She created another channel on November 7, 2013, with the name LaurDIY2 where she posts her Vlogmas series and any other vlogs pertaining to life shenanigans and traveling. The channel has seen over 505k subscribers with about 14.1 million views.
Other than vlogging, the YouTuber has shown her acting skills in films; notable ones include, Boo 2! A Madea Halloween (2017) and Escape the Night (2016). The 'Do It Yourself queen' has also tried her hands in music production, she has a music video called DIY Queen, the music video was shot outside her home and the video has seen a considerable large number of views since it was uploaded. The music was instantly followed by a book entitled "Do It Yourself."
The relentless content maker has a website www.laurdiy.com where one can shop online. Aside from online shopping, the website has direct links to her social media feeds; Twitter, Instagram as well as her YouTube channel. The website also contains How-to's (Fashion crafting, Jewelry crafting, and Craft Tips). LaurDIY has penchants for dogs and she has a cute dog she calls MooseLaurDIY.
5 Facts You Need To Know About The YouTuber
1. Awards
With her contributions in showbiz, she has won a Shorty Award in the "House & Home" category at the tenth annual ceremony, an annual award for people and organization with real-time inspiring short contents. In addition, LaurDIY has also earned for herself a Streamy Award in the maiden edition of "Lifestyle" category in 2017.
2. Boyfriend
The beautiful and gifted female social media influencer has loads and tones of male admirers. She was in a relationship with Alex Wassabi for three years.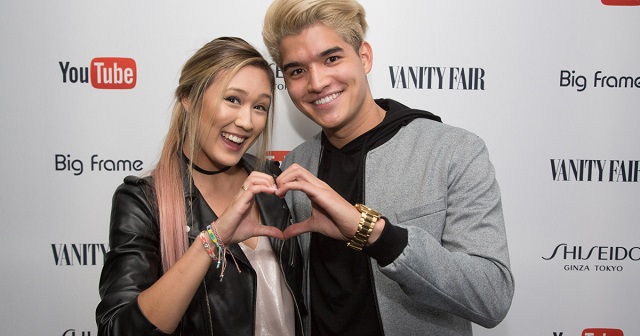 Alex Wassabi is a fast-rising Filipino-American YouTube vlogger. They broke up in September 2018, to allow themselves ample time to get their best versions and be on the same page according to the emotional video they both posted to announce their breakup.
3. Net Worth
With a fresh but impressive presence on YouTube, LaurDIY has garnered a net worth estimate of $450,000 which will surely rise in the years to come as she thrives with her career.
Read Also: Zoella (Soe Sugg) Net Worth, Age, Height, and Family Facts
4. Social Media Break
Although LaurDIY declared that she would be taking a break from posting on her YouTube channel after her emotional breakup with her boyfriend Alex, she has however reassured her teeming fans that she would be active on other social media platforms such as Instagram where she commands about 4.6 million followers and her Twitter account which  has a following of 5.95 million.
5. Height, Weight, and Tattoo
The YouTube personality has a height of 5 feet 4 inches (1.62m) tall, her height is neatly complemented with a weight of 55 kilograms (121lbs). LaurDIY has a tattoo – 1932 on her waist which she said was the birth year of his grandfather. She inscribed it on herself as a mark of honor to him. He died while she was still in the University.