Lauren Akins is an American nurse and philanthropist married to popular country music singer Thomas Rhett. Her philanthropic works have carried her to several places that have required emergency aid due to disasters and poor economic situations. She has raised hundreds of thousands of dollars for charity and runs her own business to help fund more relief aids worldwide. Her good nature and enthusiasm to share her family moments have made her a social media sensation, giving her widespread fame on the popular photo-sharing platform, Instagram.
Lauren Akins – Bio (Age)
Lauren Akins was born as Lauren Gregory on the 8th day of November 1989 in Tennessee. She grew up in the suburban neighborhood of Madison, northeast Nashville, with her two siblings Grayson and Macy. She attended Goodpasture Christian School, a school in Madison that starts from preschool, up to elementary, and ends in high school. It was at this same school that she first met her husband, Thomas Rhett.
Once she was done with Goodpasture, Lauren Akins furthered her education at the University of Tennessee. While she was in college, she was part of the Alpha Delta Pi sorority and got involved in several extracurricular activities. At the end of her college years, Lauren Akins graduated with a Bachelor of Science in Nursing.
Career
Graduating left Lauren Akins ready to put her competence into good use for the community. She began working for several charity-based organizations, providing all her nursing skills to the needy. Her work took her to third world countries in need of aid like Haiti, Honduras, Kenya, and Uganda. In each of them, she had extended stays to do as much as she could for those she had traveled to help. Uganda was the country she met the little girl she eventually adopted into her home with her husband.
Lauren Akins is currently with the charity organization 147 Million Orphans; a charity that provides food, water, shelter, education, and health amenities to less fortunate children. In 2016, Lauren Akins and her husband Thomas Rhett were able to raise more than $250k for 147 Million Orphans. Lauren is a philanthropist and she runs a jewelry line with Emily Dee called the Lauren Akins X Ladybird line. Charm necklaces are sold proceeds from the sales given to charity organizations. Besides her philanthropic endeavors, she has also appeared in several of her husband's music videos.
Other Facts About Thomas Rhett's Wife
Her Husband & Children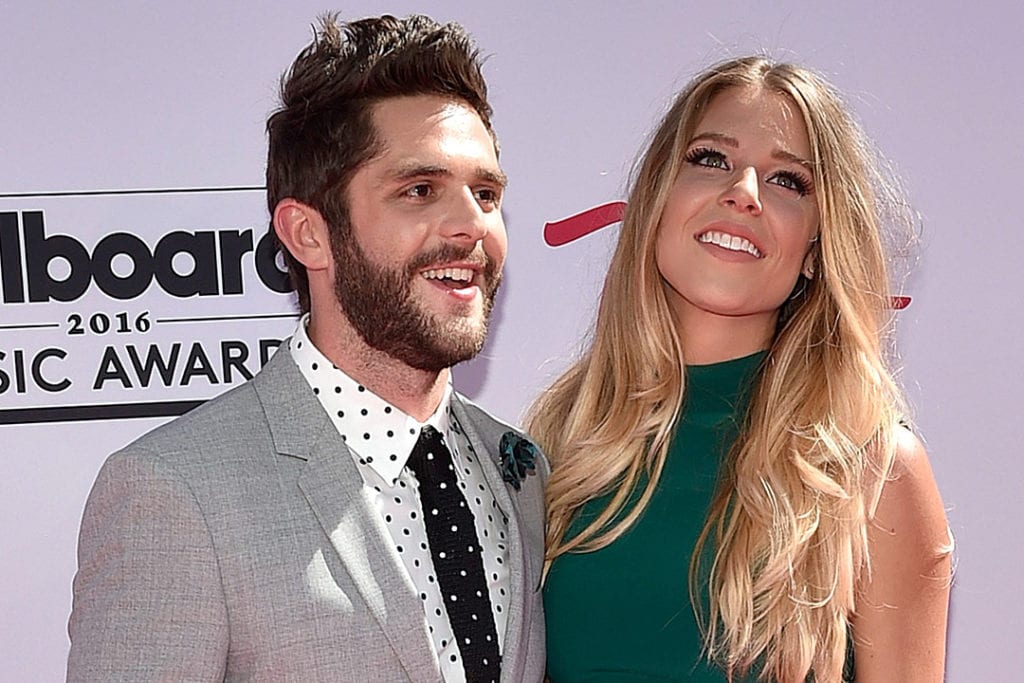 Lauren Akins has known her husband since they were both in the first grade. They both attended Goodpasture Christian School and when they were teenagers they decided to try and date each other. The relationship didn't work out so well and six months later they broke up, agreeing to remain friends. They went their separate ways for university, almost marrying other people they dated. However, they met afterward and Thomas Rhett decided to ask Lauren Akins out again.
In December 2011, while the couple was together in Lauren's favorite restaurant, Thomas proposed to her with the help of his mother. He popped the question with 'Marry Me' written on a bottle of wine. Lauren answered by writing 'Yes' on the same bottle, and that's how the couple got engaged. A year later, in October 2011, they finally got married, spending their honeymoon at Oahu.
The couple has been blessed with two daughters in the span of their marriage. Willa Gray is their first daughter whom they adopted from Uganda on the 11th of May, 2017. The adoption was carried out because they had tried to conceive, but had no success. As fate would have it, when the adoption process was near completion, Lauren Akins found out she was actually pregnant. Three months later, on the 12th of August, 2017 their second daughter Ada James was born.
See Also: Grace Hightower, Robert De Niro Wife – Bio, Children, Age, Net Worth
Lauren Akins' Net Worth
It would surprise no one if Lauren Akins had a sizeable net worth to her name, thanks to her work globally and her jewelry line. However, the lovely lady has not disclosed her net worth, so that it can only be figured out by pure speculation. Her country music singer husband, on the other hand, has an estimated net worth of $5 million.
Height and Body Measurements
Lauren Akins stands at a nice height of 5 feet 10 inches and she has a body weight of 54 kg. She has grey eyes with blonde hair. She also has a 34-inch bust, 24-inch waist, and 32-inch hip.