When you hear of the NHL (National Hockey League), the first thing that usually comes to mind is the ice and the cold. However, in recent times, one person has been steaming up the league and she is no other than the stunning Lauren Cosgrove. Cosgrove is the wife of highly-rated winger and Stanley Cup winner, T.J. Oshie. While her man is busy racking up goals and assists, she has been by his side and has supported him all through the highs and lows. Additionally, the gorgeous lady is one of the sexiest WAGs in hockey and is not afraid to share hot photos with her Instagram fans.
Lauren Cosgrove's Bio
Lauren Cosgrove was born on the 24th of October 1990 in Missouri. Her nationality is American while her ethnicity is Caucasian. She grew up in Missouri and obtained her college degree from the University of North Dakota. When it comes to her family background, the beautiful WAG has not disclosed many details in that regard except that she hails from a large family. On the other hand, husband – T.J. Oshie was born on the 23rd of December 1986 in Mount Vernon, Washington. His father's name is Tim while his mother's name is Tina. The hockey player also has two sisters, Tawni and Aleah, and a brother named Taylor. Oshie's parents divorced while he was growing up and he subsequently split his time between Stanwood (Washington) and Warroad (Minnesota). He later attended Warroad High School where he was a standout hockey player, leading his school to two Minnesota State Class-A titles.
Career
Lauren Cosgrove has not divulged specific details about her career. However, she often makes time to support her man as she regularly attends his games. Oshie, on the other hand, commenced his professional career via college. The winger played college hockey for the University of North Dakota between 2005 and 2008. In his three years at the school, he took part in a total of 126 games and recorded 59 goals and 83 assists. He also received several accolades including NCAA West All-Tournament.
T.J. Oshie made his NHL debut for the St Louis Blues in 2008/2009. He spent a total of seven seasons with the Franchise before joining The Washington Capitals in July 2015. Oshie spent just three years with the Capitals before they captured the prestigious Stanley Cup (the highest trophy in the NHL) for the very first time in their history.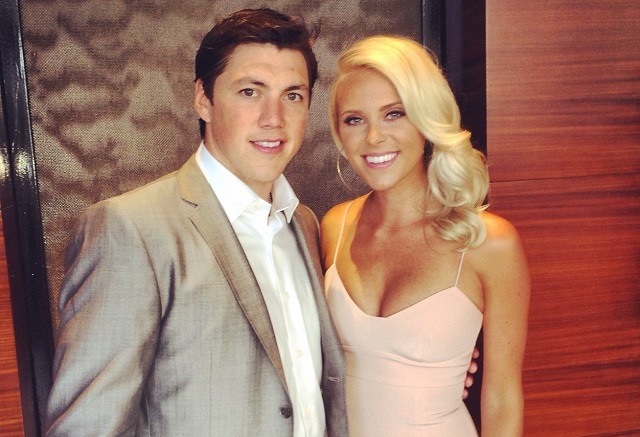 Engagement and Wedding
Lauren Cosgrove first met her husband while they were both visiting their college buddies in North Dakota. They got talking and eventually started dating. The couple dated for three years before getting engaged in February 2014. According to Cosgrove, they were on their way to get breakfast when she noticed that her boyfriend was no longer by her side. She turned around and found him on his knees with the ring out. She was stunned but nevertheless said a resounding yes to his proposal. The couple later tied the knot in July 2015 in Minnesota. Since getting married, Cosgrove and her beau have remained strong and have served as a pillar of support for each other. There has also not been any unsavory rumors about them.
Family (Lauren Cosgrove's Daughters)
Lauren Cosgrove and her husband have two daughters together. Their first daughter is Lyla Grace who was born on the 17th of March 2014 – (which was even before they got married). The little girl played a prominent part in her parent's wedding as she walked down the aisle with her dad. The couple welcomed their second daughter, Leni Rose, in June 2016. Cosgrove and her family have been enjoying an idyllic family life albeit with some challenges. Their eldest daughter, Lyla, was born with a birth defect known as Gastroschisis, a condition whereby a child's intestines, as well as some other organs, escape the body through the belly button. The couple discovered that their daughter had the condition during pregnancy. Lyla was therefore hospitalized for three weeks after birth, and also had surgery, before going home.
See Also: Anastasia Shubskaya – Bio, Family, Facts About Alex Ovechkin's Wife
What Is Lauren Cosgrove's Net Worth?
Lauren Cosgrove has not revealed specific details about her earnings and net worth. Her husband, however, has a net worth estimated at $4 million. His fortune stems from endorsements deals as well as juicy contracts. Oshie is currently on an 8-year contract with the Washington Capitals worth $46 million. The contract was signed in 2017 and will potentially run till 2025. Cosgrove and her husband have been putting their fortune to good use. The couple purchased a 7,505 square foot home worth $5.2 million in 2017. The house is located in a high-brow community and boasts of five bedrooms, an outdoor pool as well as a media room. Since moving in, the couple has worked hard to put their own stamp on the home.