Lauren Podell is an American journalist who followed the same path as her father Doug Podell to pursue a career in journalism. The reporter laid a solid foundation for her chosen profession by joining Oakland University where she graduated with Departmental honors earning a Bachelor's degree in Communication and Journalism as a major.
Podell rose to fame with the speed of an electron and subsequently had a great fall with her career just at the same rate she rose. The Michigan native was formally acknowledged for her utterances and irreproachable speeches on-air. However, she experienced a big fall after making racist statements about a particular Detriot incident which changed the course of her career.
She was Recruited Direct From Internship
After bagging her degree, Lauren Podell began her internship program at Fox 2 News in Southfield. The budding journalist later transferred to a Local 4 station before she was finally recruited to the team as a staff; Lauren started as a traffic reporter in 2007 before she advanced to general assignments. She was quite submissive at her place of work and oftentimes covered and reported lots of news headlines.
During her stay at the station, Podell covered the bombing plot on a plane in Detroit and covered the shooting of a police officer, Patrick O'Rourke. In 2015, she rendered her services as a grand marshal for Cruis'n Gratiot Classic war cruise in Eastpoint and was an honorary chairwoman for an art party.
An Insight into what Happened at WDIV-Channel 4 news
While working for WDIV-Channel 4 news, Lauren Podell excelled at her job but had a few flaws. She oftentimes used foul languages in expressing herself freely. One of her major slurs landed her in trouble 6 months after she used the N***rs word while reporting from the scene of the killings in Detroit. Her exact words according to reports were, 'I am tired of reporting on these n****rs killing each other in Detroit. The journalist's remarks which according to BLAC was made to one of her co-workers later got out with many having different views of her comment and this led to a series of issues.
A few of her viewers saw her statement as nothing while others took it as quite irrational. While the internet boiled, the remarks of the Detriot activist and political consultant, Sam Riddle on Facebook were not overlooked. He expressed himself bitterly insinuating that she had used foul languages numerous times and had gotten away with her act. So, he alongside other protesters demanded an apology from the station to the people of Detroit.
The Demand for Apology led to Lauren Podell's Resignation
To calm the uproar, the Detriot Free Press publicly stated that the station management had cautioned the reporter and has also given out disciplinary measures to her. Lauren subsequently decided to quit her job saying it is unacceptable. The reporter's exit from WDIV coincided with the time when she was being considered for a post with Fox, according to FOX News CEO Rupert Murdoch he has been following her work for years and had already decided that she would fit in with them. People have compared Lauren's comment to the ones made by FOX News staffers such as Bill O'Reilly who once referred to Mexicans as wetbacks.
Meanwhile, despite the fact that Lauren Podell already resigned from her job, the pastor of All God's People Church, Rev. W.J. Rideout led a protest outside the media outfit's studios on West Lafayette in downtown Detroit, where about 48 people joined him to showcase their displeasure with the statement made by the reporter as well as calling for the station to be boycotted. Notable among those who protested were Sam Riddle – political activist and Monica Conyers – the former chief of staff to former Detroit City Councilwoman.
No one Knows the Recent Whereabouts of Lauren Podell 
In a bid to cut off all her connection with WDIV media outfit, the ousted reporter's twitter account with the station was subsequently deactivated, the same was done to her biography page on the station's website.
Sometime in 2018, Lauren filled in for her dad at WCXS playing as the station's DJ; she got the chance to do this while the DJ was on vacation. Her performance was quite remarkable with the former reporter stating that she felt honored taking up the job. As of now, no one is quite sure about what is ongoing in Lauren Podell's life.
Family Life of the Reporter
Born on the 31st of October 1985, reporter Lauren Podell has her place of birth recorded as West Bloomfield Township, Michigan in the United States of America, but a better part of her growing up years was spent in Cleveland, Ohio. Although enough information about her early life is not available, it was recently revealed that she is the daughter of Doug Podell – a radio personality who did exploits in WCXS under the moniker "Doc of the Rock" playing as the station's DJ for many years; Dough has recorded 30+ years of experience in his field.
From what is perceivable, Dough Podell and his daughter share a very strong bond. The reporter always talks about her dad with fondness as she recalls when he would always take her backstage to meet big bands like The Rolling Stones, Metallica, "Uncle" Ted Nugent, and Green Day. Needless to point out that Lauren Podell followed the same career path as her father, but there is no information about her mother's profession. The records only captured her name as Sue Podell. Lauren's family unit is a small one comprising of just her and her parents.
Lauren Podell is a Happily Married Woman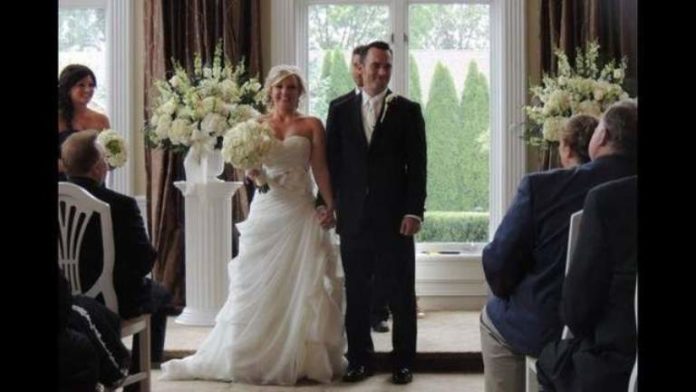 The stunning ex-reporter for WDIV-Channel 4 news is a happily married woman. Lauren Podell tied the knot with her longtime sweetheart, Joel Wallis in September 2012. While the couple has been married for almost eight years, there is a dearth of information regarding their relationship.
Lauren seems to be good at keeping her personal life away from prying eyes as she has successfully shielded every detail about her husband and what he does for a living. Her tight-lipped tactics have made it is hard to tell if they have kids or not. The much we know is that the couple has been enjoying a blissful union and there is no sign of separation or divorce between them.