There are many reasons to love Laurence Fishburne. First, he is a no-nonsense actor and secondly, he is working hard against all odds. Fishburne is a proud actor and a Hollywood phenomenon. He has appeared in many successful films, from The Matrix Trilogy to Boy n The Hood to What Love Got Do With It. He was Morpheus in Matrix who was set free from The Matrix, captain of the Nebuchadnezzar.
He entered into the industry in 1972 and just like Samuel L Jackson, it didn't take long for him to find a huge breakthrough. Currently, he is one of the most-paid stars with a net worth of $ $275 million. Here's everything to know about him.
Laurence Fishburne's Age and Bio
Born July 30, 1961, Laurence Fishburne briefly spent his childhood in his birthplace Georgia. The actor was raised in a trouble-ridden home. His mom, Hatte Bell who taught mathematics and science in a junior high school and dad, Laurence John Fishburne, a correction officer of adolescents, separated while he was very young. Consequently, he moved with his single mom to New York City and attended Lincoln Square Academy.
But long before he joined the Academy, Laurence already created an attractive career for himself in the industry. He made his acting debut at age 10 under the name Larry Fishburne in Manhattan theatre and performed on the work In My Names and Days. Two years after, he won a role on the daytime soap opera One Life to Live (1968). Next, he joined the cast of the 1975 film Cornbread, Earl and Me.
Laurence spent the rest of 1970 taking up small roles in films such as Apocalypse Now before taking a long a break from film circle. In 1983, he resurfaced and made another profiting collaboration with Francis Ford Coppola in the film Rumble Fish, Gardens of Stone amongst others.
Throughout the 80's, his film performance was also limited to small appearances in TV and films. However, moving into the 1990s, Fishburne got a chance to increase his filmography when he played Jimmy in King of New York and later appeared in Boyz n the Hood.
It was around this time that he also featured in the popular TV series Tribeca and although the show didn't last for long, his role won him an Emmy Award. He was also awarded a Tony Award for his stage work in the play Two Trains Running written by August Wilson.
In 1993, Laurence Fishburne appeared alongside Angela Basset played a memorable role in What's Love Got to Do With It. The film which was based on the book I Tina which was co-written by Kurt Loder and Tina Turner cleared the space for Fishburne.
Two years later, Laurence enjoyed more fame for playing Maurice Phipps, a West Indian Professor in the film Higher Learning. His prominence in the film didn't only skyrocket his success in the industry, it also won him Image Award for Outstanding Supporting Actor in a Motion Picture. It also allowed the actor more opportunities to perform in a variety of roles in famous films such as Othello, Event Horizon, Deep Cover, etc. However, none of his previous performances caused waves as much as his role in the film The Matrix.
Since the role, he has been touted as one of the best and well-paid actors in Hollywood. He has made numerous appearances in different echo-making engagements following that including repeating his role in the Matrix sequels (Matrix Reloaded and Matrix Revolutions) in 2003 and roles in Contagion, Predator, and Hannibal. 
Some of his recent works include Batman V Superman: Dawn of Justice, Passengers, and John Wick: Chapter. He was also cast in Black-ish, and Ant-man and the Wasp. Fishburne voiced the character Thrax in the animated action film Osmosis Jones. More amazing voice works he has done include narrating Teenage Mutant Ninja Turtles film and Silver Surfer in Fantastic Four: Rise of the Silver Surfer.
Today, he continues to pull weight in the film circle with very many awards and nominations in his name.
Read Also: Is Oscar Isaac Married? Who Is His Wife, Elvira Lind? Height, Ethnicity
Who Is His Wife and Does He Have A Daughter?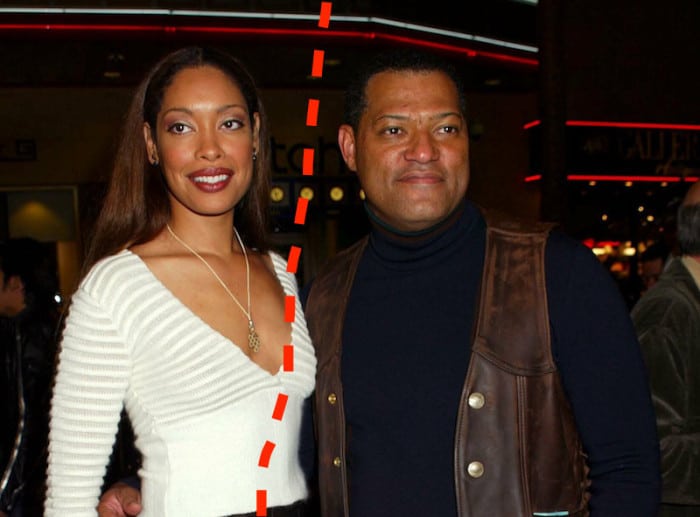 Laurence Fishburne has been able to create a desirable career in the industry but he hasn't been able to do the same in his love life. He has said "I do twice", however, none of his marriages stands today.
His first marriage was to the beautiful not-so-famous actress Hajna O. Moss whom he fell for in the early days of his career. They wedded in 1985 and divorced only five years later. Their marriage produced two children who are grown-ups now, named Langston and Montana born in 1987 and 1991 respectively. After their separation, Laurence switched his full attention to his career and stayed away from any known commitment.
In 2001, the actor gave love another chance when he asked very successful actress Gina Torres to marry him. A year later, they wedded and in 2007, they had a daughter named Delilah. Just like his first marriage, his love affair with Gina Torres failed in 2017 and since then he has no relationship drama except the embarrassment from his daughter Montana who turned in to a porn star with the goal of becoming as famous as Kim Kardashian.
Montana broke his father's heart after it was reported that she made her x-rated film debut in 2010. The move which embarrassed Laurence pushed the actor to end his relationship with Montana. In 2014, it was reported that she was quitting x-rated films to start stripping. However, it appears Montana had a change of mind and stuck to porn. She has been going in and out of rehab and has faced several arrests for driving under the influence.
His Height & Body Measurements
Everybody who watched Matrix knows that Laurence Fishburne is quite tall. He is 1.84 m tall which is 6 ft 2 in. He is also quite broad and weighs 87kg. Other measurements include;
Feet size: 10 US (43 Eu)
Biceps: 41 cm
Chest size: 107 cm
Waist size: 91 cm