Lannan Eacott became a person of interest after his YouTube channel, LazarBeam pulled him to the limelight. Initially, he started with uploads of Madden Challenge videos before deciding to build his own channel in January 2015. Within the space of three years, his YouTube channel had gathered over 7 million loyal subscribers.
Today, he has not only limited his skills to building his channel on the video-sharing platform, but he has also gone ahead to feature in a lot of other YouTubers' videos and vlogs. Let's meet this awesome personality.
Who Is Lazarbeam (Lannan Eacott)?
When Lannan got to know about the platform YouTube and how a lot of youngsters were pulling different strings building their career on the platform, he thought it was one of the most difficult things to do. However, he took a leap of faith and began to upload different videos of him playing video games on the platform. At first, it wasn't all rosy as there were different channels which had his kind of idea but with time, he built a unique brand and became one of the most popular YouTube video game stars.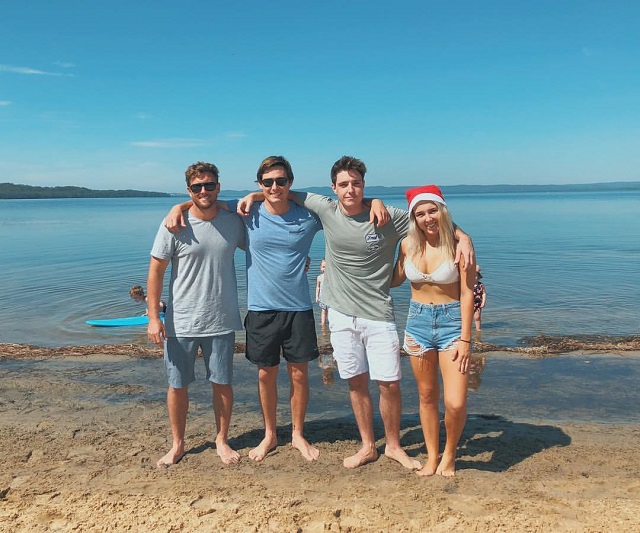 The Youtuber was born on December 14, 1994, to a family that accumulated wealth from running a construction business. He is one of the four children born to his parents with one sister – Tamar and two brothers, Jarrad and Callan. His older brother, Jarrad was one of the pivot stars in the game of basketball but had his dream cut short after he incurred an injury. Jarrad's shortcomings were quite disheartening for Lazarbeam who hoped to sell his brothers T-shirt on eBay in the nearest future. Tamar, his sister, initially worked as a photographer but after her brother's success on YouTube, she decided to follow in his footsteps and is also doing amazingly well on the platform.
Rise To Stardom
Before fame, Lazarbeam initially started out with the family business where he was groomed with the knowledge of being a construction worker. However, he never found satisfaction with what he did and decided to distinctively go after his passion which was weirdly playing video games and making videos. Of course, at first, it was one of the most ridiculous things for him to do at that time, especially considering the fact that he was supposed to be a spearhead in the family business. Nonetheless, he didn't look back when he ventured into playing and making video games as well as learning from already established YouTubers. With time, he created his YouTube channel on January 4, 2015, and named it LazarBeam. Lannan took a while before uploading his big break video; Can Vince Wilfork get a 99-yard Receiving Touchdown? – Madden NFL Challenge. 
Meanwhile, he kept on with the uploads of Madden NFL 16 Challenge videos and also posted a few other videos including The Sims 4 and GTA 5. Exactly, three months after he started uploading on YouTube, he gathered over 900 loyal subscriber's and two months later, he passed the 50k subscribers milestone.
Following with the growth he experienced in his career, he decided to quit his family business and hold on to YouTube. Afterwards, he announced that he would be working with his sister, Tamar, who played the role of his photographer. Consequently, Lazarbeam has gone ahead to upload various videos and vlogs, celebrating new milestones in his career with over 7 million subscribers.
Here Are Facts You Need To Know.
1. Sometime in 2016, Lazarbeam joined the slew of celebrities who have experienced death hoax. According to the sources at the time, the YouTube star was stabbed to death. Most of his fans went to his Twitter page for confirmation, however, it was later discovered that he was hale and hearty.
2. Lazarbeam, from day one, has always respected his fans' wishes. He always listens to them and has also built one of the strongest bonds with his millions of fans. In the month of May 2016, he uploaded a lengthy video of him answering all the questions his fans have ever asked.
See Also: Who Is Bunny Meyer, Is She Married, What Is Her Net Worth? Here Are Facts
3. Despite uploading a lot of videos about relationships and dating. Lazarbeam has successfully hidden that part of his life away from the public eye. He is suspected to be gay, however, we would not jump to conclusions on his sexual orientation just yet. Nevertheless, we would certainly do an update with the facts of his relationship status soon.