The story of Leah Remini is that of an American actress, talk show co-host, producer, and author who gained recognition as an internationally celebrated ex-member of the Church of Scientology. Remini dumped the religion of science for a much more conservative one – Catholicism – as she found her former religious association wanting in certain areas and her misgivings gave way to her opting out dramatically with her family from the sect.
She is famous for her criticism of the doctrines and rules of her former church and her role in the American sitcom King of Queens which aired from 1998 to 2007 on the CBS/Paramount Network Television where she assumed Carrie Heffernan. She has gone on from there to win notable awards like the Emmy Awards for her other remarkable work in the entertainment industry.
Leah Remini Bio and Age
Leah Marie Remini sprouted on 15th June 1970 from the loins of George Remini and Vicki Marshall, in Brooklyn, New York City. She has a blend of Austrian-Jewish and Sicilian, Italian ethnicity which is traced to her both parents. She has an older sister, a brother called Michael and 3 half-sisters. Remini quit school at a teenage of 13 and moved to Los Angeles, California, where she diligently mastered the acting trade in Hollywood while appearing mostly in TV shows.
Her first episode feature was in the 1988 sitcom Head of The Class which was quickly followed the next year by another sitcom Who's The Boss as Charlie Briscoe. Her outstanding performance earned her a slot in the spin-off Living Doll in the same year. From thereon, she has appeared in over 30 other television series, however, her breakthrough came with her role in The King of Queens (1998–2007).
While her appearances in films started in 1997 with a minor role in Critics and Others, she has made appearances in six other films including the Old School in 2003, Handsome: A Netflix Mystery Movie in 2017, and Second Acts in 2018.
She has her own television series that started in 2016 and is aired on the A&E television network. The series investigates the activities of the Church of Scientology and is titled 'Leah Remini: Scientology and the Aftermath' which she culled from her book published in 2015. Aside from acting, she has also written a book entitled 'Troublemaker: Surviving Hollywood and Scientology'.
What To Know About Her Husband
The one and only known romantic relationship of the star actress is with the Puerto Rican born Angelo Pagan, the one-time musician, singer, actor, and businessman. Since the duo met in a Cuban Eatery over two decades ago, their love story has been magical and they have stayed so strong even after they signed the dotted lines of the marriage register in 2003.
Leah Remini is happily married to her love boo, Angelo Pagan whom she met in 1996 in a Cuban Eatery. Apparently, the lovely African and Spanish blended food brought the two together and after courting for about 7 perfect years, the duo got married on the 19th day of July 2003. Their beautiful union was blessed on June 16, 2004, with a beautiful girlchild whom they named Sofia Bella. The young lady is growing into beauty and she enjoys the doting attention of her lovely parents.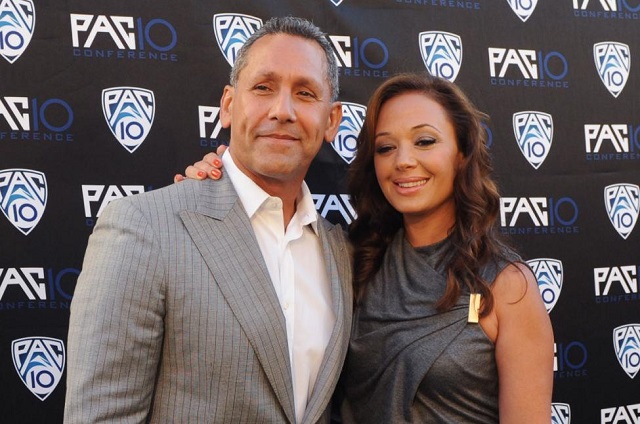 Angelo Pagan was born on May 16, 1968, in Puerto Rico but grew up in the Bronx with his family. He was a divorcee with 3 sons from his previous marriage when he met Leah Remini and he also starred in the famed King of Queens – and although he used to be a musician, Pagan now excels in business.
Details of her Sister and other Siblings
Leah Remini's father, Geroge Remini is a Silician who once owned an asbestos producing company while her mother, Vicki Marshall was a teacher who hails from an Austrian-Ashkenazi Jewish family. Remini is definitely not the only celebrity in the family as two of her sisters are also digging it down in the entertainment circles. She has one direct older sister named Nicole Remini born in 1968 while her half-sisters are Elizabeth, Christine, Shannon Farrara and the late Stepanie Remini.
Her big sister, Nicole Remini was featured alongside her in the popular television series The King of Queens in 1998 but before then, she also starred in Leah Remini's Scientology and Aftermath in 2016.
Her younger half-sibling, Shannon Ferrara, who was born on 15th April, 1984 in Clearwater to Vicki Marshall (Leah Remini's mother), is famous for her role in the 2014 action family comedy series Henry Danger. She is equally making waves in the movie and film industry at the moment.
What Is Her Net Worth?
The net worth of the former member of the Scientologists church is estimated to be well within $20 million or more. The sum is a close estimation and not the exact worth of the actress. She has earned all of that from acting career, films/movie productions, published book, voice-over role in a video game, and her job as a co-host of talk shows, among others.
Moreover, she has achieved tangible fame and wealth as a reward for her long stay in the entertainment industry. Furthermore, she has remained relevant with her ever-interesting expository self-produced episodes in her own series that have earned her nominations and awards such as the Primetime Emmy Award for Outstanding Informational Series or Special, PGA Producer of the year award in Non-Fictional Television for the same Series.
Height
The amiable actress has a full shaped average build with her full hips giving her height a good projection. Her height is reported as 5 feet 3 inches (1.60 m) tall while her weight is estimated to be within 60 kilograms (132 lb). Her other body measurement is as follows; 34C bra cup size, her breast is estimated to be 37 inches, the waist is said to be 30 inches while her hips are reported as 36 inches. Her shoe size is 6 (US).