Lee Kirk is a multi-talented American filmmaker, screenwriter, movie director, and actor. As a screenwriter, he has written quite a number of movies which includes; Giant Mechanical Man (2012), Pants on Fire (2008), Ordinary World (2016) and also a Playlet called Sad Sappy Sucker. This playlet was produced in Los Angeles in 2009. Lee became famous as a result of the extraordinary qualities he showcased in directing his projects, especially The Man Who Invented the Moon.
Who is Lee Kirk, Jenna Fischer's Husband?
He was born on the 9th of October 1972 in Texas, United States under the zodiac sign of Libra. Obviously, Lee Kirk is an American national and he belongs to the white ethnic group. Looking at his background, the film director is one of such celebrities who has rarely let out information about his background, family, and education. In the absence of this, however, he has a well documented and ongoing successful career which has made headlines in Hollywood very many times.
Despite being engrossed with his show projects, Kirk has managed to put his family first, over his career. He spends quality time with his family whenever he's free from work. To his family, he has been a supporting and loving husband, amazing father and a loyal friend.
Lee was featured in season 6 of the sitcom; The Office, as Clark the Lactation Specialist.
His Wife
Lee Kirk became more famous as a result of his marriage to Hollywood celebrity; Jenna Fischer. Lee's wife is a renowned American actress popularly known for the role she played as Pam Beesly in the popular sitcom The Office. In 2007, she got a nomination for the Outstanding Supporting Actress in a Comedy Series, during the Primetime Emmy Award. The sitcom has also helped her claim many nominations in the Screen Actors Guild Award.
She has made a mark in Hollywood by starring in quite a number of movies, which includes; Walk Hard: The Dewey Cox Story (2007), Blades of Glory (2007), Hall Pass (2011), and The Giant Mechanical Man (2012). The latter was actually produced by her, while her husband wrote the scripts and also directed the movie.
Jenna Fischer is the Author of The Actor's Life: A Survival Guide, with an introduction made by Steve Carell. It's actually the first book she has written and it was published in November 2017.
For How Long Are They Married?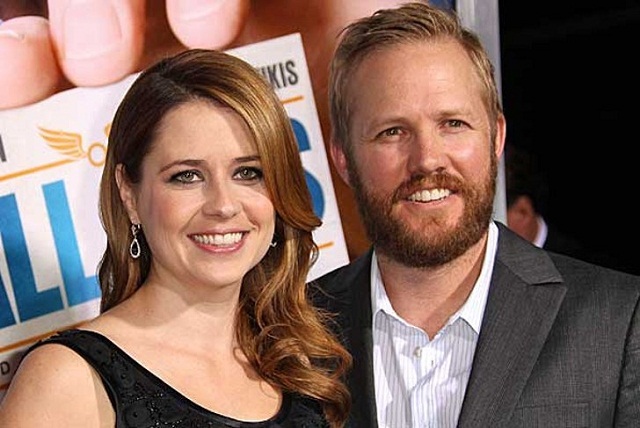 Lee met Jenna Fischer for the first time during a film festival, where they worked together in the casting of a short movie. Later, Jenna also featured in a music video which was directed by Lee Kirk. But, they both fell in love with each other during the movie production of The Giant Mechanical Man.
It happened that, they got to spend much time with each other during the movie set. The movie was written and directed by Lee Kirk, while Jenna Fischer was its producer. After spending eight months together in the course of the movie production, they developed strong feelings for each other.
The duo started dating in January 2008, and a year later, precisely June 2009, they got engaged. Lee and Jenna had a small wedding ceremony in Malibu, on 3rd July 2010. It was actually Lee Kirk's first marriage but a second for Jenna Fischer. She previously got married to James Gunn – a movie director. But they went their separate ways in July 2007.
His Family
Lee Kirk and Jenna Fischer have two adorable children. A year after their marriage ceremony, the couple welcomed a baby boy by the name; Weston Lee Kirk on 24th September 2011. Then Jenna also gave birth to their daughter; Harper Marie Kirk on May 25th, 2014.
The couple is currently enjoying a wonderful relationship with each other. From the way they are going, it's obvious the two love birds won't let go of each other any time soon.
Net Worth
The movie director's net worth is estimated to be a massive sum of $250,000. It's quite obvious that Lee has accumulated sufficient wealth from the movies he has directed, and also from screenwriting. Apart from having a career in screenwriting, acting and movie directing, Lee Kirk is also a managing director at Cargill's metal business.
In addition to Lee's wealth, his wife is said to have an estimate of $15 million as her net worth. The couple bought a luxury home in 2012, at the sum of $1.9 million.