Lerato Kganyago and Thami Ndlala got married in a lavish traditional wedding held on the 23rd of March 2020. A few months after, Lerato took to Instagram to announce their separation. However, Thami surprised Lerato with a second proposal on her birthday in July 2020 and they've been together since then. 
The lockdown orchestrated by the Coronavirus pandemic may have lasted for a while in South Africa, but it was enough for someone like Lerato Kganyago, the SA stunning model, businessperson, actress, DJ, and TV presenter to get married, get divorced, and get re-engaged. Lerato's marriage with Thami Ndlela will go down in history as one of the shortest unions ever seen in South Africa and the world over. It was even shorter than Kris Humphrey and Kim Kardashian's marriage that endured for 72 days.
Lerato became popular as former Miss Soweto and has since attained a higher level of fame through her acting roles, DJaying, radio and television presentation, and business ventures. She has made so many onscreen appearances but is best known for The LKG Show – her talk show that airs on Soweto TV. Many also know the actress from Live Amp or The Link on SABC1.
Lerato Kganyago Got Hitched To Thami Ndlala In a Traditional Wedding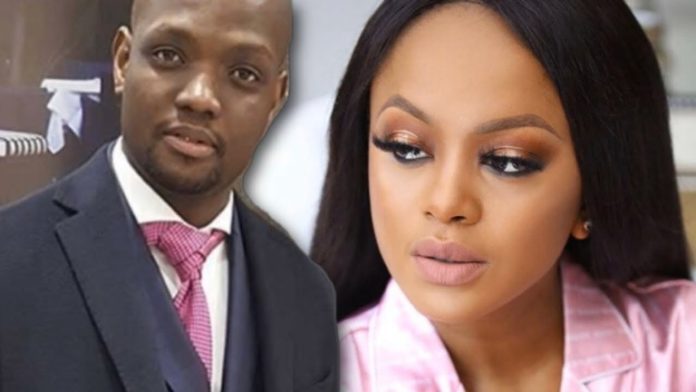 The Covid 19 lockdown was still holding South Africa in its grips when Lerato Kganyago and her boyfriend Thami Ndlala decided to cement their relationship in a lavish traditional wedding held on the 23rd of March 2020 at Kganyago's mom's house in Boksburg.
Before the traditional wedding, the two families observed some age old African marriage rituals like the payment of lobola which the bride's family received from their in-laws. With the lobola taken care of, the Kganyagos and the Ndlalas performed some rituals to unite the newlyweds, officially handing Lerato over to Thami.
Lerato later took to social media to share a few photos of the traditional wedding which was well attended by other celebs like Somizi Mhlongo-Motaung, Dineo Ranaka, Gert-Johan Coetzee, and Mohale Motaung-Mhlongo. Lerato who is known to be averse to discussing her personal life in public shared some insights into her marriage. The female DJ said that her husband is more of a heavy snorer while she is a light sleeper. Though not detailed, this marked the first insight Lerato Kganyago has shared about her marriage.
A Close Source Revealed That Newlyweds Have Something Big Planned For The End Of 2020
The former Miss Soweto omitted to divulge their plans for the future, claiming that she does not discuss her private life with the media. However, a family member who prefers to have his identity shrouded revealed details about the couple's plans for the end of the year when they were slated to tie the nuptial in a lavish church wedding.
The source said the family can't wait for the day to arrive as they are really planning big for the occasion and they are happy for the couple. A confirmation also came from Sunday World, saying that the South African female DJ is officially off the market. Another family member who witnessed the traditional wedding confirmed the payment of  Kganyago's lobola by Ndlela which means that she is officially Mrs. Thami Ndlela.
Their union Lasted A Couple Of Months Before Divorce Came calling
Two months after Lerato's family received lobola from her husband, news broke that the couple's union has hit the rocks, marking the shortest marriage ever witnessed in all of South Africa. Since their traditional rites, the couple has been living in a beautiful house located at Sandhurst. The place is said to be a residential area in Sandton, within the Metropolitan area of SA's capital Johannesburg, Gauteng. It is the wealthiest suburb in all of South Africa according to Wikipedia.
Lerato Kganyago took to Instagram to announce her separation from Thami Ndlela. Though the radio presenter and DJ never revealed the reason for their short-lived union, speculations has been running rife that her ex is actually a fraud. Lerato let on that she had already exited from their matrimonial home. According to her instagram post, their different workloads and priorities takes the blame for not affording them time to invest in their relationship, and realizing this made them to think twice and take the easy way out. The SA beauty said they won't stop caring deeply for each other and are looking to growing their friendship.
Thami Surprised Lerato With a Second Proposal On Her Birthday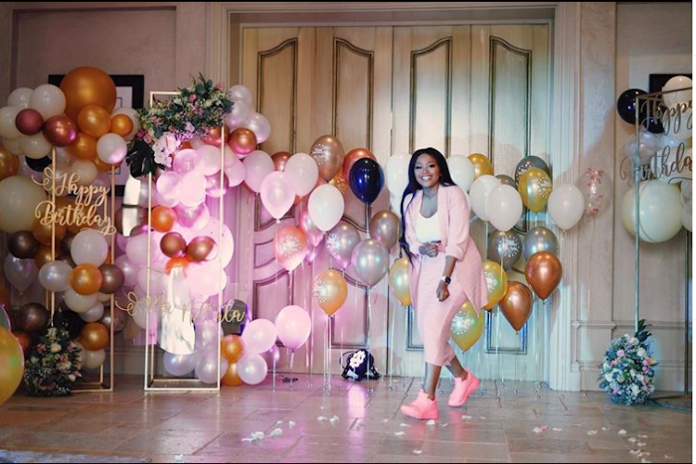 Recently, we got an update via Twitter on the happenings in the otherwise private Thami/Lerato relationship, thanks to the surprise party Thami threw for Lerato to celebrate her birthday. The party actually shocked fans who came to the realization that contrary to popular belief, the two supposed exes were really getting along behind the scenes.
Lerato Kganyago is getting re-married pic.twitter.com/FbK62qVO4V

— YT: Media Girl Chronicles (@mediagirl_za) July 22, 2020
Their suspicions were further confirmed when the mood at the elaborate surprise birthday party changed, turning into a surprise engagement. This latest development went a long way in lifting the veil on the goings on in the couple's life. Thami is quite the romantic guy as he had to put up an elaborate set up just to pop the big question a second time. On her own part, Lerato Kganyago responded with her heart filled with joy and an ear to ear grin on her beautiful face. It seems the pair have found happiness once again and congratulations are definitely in order as the actress flashes a big rock on her finger again. That lavish wedding planned for the end of the year may well hold.
Lerato Kganyago's Supposed Ex Husband Is One Of the Richest Men In South Africa
The records captured Thami Ndlala's date of birth as 1980. He is the son of a social worker in Mpumalanga who gained popularity because of his work. Thami is well educated with a masters degree in business administration and earns a living as a businessman. He is quite the affluent guy, sporting a net worth estimated between $10 to $15 million.
The Mpumalanga businessman is known for living a lavish life, owning a house in one of the wealthiest suburbs of South Africa. He is equally in love with exotic automobiles; Thami has a fleet of cars that include a Ferrari, a Phantom, and a Rolce Royce. The South African business tycoon is not the only man that Lerato has dated, the actress was once an item with Bafana Bafana football player Katlego Mashego. The lovers were together for four years and got as far as having an official engagement in 2013.
A Little On Lerato Kganyago's Background
Born on the 22nd of July 1982, Lerato Kganyago spent her formative years in Soweto township. She is the only child of her parents; her mum's name has been identified as Rae who she is very close to. However, the actress described her dad as absent emotionally, thus, nothing much is known about him. She had her early education at Ipolokeng Primary School and later proceeded to Boksburg High School where she completed her secondary education. According to the actress, she always felt like an ugly duckling throughout high school. Lerato told Anele Mdoda on Real Talk that she was tomboyish, quiet, and reserved, and never though herself to be pretty.
The once shy youngster later shed the cloak of her reserved disposition to reveal a daring woman who can succeed in the male dominated world of DJ's. Kganyago first built up confidence by joining beauty pageantry among which is miss Soweto where she emerged the winner. Lerato went on to Damelin College where she majored in Public Relations and Travel and Tourism. She took up paid employment at Qatar Airways as a flight attendant and at SA Express before launching her career as a radio presenter. Today, she is known as an actress as well as a businesswoman.