Nipsey Hussle was an American rapper and entrepreneur who amassed a net worth estimated to be around $8 million before he was killed on the 31st of March 2019.
As a musician, Nipsey released several critically acclaimed and commercially successful works. As an entrepreneur, he ran a clothing store and owned a record label. He also had several real estate investments. The rapper endeared himself to many within his community with philanthropic initiatives. While his life may have been cut short in his prime, his memories will live on.
What Was His Net Worth Before Death?
Nipsey Hussle had a net worth of $8 million prior to his demise. He accumulated this sum from multiple sources including his several enterprises. The rapper first manifested his enterprising spirit when he was 11 years old; shining shoes in order to pay for school supplies. He also continued this trend into adulthood; personally hawking his mixtapes in order to push his music.
Following his breakthrough, Hussle did not rest on his oars but rather made tangible investments. He teamed up with famed producer, DJ Khaled, to purchase a property in Crenshaw in 2017. He also co-founded a clothing store known as Marathon. Marathon is an innovative store that combines elements of e-retail with traditional retail. Customers can make physical purchases from the store and also order off their phones. Marathon has generated millions of dollars in revenue and this helped to boost Nipsey Hussle's net worth.
Another veritable source of Nipsey Hussle's net worth was his music. The late rapper was not only an innovator in business but also in his art. In 2013, Hussle dropped a mixtape titled Crenshaw. He made digital copies of the work absolutely free but pegged the hard copies at a $100. He manufactured only 1000 units, and these sold out like hotcakes. The rapper thus pocketed at least $100,000 from the album. Hussle also applied this same strategy in the distribution of his 2015 mixtape, Mailbox Money. He pegged the hard copies, numbering 100, at $1000 apiece. He equally made not less than $100,000 from the album.
It must be noted that Hussle was not all about making profits. The rapper co-founded Destination Crenshaw, a museum honoring artistic achievements by African-Americans. He also co-founded a communal working space known as Vector90. Vector90 served as a safe and interactive working space for various young people. It also provided STEM education for underprivileged youths.
Life and Times of Nipsey Hussle
Nipsey Hussle (Ermias Joseph Asghedom) was born on the 15th of August 1985 in Los Angeles, California. He hailed from a family of five. His father is an Eritrean immigrant named Dawit while his mother's name is Angelique Smith. The rapper also has two siblings: Samiel and Samantha.
Hussle grew up in Crenshaw, southern Los Angles, and initially attended Hamilton High School. He, however, dropped out at the age of 14 and left home. He subsequently joined the Rollin 60s Neighborhood Crips, one of the largest street gangs in Los Angeles. Hussle spent several years living the life of a typical gang member. He was however forced to re-examine his ways after his father took him and his brother on an extended trip to Eritrea. The young man returned a changed person and forswore all gang activities.
The Accomplishment of His Music Career
Having left The Crips, Nipsey Hussle threw himself into his music and dropped his first mixtape, Slauson Boy Volume I, in 2005. The mixtape did not record much financial success but the young man was undeterred. He fervently believed in the message that he was spreading and thus forged on.
Hussle would eventually release a total of 13 mixtapes in his career including The Marathon Series, Bullets Aint Got No Name Series, Crenshaw, and Mailbox Money. He collaborated with renowned artists such as Drake, CeeLo Green, Kendrick Lamar, and Snoop Dogg. The rapper also released a full-length album titled, Victory Lap, in February 2018. Victory Lap reached number 2 on the Billboard Top 200 charts. It also received a Grammy nomination for Best Rap Album.
The Death of Nipsey Hussle
Nipsey Hussle was sadly gunned down outside his clothing store on the 31st of March 2019. A gang member, Eric Holder, was charged with the rapper's murder. Police authorities have stressed that the killing was unrelated to gang activity but rather stemmed from a personal matter between the two men.
Meanwhile, Hussle's death led to an outpouring of grief in his community. Several notable personalities including Barack Obama, Eric Garcetti (Mayor of L.A), John Legend, Bruno Mars, Rihanna, LeBron James, J. Cole, and Diddy also paid tributes to the slain rapper.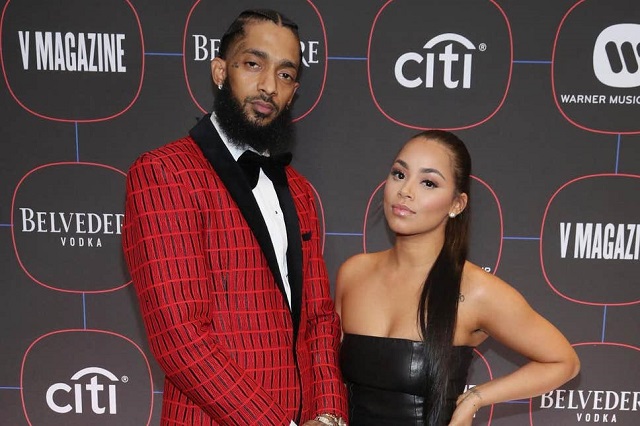 Hussle's funeral was later held at the Staples Center on the 11th of April 2019. The event attracted tens of thousands of mourners. It also featured his loved ones including his longtime girlfriend, Lauren London, and his two children, Kross and Emani.