Lily-Rose Depp is one of the few celebrity kids who has chosen not to bask in her parents' fame but has instead, carved a niche for herself in both the fashion and film industry. The daughter of actor Johnny Depp and singer Vanessa Paradis, the model and actress is not only an unusual celebrity kid but also has an angelic face and a magnetic presence beyond her young years. Though Lily-Rose has a huge social media following on Instagram, she has ironically managed to keep much of her life private, making her even more mysterious. Join us in unearthing all the interesting facts you never knew about the model-cum-actress.
Brief Bio
The daughter of actor Johnny Depp and singer-actor Vanessa Paradis, Lily-Rose Depp was born on May 27, 1999, in Paris, France. She has a brother, John Christopher Depp III. Lily-Rose is a high school dropout as she left school in 2016 to focus on her career. For the young star, given how bright and promising her young career is already, continuing with school just didn't make much sense to her anymore. Her decision may just be another probable proof that schooling doesn't always correlate with success.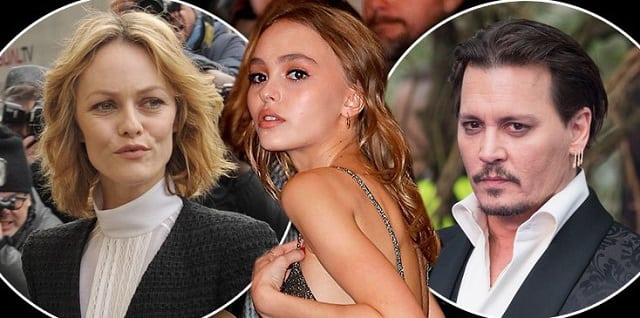 It would be safe to say that Lily-Rose Depp inherited her showbiz genes from her parents as her father Johnny Depp is an American actor, producer, musician, and multiple award-winning star while her mother Vanessa Paradis is a French singer, songwriter, musician, actress, and model. After 14 years of marriage, her parents separated in 2012 but have joint custody of their kids. Consequently, Lily-Rose spent much of her childhood shuttling between Paris and Los Angeles.
Career
Depp began her acting career in 2014 with a cameo role as Colleen Collette in the comedy-horror flick Tusk. She has made other appearances in art films such as the black comedy Yoga Hosers, The Dancer and was a co-star in Planetarium alongside Natalie Portman, all released in 2016.
While Lily-Rose continues to act, she is also a star model. She started making waves in the modeling industry in 2015 after she featured in the April issue of the Australian magazine Oyster. It was in this same year that she became a brand ambassador for French brand Chanel. As a model, she was thrown to limelight when she attended Chanel's Métiers d'Art Collection show in New York with her mother Vanessa Paradis who is a long-time Chanel ambassador. It was after the show that she attracted media attention from industry bigwigs such as Vogue, Refinery29 and Harper's Bazaar.
Depp is a familiar face at Chanel spectacles and continues to work with the fashion powerhouse. At age 16, she worked on her first Chanel campaign, fronting the brand's pearl eyewear collection. The next year, she became the face of the fashion house's new fragrance Chanel No.5 L'Eau. Being no stranger to the French brand, Lily-Rose is a muse for Karl Lagerfeld and has starred in large-scale photoshoots, multiple fragrance campaigns and is currently the youngest Chanel brand ambassador to front global campaigns.
See Also: Dakota Fanning Sister, Boyfriend, Parents, Age, Height
Being the daughter of a French hitmaker, Lily-Rose originally wanted to follow in Vanessa Paradis's footsteps having always had her eyes on music and initially wanting to be a singer. While there was a time when music was Depp's passion, once she started acting, she felt so comfortable and now seems focused on her film career. Surprisingly, Lily-Rose's father Johnny Depp once admitted that neither his dream nor desire for her was to become an actress but given how she's beginning to make a name for herself in the industry, we can safely say he now supports her dream and career choice.
Other Interesting Facts About Lily-Rose Depp
As earlier mentioned, the model-cum-actress who is now based in Los Angeles grew up shuttling between Paris and Los Angeles. Therefore, it is no surprise that she is fluent in both English and French.
Lily-Rose raised eyebrows in 2015 when it was revealed that she had joined the Self Evident Project, an advocacy for people not to sexually identify themselves as 100% straight. While a lot of people easily misconstrue Lily-Rose as gay, the youngster claims she is not but considers herself sexually fluid. In other words, she believes no one should necessarily have to label his/her sexuality.
Lily-Rose may possibly be single at the moment but she is said to have been in a romantic relationship with Ash Stymest, an English model whom she began dating in 2015 but reportedly ended the romance in April 2018.
Depp is a star who loves to keep much of her life under the radar. She has a love/hate relationship with social media and doesn't showcase much on such platforms. The young actress says social media stresses her out and as such, she doesn't have many social media accounts, making it a little tough for fans to get a good glimpse into her life.
However, her only form of social media is on Instagram, where she has a following that is bursting at the seams. Interestingly, Depp also rose to prominence on the platform and quickly amassed a significant Instagram following of over 3 million fans. Though she seemed to have been out of the spotlight for some time, she remains active on the platform and certainly continues to make a name for herself.