American rock singer, Linda Perry, garnered fame as the head singer of 4 Non Blondes, a San Francisco-based rock band. Linda who is also a songwriter and record producer has two record labels to her credit under which she has produced, as well as made contributions to best-selling songs for her band and several other artists including Pink, Christina Aguilera, Courtney Love, Gwen Stefani, Adele, and Alicia Keys.
Linda Perry's outstanding performances in rock music has earned her recognition and numerous awards including a 2004 Grammy Award for Best Female Pop Vocal Performance. Also making waves is her relationship and marriage to Sara Gilbert. Read on to get all the details about her early years, family, career, and personal life.
Linda Perry's Age and Bio
She was born on April 15, 1965, in Springfield Massachusetts. Her mother, Marluce Martins Perry is a Brazilian while her father, Alfred Xavier Perry was a Portuguese-American. Both were musicians. She is of American nationality but of mixed ethnicity.
Linda grew up in a musical and artistic household wherein she displayed her musical interest and talent from an early age. As a young girl, she suffered from drug addiction which prevented her from starting off her career on time. However, after receiving some calls that required her to relocate to San Francisco in the late '80s, she cleaned up and began making some professional moves towards her career.
Music Career
In 1989, aged 24, Linda Perry eventually kick-started her music career in earnest. She started off with making her songs, singing, and playing them on a guitar on city streets. Soon after releasing her first song Down On Your Face, Christa Hillhouse, founder of the rock band, 4 Non-Blondes discovered and summoned her to join the group which she did. On joining the group, Linda became their vocalist and guitarist. In 1992, the band released its first album Bigger, Better, Faster, More. She was the lead singer in 4 Non Blondes' most popular song, What up? in 1992. In February 1994, Linda made a solo appearance in Roger Daltrey's live album A Celebration: The Music of Pete Townshend and The Who.
After their first album, 4 None Blondes started experiencing a variety of setbacks which caused them to disband temporarily. Linda, however, continued her career, releasing her first solo album, In Flight in 1996. She later released her second solo album After Hours in 1999. In 2002, Perry made an outstanding live performance at the Knitting Factory in Los Angeles where she performed a set of original music. From 2010 to 2011, along with Fox Entertainment Group, Perry was the presenting sponsor of the Los Angeles talent show STARFEST.
Linda Perry has co-written and produced numerous songs which include Superfly (1992), Spaceman (1992), Save Me (2005), Can't Let Go (2015), and many others. She has also contributed immensely to some of the hits of renowned artists and they have enjoyed massive airplay. In addition, she discovered now-popular English singer, James Blunt, and signed him to her Custard Records. Blunt later sang the 2005 mega-hit You're Beautiful. His album was so successful that it sold over 15 million copies. Moreover, Perry singlehandedly wrote an entire album about a straight girl who broke her heart. She has her own recording studio in North Hollywood, called Kung Fu Gardens.
In addition to music production, Linda also produces films. In 1997, she came up with Pink as The Day She Was Born, a rock and roll-based film written by Cathie Wilkins and directed by Steve Hall.
Relationship And Marital Life With Sara Gilbert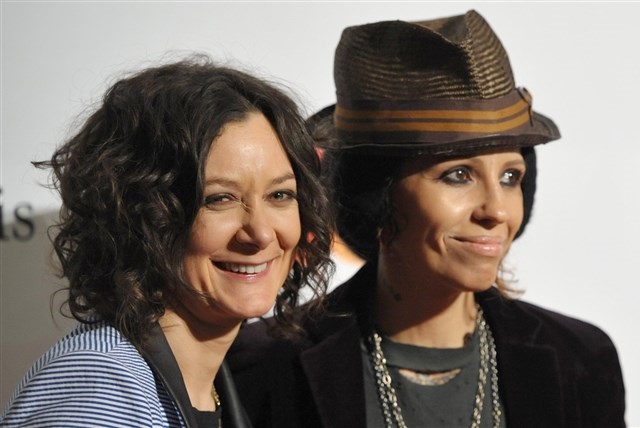 Linda Perry is publicly lesbian. She started dating American actress, Sara Gilbert in 2011. They subsequently got engaged in April 2013 and later had their wedding on March 30, 2014. After her marriage to Gilbert, Perry became a stepparent to her two children (daughter Sawyer Jane and son Levi Hank) from a previous relationship. On 28 February 2015, Sara gave birth to their son, Rhodes Emilio Gilbert Perry.
During an interview in January 2017, Linda publicly expressed that she is very proud of her wife, Sara while commenting on Sara's announcement of the reboot of Roseanne.
Details of Her Siblings
Linda Perry has 5 brothers – Jay, Marcel, Mark, John, Solomon, and a sister – Sally. In 2014, Perry revealed how she suffered sexual molestation at the hands of her brother, Mark Perry while she was very young and the latter, a teenager. Linda's mother had Mark and one other son from a previous relationship before marrying her father. According to the singer, her mum was a tyrant and never believed her back then.
Other Facts About Sara Gilbert's Husband
1. In the 1990s, Linda worked as a waitress in Spaghetti Western, a restaurant located on Haight Street in San Francisco which is known for its young hip crowd.
2. Linda Perry is famous for her hot and stunning persona. In her fifties, the American singer is still flaunting an alluring body and a beautiful face.
3. Prior to meeting and marrying Sara, she dated Australian writer, Clementine Ford.
4. For several years, Linda Perry struggled with kidney disease. This, however, did not make her give up on her dreams.
5. Perry was formally introduced into the Songwriters Hall of Fame in 2015.