Lindsay Mills was just a minor star and virtually insignificant to the media until her boyfriend leaked classified U.S government documents to some groups of journalists. Reporters searched her out in their quest to grab every possible information on the American top-secret leaker. We take you through everything there is to be known about Lindsay Mills.
Who Is Lindsay Mills?
Lindsay Mills is an American professional pole/swing dancer and acrobat. She is however known for being the girlfriend of Edward Joseph Snowden, the infamous American whistleblower who became popular after stealing and leaking some top-secret U.S government documents. Snowden, a former Central Intelligence Agency (CIA) employee, and National Security Agency (NSA) contractor is now getting asylum in Moscow, the capital city of Russia.
Edward Snowden stands the risk of bagging a 1000-year jail term for treachery, should the Russian government send him back to the United States. He, however, pleads not guilty to the charges leveled against him. According to him, he only did public service by exposing NSA's abusive mass surveillance.
Meanwhile, Lindsay and Edward have been together for four years before his betrayal of the U.S government in 2013. In fact, they've been together since 2009. Reports reveal that Mills is Snowden's first real girlfriend. The couple lived in Honolulu, Hawaii before Edward landed into trouble. The duo currently shares Edward's apartment in Moscow whenever Lindsay is in Russia. As for how they met, it is believed they might have met in Maryland since their families both live in the U.S. state.
Unlike her boyfriend who is taciturn and introvert, Lindsay Mills is very expressive and extroverted. She revealed she once had to "kidnap" Snowden and "force a little adventure" on him to have him join friends on a hike to a waterfall. Also unlike Edward who apparently had no social media presence, Lindsay shares a lot including part of her private life on the internet.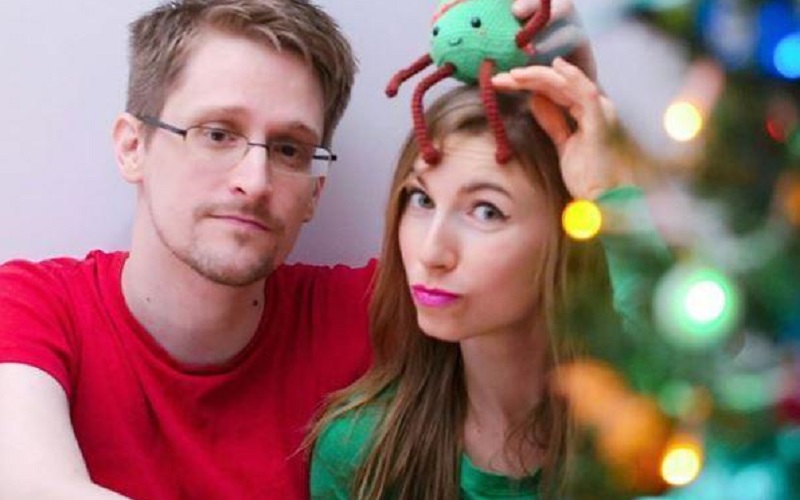 Birth and Education
Lindsay Mills was born on 20th February 1985 in Laurel, Maryland in the United States. She is American by nationality and Caucasian ethnic-wise. Mills attended the Laurel High School in Chesapeake Bay State, graduating in 2003. She later studied at the Maryland Institute College of Art and graduated in 2007.
Her Career
Lindsay Mills works as a pole and acrobatic dancer. She has worked with the Waikiki Acrobatic Troupe while living in Oahu. She also performs at shows and festivals. In 2012, she performed at the Honolulu Fringe Festival.
Lindsay appears to have all it takes when it comes to her career of pole-dancing. She describes herself as a "superhero pole-dancer".
She is a wide-traveler
Lindsay Mills says she is a globetrotter, a world traveler. True to her words, Lindsay really travels wide. Her Instagram page titled "Adventures of world-traveling, pole-dancing superhero" testifies to this as it bears photos of her in different parts of the world. Some of the places the superhero pole-dancer has visited include Poland and Iceland.
She had no Idea About Edward's Plot
Mills was completely oblivious of her boyfriend's plan to betray the U.S government. Snowden never hinted her. He rather told her he was going away on a business trip when he was about fleeing to Hong Kong after the leaks. Lindsay only got to know about it just like every other person when it broke in the news!
Despite all of that, she still stuck to him. Asked in an interview with Occupy the Media why Lindsay continued to stick around despite being kept in the dark, Edward Snowden revealed that Lindsay Mills is an "incredible person". According to him, she knew him even before he got a job – before he started making good money, and she cared about him then.
Where Is Lindsay Mills Now?
Lindsay Mills currently lives with her boyfriend, Edward Snowden in Moscow, Russia. She moved over to Russia in 2014. It, however, seems like she does not stay permanently in Russia but travels to the United States from time to time. After all, the US government is not hunting her and she has her freedom of movement. Moreover, she's a "globetrotter", and so no one expects that she stays at a place.
Lindsay was last seen in 2015 at the Oscars 87th Academy Awards. She came on stage during the ceremony to join in collecting the Best Oscar Documentary award on behalf of Edward Snowden's documentary film, Citizenfour.