Lisa Salters may be one of the most recognized sports journalists in America but the ironic fact is that she never set out to achieve that status. As a young lady growing up in Philadelphia, she admired African-American news anchors and aspired to be just like them. She thus acquired a degree in broadcast journalism from Pennsylvania State University and spent the first decade of her career covering hard news for various local channels.
Salters was set to continue in this stead for a very long time but a piece of unsolicited advice led her to sports giant, ESPN, in the year 2000 and she has never looked back since then. She has covered premier sporting events such as the 2004 Olympics, the 2002 FIFA World Cup, as well as the 2020 Super Bowl. She has also interviewed some of the biggest names in American sports, including LeBron James and Peyton Manning, and her exploits have fetched her several awards.
She Started As A General Assignment Reporter
Lisa Salters began her professional career in the year 1988 as a general assignment reporter for WBAL-TV, based in Baltimore. She worked with the station for about seven years during which she covered hard-hitting stories such as armed conflicts in countries such as Somalia. She also covered the crisis in Rwanda, including the reprehensible 1994 genocide.
Having received this baptism of fire, Salters was prepared for anything that the journalism world could throw at her and as such, sought for tougher challenges. She found this at the Los Angeles branch of ABC News and joined the station in 1995. Lisa would spend exactly five years in the City of Angels during which she continued her hard news beat. She covered the Oklahoma City bombings trial. She also covered the crash of TWA flight 800, as well as the sensational trial of former NFL star, O.J. Simpson.
An Unsolicited Advice Landed Her A Job At ESPN
Despite her preference for hard news, Lisa, who had played college basketball, was still an ardent sports fan and would often turn to the sports section of whichever magazine she could lay her hands on.
This fact did not escape her bosses and so, when the premier sports network, ESPN, was searching for people who could cover both a combination of hard news and sports for them, Lisa's boss naturally thought of her and asked her to apply. She did and landed the job in the year 2000.
Her Progression From Correspondent To Lead Monday Night Football Sideline Reporter
Upon joining ESPN in 2000, Lisa Salters initially reported on hard news items for the network. She was subsequently given more sports-related assignments and would go on to report from major sporting events such as the 2002 FIFA World Cup Championships in Japan and South Korea, the 2004 summer Olympic Games in Greece, as well as the 2006 winter Olympics in Italy.
In recognition of a work well done as a correspondent, Salters was promoted to the role of a sideline reporter in 2006. These promotions came in two parts. She was tasked with covering live NBA games for ESPN and ABC; contributing to shows such as NBA Saturday Primetime and NBA Sunday Showcase Games. She was equally tasked with covering live college football games for the ABC program, Saturday Night Football. Salters would effectively carry out these dual roles for about six years.
Her excellent track record did not go unnoticed and by 2012, she was promoted to serve as the sideline reporter for the prestigious ESPN show, Monday Night Football (MNF). In this role, Lisa gets to cover some of the biggest NFL games out there, including wild card and pro-bowl games. She also interviews star players and coaches and covered Super Bowl LIV in 2020. Lisa combines her MNF gig with her coverage of the NBA and has proven that she can handle anything thrown at her. On one occasion in 2017, she covered an NBA game in New York before dashing off to Philadelphia for an NFL game.
Lisa's Time At ESPN Has Brought Several Awards
Lisa Salters has earned several awards in the course of her career, including the Excellence in Media Award at the 2019 Sports Power Brunch, as well as an induction into the Montgomery chapter of the Pennsylvania Sports Hall of Fame in 2017. She has also received some accolades for her contribution to the ESPN newsmagazine show, E:60. Lisa helped create the show in 2007 and served as its correspondent for about 12 years before being promoted to co-host in 2019.
During the time she served as a correspondent, Salters filed several touching stories. They include a story about a transgender high school athlete (Life as Matt), as well as the death of a beloved UNC mascot, named Jason Ray, whose organ donations helped to make about 60 families happy (Ray of Hope). Such stories and more fetched Salters several awards, including the 2009 Gracie Award for best feature (from the Association for Women in Radio and Television), as well as the 2017 Sports Emmy Award.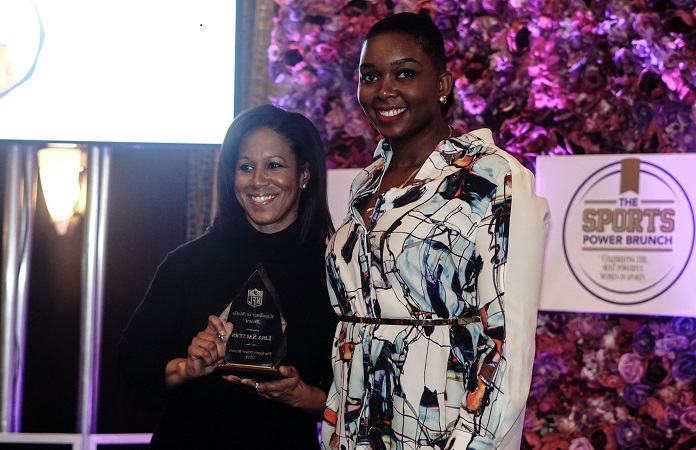 Lisa Salters has largely had a seamless and controversial-free career. The only downside has been people who belittle and mock the role of sideline reporters. Such people hold the view that such reporters don't do anything much and as such, this is why many networks recruit females for that role. They refer to the sidelines as a dumping ground for women but Salters is not letting this bother her one bit. This is because she knows the amount of sacrifice and hard work she has put in over the years.
She's Doing A Good Job Balancing Her Career With The Demands Of Being A Single Mother
Lisa Salters is not all work and no play. The adorable journalist spends her spare time working out, playing the piano, as well as golf. She also loves spending quality time with her family members, including her mother, who is her most impactful mentor, as well as her son. The famed sideline reporter tried for several years to have a child of her own without much success. She subsequently signed up for adoption but didn't have much hope, given that she was a single woman going up against married couples.
Luck smiled on Lisa in 2012 when a young lady chose her to adopt her unborn son. The boy later came into the world in 2013 and the ESPN anchor named him Samuel. Lisa and her son now reside in Philadelphia and she has been doing an excellent job bringing him up so far; spending quality time with him and occasionally travelling along with him on some of her trips. Even though her job takes her away from the boy from Saturdays to Sundays, she makes sure to reserve all her free time from Tuesdays to Fridays for him.