The certified meteorologist, Lisa Villegas has gained global recognition as the chief meteorologist of KOLD/ KMSB television station. Following her shocking departure from CBS11 where she displayed a high level of professionalism as a weekday and weekend morning weather reporter for close to three years, Villegas committed her services to KOLD/KMSB.
Prior to joining CBS11 in September 2014, the certified weather reporter had distinguished herself through her brilliant weather forecasting roles at other television stations such as KRGV TV where she spent more than three years working as a meteorologist on weekday morning and also at KLFY TV10 as a weekend meteorologist. Below are more interesting details about her.
Who Is Lisa Villegas Of CBS11 And How Old Is She?
The certified weather reporter was born in Pittsburgh, in the United States of America on 11th June 1988. She was raised in Pittsburgh and spent her childhood in Texas. Lisa Villegas was brought up in Latino culture. Concerning her higher education, she first went to Kaplan College located in San Antonio and further obtained her bachelor's degree in Meteorology from Embry-Riddle Aeronautical University where she graduated in 2010.
Upon her graduation, Lisa was employed by KLFY television station in October 2010 and there, she performed excellently well as a weather reporter on weekends. She served as the TV station's weather reporter for one year before she became a member of staff of KRGV TV in September 2011. While at the television network, the beautiful weather journalist became endeared to many viewers of the TV station as a result of her charming personality and work ethics. She spent more than three years at KRGV working as a meteorologist every weekday morning.
During that time, she became more popular and her service was sought after by CBS11. Lisa Villegas joined CBS News in September 2014 as a meteorologist and carried out her weather forecasting duties on weekends, precisely in the morning. There, she continued to grow more fanbase with her exceptional broadcasting skills and friendly personality.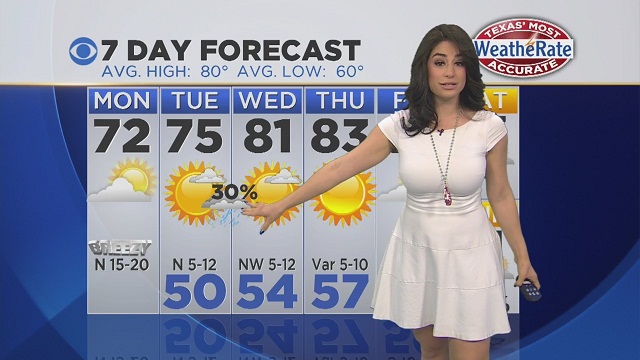 Surprisingly, the apt weather journalist suddenly departed from CBS11 in March 2017 after staying with them for close to three years. The reason for her departure was speculated to be that Villegas had a rift with the TV station executives as a result of her mode of dressing outside the working environment, which they termed inappropriate for a member of their staff.
It happened that Lisa had a night out with her friends and uploaded the photos on her Instagram account. The photos showed her wearing a mini dress that was also body fitting. The TV station reached out to her and asked for immediate removal of the photo. They stated that what the photo depicted didn't fit into the professional image of the newsagency and as such, their staff shouldn't be associated with such type of dressing.
Lisa Villegas removed the photo within 48 hours as she was asked to and since then, she started having issues with the executives of the TV station. After her departure from the news organization, she stayed for a few months before being recruited by KOLD /KMSB television station in October 2017.
See Also: Allison Chinchar – Bio, Career Achievements, Husband And Family
Seeing how good she is in the profession in her current place of work and even in her previous places of work, Lisa Villegas was made the chief meteorologist of KOLD/KMSB. She has spent more than a year at the television station and still works there as at when we lasted edited this article.
Aside from gaining popularity from her profession, the adept weather reporter has also gathered huge fortune from her journalism career. Being that certified meteorologists earn about $62, 000 on an annual basis, Villegas has certainly done well to have amassed a net worth of about $300, 000 going by available estimates.
Is She Married, Who Is Her Husband?
Regarding her personal relationship, Lisa Villegas has not revealed any information about her being in a romantic relationship or married. She has kept every detail about her love life secret as she has not been linked to any love interest in the past or at present.
However, as has become the case in recent time, we wouldn't be astonished to find out that the gorgeous weather reporter is in a loving relationship but has decided to keep it private. Till when that happens, Lisa Villegas is not married and has no husband at the moment.