Believe it or not, as popular as the entity known as North Africa is, it has no universally accepted geographic definition and the countries in it. Some believe it covers Morocco's Atlantic shores to the Suez Canal and the Red Sea in Egypt. The Arab world and the French also have their definitions, which both have Algeria, Libya, Morocco, and Tunisia in their list.
The commonest definition of the countries that make up North Africa includes Sudan and Egypt in that list. All six North African countries are renowned for their socio-political history and their landmarks, some of which date back to ancient civilization.
There are Six Countries in North Africa
That is according to the World Bank. In addition to the countries Egypt, Sudan, Algeria, Libya, Tunisia, and Morocco, it also has five recognized territories – Madeira, Canary Islands, Plazas de soberania, Lampedusa, and Lampione. There is also Western Sahara or the Sahrawi Arab Democratic Republic, which is a disputed territory.
With an area of 7,769,438 km2 (2,999,796 sq. miles), Northern Africa covers 25% of the total size of the African continent. It also ranks third among the five subregions on the continent by population, with 246.2 million people, mostly young people. It also means it has 3.16% of the total world population. Safe to say, it is a significant part of the world.
Alongside its people are landmarks that have individually and collectively made the region one of the world's most visited. With countries like Egypt, Tunisia, and Morocco, North Africa is home to several landmarks that it is a prime tourist destination. Leading the pack is the much talked about Egyptian pyramids.
Egypt
Created: 18 June 1953
Population: 100,075,480
Size: 1,010,408 km2
Dominant Ethnicities: Egyptians 99.7%
Known for: Pyramids, Suez Canal, Cradle of Human Civilization
The transcontinental state that is Egypt is best renowned for its history, as the cradle of civilization. No other landmark best illustrates this status than Egyptian pyramids, referred to as the Giza Pyramid Complex. It sits in the Giza Plateau in Greater Cairo and consists of four major pyramids. They are the Great Pyramid of Giza, the Pyramid of Khafre, the Pyramid of Khufu, and the Pyramid of Menkaure. There is also the Great Sphinx of Giza, all of which have their associate pyramid complexes.
The first two are the largest pyramids built in ancient Egypt. They have become the symbol of the North African country's unique history. They have been in existence for thousands of years, reportedly constructed between c. 2580 and c. 2560 BC, in the Fourth Dynasty of the ancient Egyptian kingdom.
These wonders of the world were constructed to house dead pharaohs' bodies, rulers who governed ancient Egypt. The complexity of their design, historical significance, and astrological relevance (all three Giza pyramids are oriented to the north-south and east-west) have made the landmark a popular tourist attraction for Egypt.
Since the modern country opened its borders to tourists in the 70s, it has risen to become one of the world's leading tourist destinations, mostly Western tourists. As of 2019, it had over 13 million tourists per year, contributing more than $12.6 billion to its revenues.
But while the Pyramids remain the leading and most recognizable landmark in Egypt, they are by no means the only one. The country's robust tourism industry also consists of several other landmarks.
Other Notable Landmarks in Egypt
If you get tired from learning the inexhaustible information about the Pyramids of Egypt, you can turn your attention to other landmarks in the great North African country such as –
The Abu Simbel Temples
Karnak Temple Complex
Saqqara (ancient burial ground for
Luxor (location of the ancient city of Thebes)
The Valley of the Kings
Red Sea
Saint Catherine's Monastery (oldest working Christian monastery in the world)
Al-Azhar Mosque
These are other ancient landmarks and locations that contribute to Egypt's historical relevance in human history. If you are interested in modern landmarks, the country is not lacking in those either. Its expansive list of options includes –
Cairo Museum
Mosque of Muhammad Ali Pasha
Sinai Peninsula
Cairo Tower
Al-Mahmeya
Dahab, Sinai
The Egyptian Museum
Suez Canal
Nile Cruises
Despite its disputed place among North African countries, Egypt remains one of the most significant, thanks to its array of landmarks and tourist attractions.
Algeria
Created: 5 July 1962
Population: 43,900,000
Size: 2,381,741 km2
Dominant Ethnicities: Arab-Berber 99%
Known for: Casbah of Algiers, M'zab Valley, Beni Hammad Fort
Algeria is one of the countries that fit every definition of what makes North Africa. It is part of the Maghreb, which means the Western part of the Arab World. The country has a history that dates to 200,000 BC and is the earliest blade industries' home, Iberomaurusian.
Although it does not match Egypt's historical presence, Algeria is home to ancient cultures like the Roman Empire and the Ottoman era. Thanks to them, it has built a strong tourism industry, anchored by its most famous landmark, the Casbah of Algiers.
It was founded in the 10th century, as the city built on a hill that goes towards the sea. Divided into two – the High city and the Low city, the ancient citadel consists of several smaller landmarks from the old world, such as masonries and mosques from the 17th century. It also has the Ketchaoua Mosque, Djama'a al-Djedid, Dar Hassan Pacha, Dar Aziza, and several others.
Although most of them are no longer in their best shape, thanks to government neglect, overpopulation, and age, it remains one of the country's most significant landmarks. The Casbah is home to 15 mausoleums, nine Jama Masjids, 19 mosques, and five Zawiyas, giving it a much-coveted UNESCO World Heritage Site designation.
Other Notable Landmarks in Algeria
Other than the Casbah, the North African country is also home to six other World Heritage sites. They are:
Beni Hammad Fort – a structure from the capital city in the Hammadid era. It is a mosque built in 1007 and demolished in 1152. Its prayer room has 13 aisles and eight bays and is one of the largest in Algeria.
Djemila – a Roman town comprising of basilicas, temples, forums, triumphal arches, religious buildings, and other ancient structures. The city was founded in the 1st century AD as a Roman military garrison. Beyond its historical relevance, it is also famous for the unique adaptation of Roman architecture to its mountain environment.
M'zab Valley – Located in the Ghardaia Province, the UNESCO World Heritage site is a traditional human habitant built in the 10th century by Mozabites. It is an example of habitats that adapted seamlessly to their environment.
Tassili n'Ajjer – It is a vast plateau on the Sahara Desert's edge, containing more than 15,000 cave engravings. The carvings are records of climate changes, animal migrations, and human life evolution between 6,000 BCE and the first centuries CE.
Timgad – the Roman emperor, Trajan, established this city in CE 100 as a bastion against the Berbers in the Aures Mountains. The cultural heritage is renowned for its cardo and decumanus streets, typical of traditional Roman town-planning.
Tipasa – although the Romans did not found it, they conquered and turned it into a military colony. Over time, it evolved into a municipium and trading post before its destruction and reconstruction by Byzantines. It remains one of the most important tourist destinations in the North African country, thanks to the ruins.
Morocco
Created: 7 April 1956
Population: 37,112,080
Size: 710,850 km2
Dominant Ethnicities: Arab-Berber 99%
Known for: Sand dunes, Malabata Coast, Atlas Mountains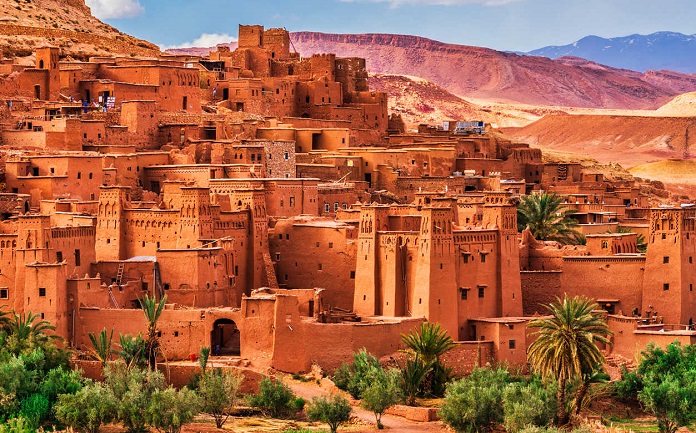 Another Maghreb country, Morocco, is one of the oldest and most recognized in North Africa. It overlooks the Mediterranean Sea and the Atlantic Ocean with a history that dates to 788 AD when the first Moroccan state was established.
Tourism, one of the developed industries in the ancient country, is powered by a host of attractions, most notably the Atlas Mountains and Sand Dunes. The Atlas Mountains are a mountain range in the Maghreb, separating the Mediterranean and Atlantic coastlines from the Sahara Desert.
It spans 2,500 km, stretching through Morocco, Algeria, and Tunisia. Its highest peak at 13,671 feet is Toubkal, in southwestern Morocco. The Berber people primarily inhabit the mountains. The Sand Dunes in Morocco is another popular destination for tourists. They are in two small Moroccan regions, Merzouga and M'Hamid.
Beyond the natural landmarks, though, are Morocco's human-made structures that have existed for thousands of years. The country is notably home to nine UNESCO World Heritage Sites, and they are –
Medina of Fez. It is the North African country's former capital, founded in the 9th century. It is also home to the world's oldest university.
Medina of Marrakesh. The fourth-largest city in the Kingdom of Morocco, it was founded in the 1070s. It remains the center of much of the country's political, economic, and cultural identity. The heritage site boasts of several monuments, including the Kasbah and Koutoubia Mosque.
Ksar of Ait–Ben-Haddou. A traditional pre-Saharan habitat surrounded by high walls and reinforced with corner towers.
The Historic City of Meknes. The former capital of Morocco founded in the 11th century. It is rife with Spanish-Moorish influence from the 17th and 18th centuries.
Others include the Archaeological site of Volubilis, Medina of Tetouan, Medina of Essaouira, Portuguese City of Mazagan (El Jadida), and Rabat.
Modern Landmarks in Algeria
Although it is not one of the most popular countries for mainstream tourism in North Africa, Moroccan attractions go beyond its historical landmarks. Thanks to government efforts and a thriving private sector, it also boasts of recent attractions such as –
The cities of Casablanca, Tangier, Marrakech, and Fez for their architecture, monuments, and vibrance
Agadir and its beach resorts
Tarfaya and its beach resorts
Ouarzazate, a popular filmmaking location. It has featured in films like Lawrence of Arabia, Gladiator, Temptation of Christ, and Game of Thrones.
Sudan
Created: 1 January 1956
Population: 41,592,539
Size: 1,886,068 km2
Dominant Ethnicities: Sudanese Arabs 70%
Known for: Al Kabir Mosque, River Nile, Meroe Pyramids
Sudan is one of the few countries in North Africa with recent political instability. It suffered a recent coup d'état in April 2019 among a couple of others in the 21st century. Still, the third-largest country in Africa, with a history that goes by to the Pharaonic period, attracts a modest tourist crowd.
Its developing tourism industry is powered by landmarks like the Meroe Pyramids, part of a larger Nubian pyramids group, built as far back as 751 BC. The pyramids, numbering over 200, have suffered decimation by Italian treasure hunters, but what is left remains an attractive destination. In recognition of its history and status, the ancient city, Meroe, has since been named a UNESCO World Heritage Site.
The Al Kabir Mosque in Sudan is another noteworthy landmark in the North African country. Located in Khartoum, Sudan's capital, it was built over 100 years ago with red stone. The beautifully designed mosque is home to four different schools of Islam, with influence drawn from Persian, Roman, Byzantine Chinese, and Indian architecture.
Most notably, though, is the River Nile. Although more commonly associated with Egypt, the longest river in the world flows through eleven countries, including Sudan, where it is the primary water source. The White Nile enters Sudan and flows north to Khartoum, where it meets the Blue Nile.
Other Landmarks in Sudan
While the North African country continues to build its tourism index, it has a host of other attractions that makes a worthy visit for anyone visiting the region. It has other landmarks that include –
Naqa
University of Khartoum
El Kurru Tombs
Nile Street
Gebel Barkal
Necropolis of Nuri
Al Sabalouga
Nilian Mosque
Nuri Pyramids
Sesibi Temple
Soleb Temple
There are other places to visit, such as the Sudan National Museum, Sanganeb National Park, Tuti Island, Ethnographic Museum, and several others.
Libya
Created: 10 February 1947
Population: 6,871,287
Size: 1,759,541 km2
Dominant Ethnicities: Arab-Berber 97%
Known for: Saraya Museum, Ghademes Grand Erg Oriental Sand Dunes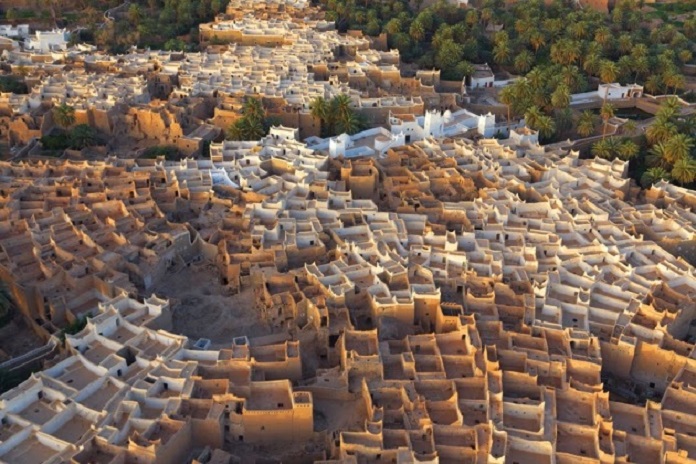 More renowned for its oil reserves and political instability than its array of landmarks, Libya is one of the most controversial countries in North Africa. Outside of those, though, it remains a noteworthy country in the region. It is the fourth largest country in African and the 16th in the world.
It is also home to Saraya Museum and the Ghademes Grand Erg Oriental Sand Dunes. The latter is a large erg that spans 600 km from north to south, covering countries like Tunisian and Algeria. It has defined the ancient oasis town of Ghademes, with about 7,000 people, situated at the confluence of Algeria, Tunisia, and Libya.
The Saraya Museum is a national museum in Libya, located in an ancient building known as the Red Castle or Red Saraya. The museum has an entrance on the historic As-Saha al-Kradrah. It is in Tripoli, covering over 5,000 years from Libya's prehistory to its independence revolution.
Aside from both landmarks, Libya is also home to five UNESCO World Heritage Sites. They are the Leptis Magna Historic Site, ancient Cyrene, the Jebel Acacus Mountains, Sabratha, and Ghademes. As is common among UNESCO sites, they consist of preserved ruins of ancient Roman architecture and culture, including the Nymphaeum in Leptis Magna.
Other Landmarks in Libya
With famous natural landmarks and several archaeological monuments, there is no shortage of exciting landmarks in Libya. Although they may not be as popular, they are worthy attractions for those looking to pay a visit to the ancient North African country. These landmarks include a mix of modern and ancient destinations like –
Ptolemais
Gurgi Mosque
The Arch of Marcus Aurelius
Tripoli's Red Castle
Nalut ruins
Tobruk War Cemetery
Akakus Desert
Jebel Akhdar
Jamahrirya Museum
Other human-made attractions include the famous Fish Market, Murzuq Castle, Benghazi Zoo, Omar Al-Mukhtar Mosque.
Tunisia
Created: 20 March 1956
Population: 11,722,038
Size: 163,610 km2
Dominant Ethnicities: Arab-Berber 98%
Known for: Sidi Bou Said, Ruins of Carthage, Tunis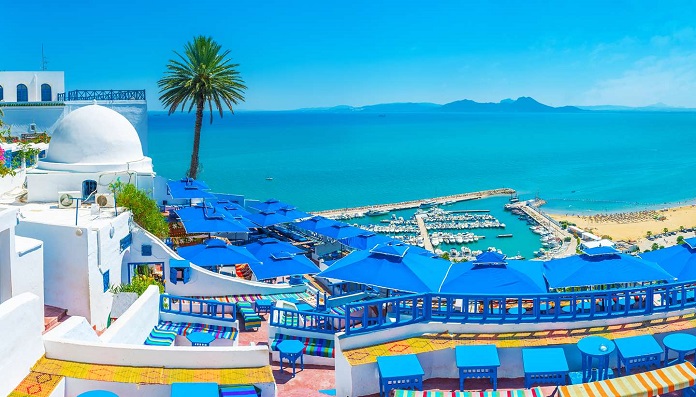 From the Ruins of Carthage to the Sidi Bou Said, there is no shortage of landmarks that define Tunisia's place among countries in North Africa. Like most countries in the region, it was part of the Roman and Ottoman Empires. Former occupied Tunisia for 800 years, building and developing landmarks like the amphitheatre of El Jem and seven other UNESCO World Heritage Sites.
One of them is the Ruins of Carthage, officially known as the Archaeological Site of Carthage. Punis founded Carthage in the 9th century BC, led by the legendary Queen Alyssa. It later became a trading empire, with an influence that spanned the Mediterranean. It famously got destroyed in 146 BC by the Romans during the Punic Wars, who re-established it as Roman Carthage.
Its ruins and monuments remain a cornerstone of Tunisia's historical relevance, attracting millions of people a year. So also does the Sidi Bou Said, a town in northern Tunisia, 20 kilometers from Tunis. It was named after Abu Said al-Baji and is renowned for its extensive use of blue and white.
The town is home to several icons of Tunisian history, including former President Beji Caid Essebsi and French philosopher Michel Foucault. Together, along with the Ruins of Carthage, it forms the basis of Tunisia's thriving tourism industry. Others include seven UNESCO World Heritage Sites –
Dougga/Thugga
Amphitheatre of El Jem
Ichkeul National Park
Medina of Sousse
Medina of Tunis
Punic Town of Kerkuane
Kairouan
Other Notable Landmarks in Tunisia
Besides its historical landmarks, Tunisia also has a robust archaeological collection. They are spread all over the country in more than ten museums. They include the Carthage National Museum, Bardo National Museum, Sousse Archaeological Museum, and Dar Jellouli Museum.
The North African country also boasts of several resorts, including –
Tunis-Zaghouan
Nabeul-Hammamet
Tabarka-Ain Draham
Sousse-Monastir-Mahdia
The Tunisian deserts are also noteworthy attractions. One of them is in Douz, a town in the south of Tunisia, considered the gateway to the Sahara. It hosts the International Festival of the Sahara every year, hosts the Museum of the Sahara, and features in movies like Star Wars, as the location of Tataouine and Matmata.
North African Countries are Mostly Arabs
As you have probably seen in the factoids above, much of the population of countries in North Africa are Arab-Berbers. Berbers is the native ethnic group of people who have lived in this region since at least 10,000 BC. The people of the Maghreb and Sahara regions mostly speak Berber languages. They, alongside Egyptians, have been the dominant ethnicity in the area since the beginning of recorded history.
However, because of the wave of Muslim conquest that swept the region between A.D 600s and 1000s, Northern Africa became infused with Arabic culture. The use of the Arabic language increased, and due to its relation to the Berber languages, Arabic-Berber became a cultural and ethnic identity of Northern Africans.
With the Arabization of North Africa fully established, it gave the region a close demographic resemblance to West Asia, which also consists of the Arab world. It has, in turn, a geopolitical effect. Most countries in North Africa are part of the Greater Middle East, known as the Middle East and North Africa (MENA), and the Arab League, a 22-member state coalition.
So, while North Africa is not historically an Arab region, war, religion, and cultural shifts going back thousands of years have made it one. It is also one of the contributory differences between the region and the rest of Africa.
Skin Colour and Religion are the Major Distinctions Between North African Countries and the Rest of Africa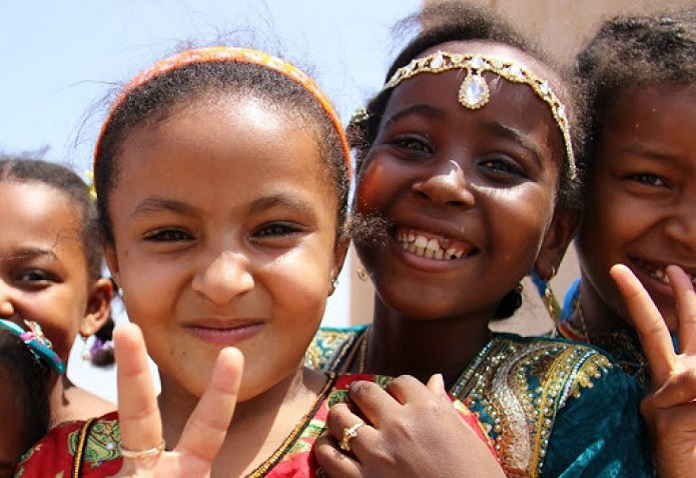 North Africa might be part of the world's second-largest continent, second to Asia. However, there are substantial differences between North Africa and the rest of Africa that one might think they exist on different continents. Geographically, the Sahara Desert, the largest hot desert in the world, separates North Africa from the rest of Africa.
Other than the geographical makeup, other differences range from culture, religion to skin color. These differences have played a part in a pointed inharmony between Sub-Saharan Africa and North African people, with no end in sight.
North Africa is predominantly Islamic. The rest of Africa is mostly Christian
Thanks to the Dark Ages' Islamic conquest, as mentioned earlier, countries in North Africa are predominantly Islamic. The population mostly consists of Sunni Muslims, who make up 92.8% of the region's distribution of religion. The rest include Christians (Orthodox, Catholic, and Protestants), Buddhists, and indigenous traditionalists.
Before the formation of Israel, North Africa also used to have an estimated 700 thousand Jews. As a result, the region still has pockets of Jews in its population to date. The story is different for the rest of Africa, where although there is a significant Islamic presence, most countries are Christians.
In Sub-Saharan Africa, Christianity makes up 62.9% of the population. In comparison, Islamists make up 30.2% of the population, with a majority in countries like Somalia and Djibouti. This difference is down to both regions' history. Sub-Saharan Africa was colonized mostly by Christian-dominated entities like Great Britain and France compared to the north's Arabian invasion.
North Africa Consists Largely of Lighter Skinned People Compared to Sub-Saharan Africa
Another defining factor that separates North Africans from Sub-Saharan Africans is skin color. North African natives have an almost homogenous lighter hue. Sub-Saharan natives, on the other hand, even with a more diverse phenotype, comprising mainly of dark-skinned individuals.
Many North Africans have skin color and physical attributes more in common with Middle Easterners and Southern Europeans. This difference is mostly down to inter-breeding caused by European and Middle Eastern invasion, slavery, and colonization.
Although Sub-Saharan Africa also dealt with these issues, the scale of racial imbalance was not as significant as it was in North Africa. The region's physical proximity to Europe and parts of Asia aided increased integration between North Africa and predominantly white and light-skinned countries, resulting in the region's melanin distribution.
Despite the sharp differences, North Africa and Sub-Saharan Africa have a lot more similarities than differences. Both share legacies of colonialism and slavery are part of a vast continent blessed with multiple landmarks and unmatched diversity.