While many are aware that Liv Lo is the better half to Crazy Rich Asians star Henry Golding, only a few understand why his beautiful wife appears increasingly endearing to fans. A former model turned TV personality, and fitness star, Liv has an impressive résumé which when combined with that of her statuesque spouse is considered a perfect match or 'relationship goals.' Little wonder why they are already considered the modern-day Prince Charming and Cinderella as well as one of Singapore's most popular couples. Find out all there is to know about Liv Lo's career and love life including how she was able to pull off a long-distance relationship…
Who Exactly is Liv Lo – Her Age, Parents and Ethnicity
Liv Lo was born on the 21st of May 1985 in Taichung, Taiwan. She is of mixed ethnicity as her mother Mary Lo is of Taiwanese heritage while her father Richard Lo is of Italian heritage. While it is uncertain if Liv has other siblings, we do know that she has a sister Leeza Pazkowski who also shares a close bond with their dad just like Liv.
Lo grew up in different countries and consequently gained exposure living, studying and working in diverse cultures across the Asian continent. Her dad's job as a music producer made the family travel a lot to cities such as Japan, Hong Kong, and China. However, they eventually settled in Taiwan.
She kicked off her modelling career as a teenager. Liv combined modelling with her collegiate years studying Mass Communication at Temple University Japan. As a model, she rose to become one of the most sought-after in the country after working with top brands such as BMW, Michael Kors, Roberto Cavalli, Maserati, Tory Burch, and Armani Exchange, among others. More so, she made it to the cover of Vogue Taiwan as well as several other billboards in Tokyo.
After an eight-year modelling career, Liv later diversified her career in showbiz when she relocated to Singapore in 2012 after meeting her future husband Henry Golding. It was while in Singapore that she established herself as a TV host in popular shows such as Point of Entry, Style Setter and Asia's Next Top Model. Liv has also worked for Xing Kong, Star World Asia and as a FOX TV reporter in Japan. Liv, as of 2019 is a TV host for Fox Movies Asia where she is frequently seen conducting red carpet interviews.
More so, Liv Lo is a certified yoga instructor known for her signature FitSphere exercise program. Yoga fans can connect to her YouTube channel where she shares and teaches fitness regimens weekly.
Becoming Henry Golding's Wife
It is no news that Liv Lo is Henry Golding's better half. An interesting journey, the sweethearts crossed paths for the first time on 2011's New Year Eve while hanging out with friends at a Singaporean restaurant. It was love at first sight for the duo and they soon ignited an unquenchable passion for each other. Despite working in different cities at the time and their busy job schedules, Lo and Golding did not falter in their love and effectively managed the long distance relationship for about a year.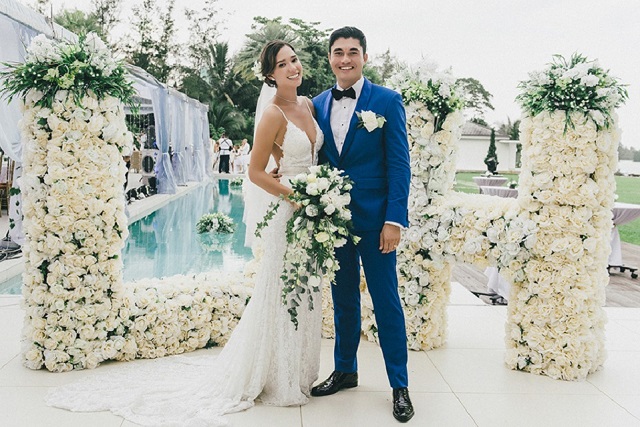 Liv relocated to Singapore thereafter in order to be close to Henry. Their love waxed stronger and after four years of courting, Henry decided to take the relationship to the next level by proposing to Liv while they were vacationing in Phuket, Thailand. The lovebirds eventually tied the knot on the 20th of August, 2016 at Kuching, Malaysia.
Liv and Henry who do not have any child yet have unarguably figured out each other's love language and remain inseparable…at least so far! Despite their busy lives and schedule, the couple sees themselves as a strong team and understand each other's needs. Liv and Henry have been quite generous in sharing their love journey with fans and they are well appreciated for keeping things as real as possible.
Other Interesting Facts You Must Know
1. Liv is a third culture kid as she was not raised by her biological father. She grew up as an Italian-Taiwanese and has never met her biological dad.
2. Liv grew up in a bilingual household with dreams of a bigger world. Consequently, the model and TV host is multilingual as she is very fluent in English, Mandarin and Japanese languages.
3. A fitness advocate and a yoga enthusiast, Lo is a double-certified yoga instructor who has her own signature workout program. She also nurtures dreams of opening a yoga studio in the nearest future.
4. Liv who has a slim physique stands at a height of 5 feet 8 inches. While her exact weight and other body measurements are not known, it is no secret that she maintains a healthy fitness regimen. In fact, she is a fitness star in Asia and a brand ambassador for the popular sports brand Reebok.
5. Though Liv Lo and her husband Henry Golding currently live in Singapore, they often travel across the globe due to the nature of their jobs.
6. In February 2019, Liv Lo was dealt with one of life's hardest blows when she lost her younger brother Sam. While she did not reveal the actual cause of his death, her Instagram post regarding the news suggests that he may have died of alcohol-related. issues.