The importance of a loving home environment can never be overemphasized. It gives one the impetus to go into the world and conquer it. This is why you find superstars dedicating their awards to their loved ones and thanking them for the behind-the-scenes work they do. If there is one person who is making such behind-the-scenes efforts, it is Lori Fieri. Lori is the wife of American celebrity chef, Guy Fieri. Find out more about her.
Lori Fieri Bio (Age)
Lori Fieri was born in the year 1973. There are no details with regard to her early childhood or family background. The most she has revealed is that she hails from a blue-collar background with both of her parents working menial jobs. Lori Fieri grew up in North Providence, Rhode Island which is where she completed her grade and high school education.
While growing up, Lori Fieri had an adventurous personality. As such, in her 20s, she embarked on a cross country trip that saw her stopping over in San Diego. It was during that stopover that she met her future husband. When it comes to the subject of her career, Fieri has not disclosed many details on that. However, she has been a pillar of support for her husband's career. She encourages his new ideas no matter how crazy it seems. For instance, her husband once muted the idea of setting up restaurants on cruise ships. He was initially reluctant about whether it would be successful but she supported him. The cruise ship venture turned out to be very profitable and her husband now has about 19 of such cruise ship restaurants.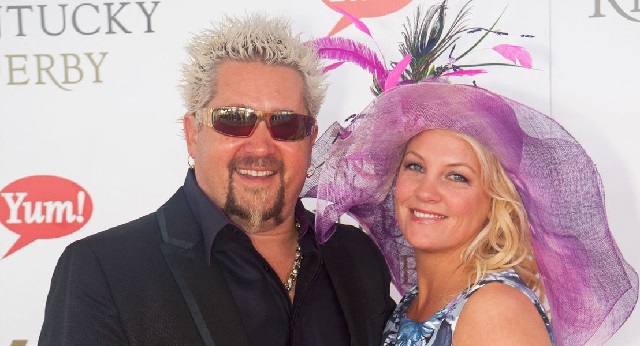 Family
Guy Ramsay Fieri was born on the 22nd of January 1968 in Ohio Columbus. He grew up in California and became passionate about food from an early age. As a high schooler, he sold pretzels out of a cart he constructed with his dad's assistance. After high school, Fieri spent some time learning the fine art of cuisine in Paris. He subsequently returned to the States and obtained a college degree in hotel management. Upon graduation, he served as a manager of various restaurants before setting up his first restaurant, Johnny's Garlic, in 1996. Since then, he has opened about 63 restaurants in different parts of the world. He has also become a TV star and has several shows on The Food Network.
Lori Fiery and her husband first met in 1993. Their first meeting was somewhat acrimonious and one would not have expected that a loving relationship would come out of it. Fieri had come to Long Beach California to visit a friend who incidentally worked at the restaurant that Guy was managing. It, however, turned out that her friend had been sacked and as such, was not allowed to come back into the restaurant.
When they were asked to leave, Fieri spoke up and defended her friend. She also insisted that they had a right to be there. Guy intervened and calmed down the situation. He later asked her out on a date during which he cooked a delicious meal for her. The couple subsequently commenced a relationship and got married two years later in 1995.
Lori Fieri and her husband have two sons. Their names are Hunter (b. 1996) and Ryder (b. 2005). Hunter has inherited his father's passion for food and hopes to be a famous chef one day. He has however not stopped at wishing but is already working towards his ambition. Just like his dad, he sold food while in high school. He is also studying hotel management at University of Las Vegas Nevada. Hunter has also interned at his father's restaurant as well as the Caesar's Group featuring restaurants run by celebrity chefs such as Gordon Ramsay and Giada De Laurentiis. Hunter has also collaborated with his dad on some TV shows. One of them is a Food Network special titled Guy and Hunter's European Vacation.
See Also:  Tana Ramsay – Bio, Age, Children, Facts About Gordon Ramsay's Wife
Other Facts about Lori Fieri
• She resides in Santa Rosa California with her family.
• Fieri often appears on her husband's TV shows and specials. One of them is titled The Guy's Family Road Trip.
• She and her husband have a winery in Sonoma County. The winery, Hunt and Ryde, is named after their sons.
• She is a supporter of LGBT rights. Her husband is equally a bigtime supporter of gay rights and once officiated a mass wedding for same-sex couples. This was a tribute to his late sister who was gay.
• Fieri is the wife of a NYT bestselling author. Several of Guy's cookbooks have made it to the coveted list.
• Lori Fieri has a penchant for wearing flamboyant and colourful hats.