It is not easy to make it in comedy. It takes more than a funny bone and the ability to elicit a few giggles from a listening audience. For all the complexities that go into making a successful career in comedy, Louis C.K, the Washington D.C-born comedian, did it. For years, he was at the top of the art, releasing specials and starring in several comedy shows.
Then in 2017, it all changed. Louis got accused of sexual misconduct, and thus began his decline from comedy's summit. Since then, a lot has happened to the comedian, some good, some bad, but one thing has become clear – he is not going away.
Louis C.K Lost Professional And Social Goodwill After the Allegations
Louis C.K may not have gone to prison for repeatedly sexually harassing fellow comedy professionals, but he did suffer a lot of professional and social damage. Some of them have remained to date. Rumors of his sexual misconduct first began in 2015 after Roseanne Barr, a comedian who has also lost her social goodwill, mentioned his horrifying habit in an interview.
It did not gather steam until 2017 when Vanity Fair published an interview where one of Louis' collaborators, Tig Notaro, cut ties with him and asked the comedian to address the rumors. After that, a string of punitive actions followed. His film, I Love You, Daddy, got canceled along with several promotional interviews.
His deals with Netflix and FX Networks, which were home to some of his projects like specials and the sitcom, Louie, got cut. HBO also ended its relationship with the comedian, removing all of Louis C.K's published content from their on-demand services. Others like TBS, Illumination Studios, and Disney Channel, all ended their relationships with the comedian.
To the public, Louis C.K joined the list of canceled former comedy heroes like Bill Cosby and Roseanne Barr. And although the public boycott wasn't as uniform as his professional one, he lost the boundless love he enjoyed from the audience before the allegations.
His Wife Was Long Gone Before The Allegations Came To Light
New York-based painter, Alix Bailey, was married to Louis C.K between 1995 and 2008. He credits her for shaping his career and helping him find early success. But she was long gone before his actions made that success crumble.
The reason for their divorce was never made public, part of a consistent theme of privacy during their time together. While Alix was a regular fixture in his routines, she stayed mostly out of the limelight and continues to do so. She has never addressed any of the allegations, either.
While we cannot say if she supported Louis C.K or not, we do know that they have maintained the joint custody arrangement for their two daughters, Kitty and Mary Louise Szekely. Speaking of his daughters, although they were understandably horrified by the actions of their father, they have stood by him.
A monologue by Louis C.K's longtime friend, Sarah Silverman, from an episode of I Love You, America, supposedly helped one of his daughters navigate her feelings about the ordeal. In it, Sarah spoke of the possibility to love someone who has done bad things, even if it takes time for the negative emotions about them to go away.
Louis C.K. Has Returned To Stand Up
About a year after the crater impact of the allegations, Louis C.K returned to stand up or at least tried to. He made his first comeback appearance at a Governor's Comedy Club in August 2018, performing for about 15 minutes. Later, he performed at the Comedy Cellar in Greenwich Village.
His attempted return was met with criticism, particularly after comedy fans learned he did not address the scandal in his routines. As for the audience, there was a mixed reaction to seeing the famous comedian on stage again. In some of the clubs, he received a standing ovation for his performance, while others derided his appearance, albeit quietly.
The reception was similar among professional comedians too. While some like Michael Che, Jimmy Kimmel, and Marlon Wayans were receptive to Louis C.K's potential return, others like Joyelle Nicole, Laurie Kilmartin, and Kathy Griffin have been less open to the idea.
A) You know how many talented women and POC comics are knocking on doors trying to get some time in front of audiences or powerful people in this business? And Louis just gets to glide back in on his own terms? Gosh, does it payoff to be in the boys club..the white boys club https://t.co/hewlglA2a7

— Kathy Griffin (@kathygriffin) August 28, 2018
Regardless, Louis C.K continued to perform around comedy clubs in the U.S. In October 2019, he announced an international tour. He performed in Europe, Paris, and going as far as Slovakia. Back home in the US, he is back to selling out theatres. In March 2020, Louis performed at the Warner Theatre in Washington, D.C, with a capacity of 1,800 people. He also released a special, Sincerely Louis C.K in April 2020.
He Is Still A Multimillionaire
In 2013, long before his fall from grace, Louis C.K was among the highest-earning comedians in the world. At the time, he had a net worth of $16 million. Over the next couple of years, his wealth increased, thanks to lucrative deals with Netflix, two specials, and a major show at the Madison Square Garden.
He earned an estimated $52 million from all of them, increasing his overall net worth to approximately $35 million. While he did lose up to $35 million in future earnings because of the scandal, Louis C.K's wealth has mostly remained unchanged, with a current estimated net worth of $35 million. His latest special, Sincerely Louis C.K, sold at $7.99 on his website, to millions of fans.
With his unchanged wealth, he has continued his acts of philanthropy. He donated $30,000 to the staff of Comedy Cellar during the Covid-19 pandemic. Also, in July, he released an audio conversation series between himself and his girlfriend, proceeds of which they donated to Fistula Foundation and Abbe Pierre.
The Comedian Is Dating Again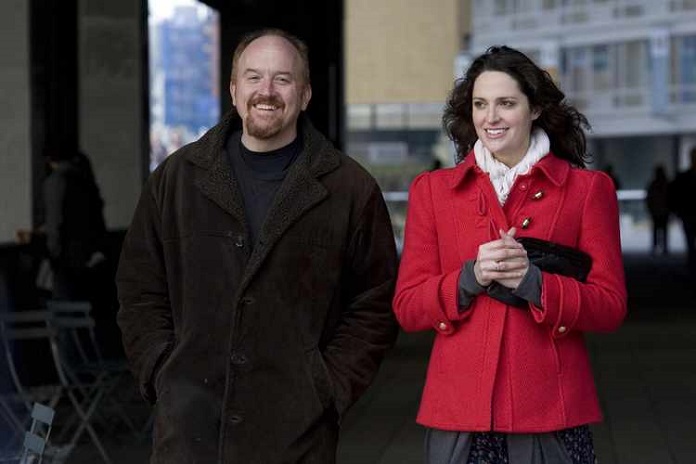 Not only is Louis C.K's comeback almost complete, but he is also back in a major relationship. Since 2018, he has been dating Blanche Gardin, a French actress, comedian, and writer.
She is a graduate of Paris Nanterre University and is known for her work on one-person shows. As an actress, she has starred in over 25 films and TV shows, including Selfie, Memories, and Working Girls. Since they began their public relationship, she has come under scrutiny for dating the comedian. She has, however, defended her actions by suggesting it is essential to separate the actions from the man.