Luke Kuechly got into the National Football League (NFL) after the Carolina Panthers selected him in the first round of the 2012 NFL Draft. Before then, he played college football for the Boston College where he was recognized as a consensus All-American twice.
On January 14, 2020, Kuelchy shocked the world as he became one of the youngest NFL players to announce their retirement from the sport. He has since returned to the Panthers where he took a professional scouting role. That decision, particularly the reasoning behind it, makes Luke Kuechly an enigma and has drawn high interest in his short but memorable career.
The Impressive Beginnings to Luke Kuechly's Illustrious Career
Luke was a student at St. Xavier High School in the Finneytown area of Cincinnati. He played football for his school as a linebacker and safety. His performance for the team earned him a two-time All-Greater Catholic League selection, with him earning first-team honors in 2008.
By the time Luke finished high school, he was a three-star recruit and was number 44 on the list of outside linebacker prospects in the 2009 class. He subsequently chose to join Boston College where played college football from 2009 to 2011.
In his freshman year, Luke Kuechly was named starting outside linebacker after the previous incumbent announced that he would miss the season. Luke went on to record 158 tackles (87 solo) to earn the ACC Defensive Rookie of the Year award. He was also named to the CFN All-Freshman Defensive Team.
In his second season in 2010, he played as a middle linebacker. He recorded 183 tackles (110 solo) to be named a finalist for the Butkus Award and the Nagurski Award. Luke also broke the school record for most tackles in a season. At the end of the year, he was named defensive MVP of the year.
In 2011, his final collegiate season, Luke Kuechly had an outstanding season and almost reached the single-season tackle record of the NCAA Football Bowl Subdivision (FBS) of 193 tackles. He recorded 191 tackles, 102 of which were solo. Luke later finished the season with several awards, including the Lombardi Award, Bronko Nagurski Trophy, and Lott IMPACT Trophy. He also got named in the All-American first team for the second consecutive year.
Kuechly's Short and Eventful NFL Career
Luke Kuechly started his professional career in the NFL in 2012. He joined the league after he was selected ninth overall in the draft by the Carolina Panthers who gave him a four-year, $12.58 million contract.
The Ohio native started the season as an outside linebacker but was later moved to the middle linebacker position after Jon Beason suffered an injury. Luke delivered a host of exemplary performances, ones that earned him accolades like Defensive Rookie of the Week and Rookie of the Month. He had a league-high 59 tackles in the last five games of the season. He also recorded 164 tackles over the entire season, leading the entire league.
After his rookie season in the NFL where he was awarded the AP Defensive Rookie of the Year, Luke Kuechly went back to Boston College to finish up his degree program. He finally completed his degree requirements in 2015, bagging a degree in marketing from the Boston College Carroll School of Management. In the same 2015, he made his first super bowl appearance.
Kuechly played nine consecutive professional seasons in the NFL from 2012 to 2019. On 14 January 2020, he announced his retirement. Luke retired saying he wasn't sure if he could play as "fast, physical, and strong" as he did during his eight NFL seasons that saw him garner seven Pro Bowl selections and the league's Defensive Player of the Year Award in 2013.
Luke didn't explain why he wouldn't be able to play at the level to which he was accustomed, but it was believed that it had something to do with him missing a couple of games in his career due to concussions.
Luke Kuechly's Playing Style and Profile
From the time he got into the NFL, Luke Kuechly has been one of the most formidable forces among defenders in the league. He excels when he drops back into coverage and also as a pass rusher and run defender.
As a result of his athletic playing style, uncanny vision, and his instincts for the ball, Luke remained a top impact player throughout his professional career, drawing comparison to Hall of Famer Brian Urlacher.
The Mouth-Watering Contracts He Signed as a Pro
Luke Kuechly worked hard throughout his NFL career and has made a pretty comfortable life out of it. He spent all his professional career with the same team but that never reduced his worth nor was his talent ever taken for granted as he was awarded lucrative contracts.
In his first season in 2012, Luke's contract saw him get paid a base salary of $390,000, and a prorated bonus of $1,897,018 million. By 2013, he was guaranteed $961,755 and by 2016, the figure rose to $1 million.
In 2015, he signed a 5-year, $61,801,565 contract with the Carolina Panthers that came with a $19 million signing bonus while $34,363,324 was guaranteed. His 2017 earnings of $12.76 million ranked first among inside linebackers and 38th overall in the NFL.
Luke Has a Net Worth of $27.1 Million
According to Forbes, the linebacker has an estimated net worth of $27.1 million which he earned mainly from his years as a professional American football player. The linebacker was also a marketable player as he was the only defensive player to rank among the NFL's top 10 jerseys sold during the 2015 season. He further attracted endorsement deals from major brands like Nike, CPI Security, Pepsi, and Gamebreaker Sports.
Luke Kuechly Comes From a Family of Athletes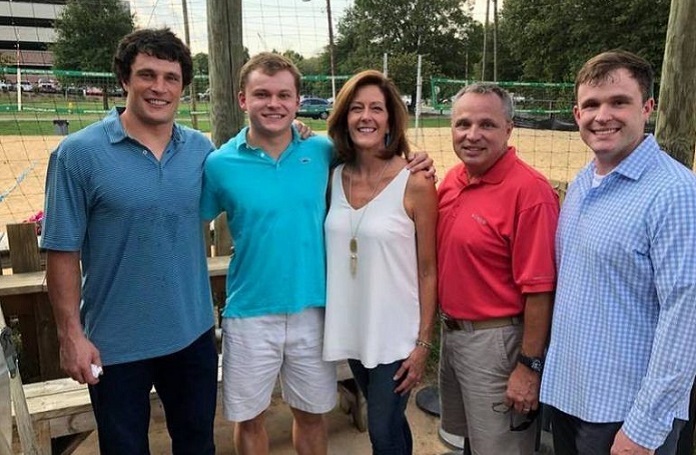 Luke Kuechly was born in Cincinnati, Ohio to Tom and Eileen Kuechly. After his birth, his parents who were athletes in their hay days, moved to Evendale city where they raised their son.
Luke's father played soccer in high school and college while his mother played high school basketball and volleyball. Naturally, the young man grew up being involved in sports as he had been influenced by his parents who also guided him.
The retired linebacker also has two brothers; his elder brother John Kuelchy and his younger brother Henry Kuelchy who he is closest to. It wasn't just athletics that bonded the family either. The Kuechly family were avid outdoorsmen who regularly hunted deer, fished and shot skeet.
Luke and his family members are also members of the Roman Catholic faith. During his time as a player, he had a reputation for being simple and humble, and the linebacker credits his family's faith for it.
What We Know About His Love Life
Luke Kuechly is married to Shannon Reilly. The pair started dating in 2012, the same year he kicked off his professional career. Shannon comes from a family of football lovers. She is the second of six children; she has three sisters (Maddy, Shauna, and Marion) and two brothers (Tommy and Matt Reilly).
Shannon and Luke seem to be tailor-made for each other as they share several things in common, including coming from Catholic families. Shannon attended a prestigious all-girls Catholic high school, Saint Ursula Academy, Cincinnati, from where she graduated in 2010. The duo are also both athletic. While Luke is a football player, his wife started playing lacrosse when she was in 6th grade and even served as the team's assistant captain. She also played club field hockey in high school.
While Luke has rested on his on-field laurels and has transitioned to coaching, his wife is a physician. She graduated with a Masters in Physician Assistant Studies in 2017 from Gardner-Webb University. Shannon now works at OrthoCarolina.