Lupita Nyong'o, a Kenyan actress and film director who was born in Mexico, but was raised in Kenya seems to have emerged from the blue and swept people off their feet, having gained huge love from audiences around the globe.
Lupita won the hearts of many for her role as Patsey in the Academy Award winning film and historical drama, '12 Years a Slave'. She earned several cute titles in one year including "Most Beautiful Woman" by People and "Woman of the Year" by Glamour. Now the big question is: Who is this extraordinary woman known around the world for her prominent role in upholding Kenya and the African culture?
Read Also: 10 Things You Didn't Know About Vera Sidika
Lupita Nyong'o is a Mexican-Kenyan actress and film director.
Her father, Peter Anyang' Nyong'o and her mother, Dorothy, boxed up the belongings of their family and moved from Kenya to Mexico City when his [Peter's] brother got missing. His brother's car was later discovered on a ferry with his shoes abandoned inside the vehicle but no trace of him. Her father, Peter decided that his family will be safer elsewhere since they were not able to determine what had happened to the brother. He took a teaching job at the Colegio de Mexico. There, the young woman, Lupita was born. Her parents chose to christen her Lupita, a common Mexican name because of a long-held Kenyan tradition that children are to be called something that is significant to the day of their birth.
According to Lupita, growing up in Nairobi, Kenya can be described as "middle class, suburban," and her wildest wish was to become an actor someday as she grew up in a family where get-togethers often included performances by the children in the family, and trips to see plays. You could say her big dream came through as she is now not just any ordinary actor, but one of the most famous ones around the globe.
She enrolled at the Yale School of Drama, and there she impressed the chair of the acting program, Ron Van Lieu. He clearly recalls her audition distinctly, saying her Romeo and Juliet monologue is one of the most exciting of his entire career. She made a few appearances before her manager requested her to submit an audition tape for 12 Years a Slave, which was her first attempt at a feature film. Director Steven McQueen was totally impressed by Lupita's performance since he wasn't lucky enough to find someone with the immense talent to play one of the major and important characters, Patsey. McQueen remembers how he was heavily shocked watching her audition tape. In his words:
"We auditioned over 2,000 women all around the world, I always compare it to the search for Scarlett O'Hara. I had a tape of Lupita's, and I couldn't believe it. I thought, Is this person real?… She's a total professional, incredible."
At this point, Lupita was unknown but the lasting impression McQueen had about her gave her a cast. And this cast created paths which she walked on to win an Academy Award for Best Supporting Actress for her individual role. The film was as well nominated for nine awards out of which it won three. Since then, Lupita has been nominated countless times and she has taken home countless awards from that debut role. More amazingly, Miss Nyong'o is the first Mexican and first Kenyan actress to win an Academy Award.
The breath-taking actress never misses any opportunity to uphold African culture, skin color and its true beauty. You are right to say she likes it the African way. She has inspired several women with her true African beauty. She once gave a speech on the beauty of black women and spoke about the insecurities she had undergone as a teenager. She recounted that her views changed for the better when she saw South Sudanese supermodel Alek Wek become successful. She even mentioned receiving the following letter from an unidentified girl from Africa she had inspired in turn:
"I was just about to buy Dencia's Whitenicious cream to lighten my skin when you appeared on the world map and saved me."
No doubt, the ground-breaking movie actress, Lupita has so much to offer our continent both morally and otherwise; so watch out for her latest roles in the live adaptation of The Jungle Book, Star Wars: Episode VII, the film adaptation of best-selling novel, Americanah which tells the story of a young Nigerian woman who emigrated to America, among many others. Of course she knows we can't wait to see what she will do next and is climbing higher so as not to let us down one bit!
Check Out Some Stunning Looks Lupita Nyog'o has Brought to the Red Carpet in Recent Years. 
At Cannes, France, May 14, 2015
Attending a Christian Dior Show, July 6, 2015
Attending the Premiere of La Tete Haute, May 13, 2015
Arriving at the Academy Awards, February 22, 2015
At the Glamour 2014 Women of the Year Awards on November 14, 2014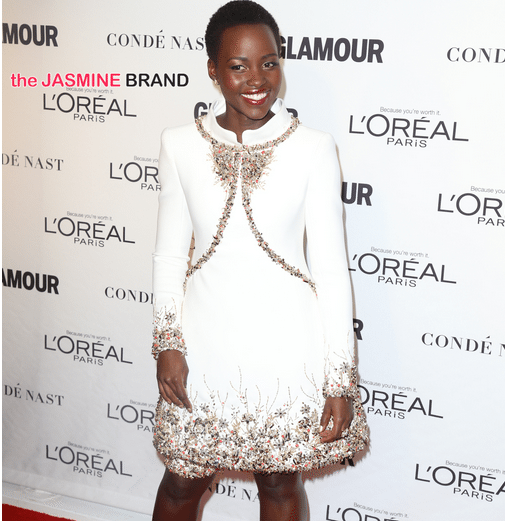 At the Sindika Dokolo Art Foundation Dinner, October 18, 2014
Arriving at the Veuve Clicquot Polo Classic, May 31, 2014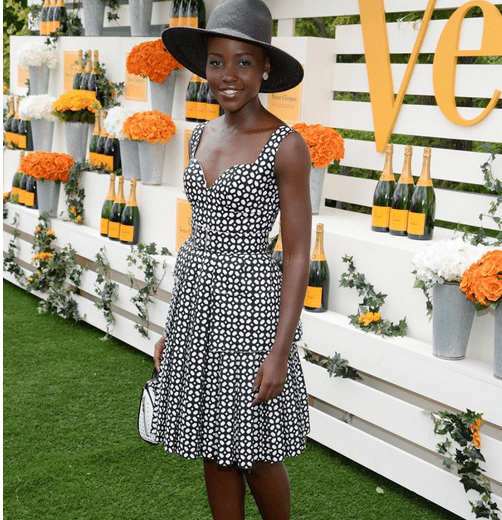 The Accenture Gala Ahead of the Premiere of "Twelve Years A Slave" During the 57th BFI London Film Festival at the Langham
Lupita at 25th Annual Palm Springs International Film Festival Awards.
Lupita Attends Marie Claire, Celebrates May Cover Star on April 8, 2014 in West Hollywood, California.
Rihanna and Lupita Attend Miu Miu Show on March 5, 2014 in Paris, France.