Lydia Hearst was born with the proverbial silver spoon in her mouth. As an heiress to the Hearst publishing dynasty, she could have easily lived the life of a socialite filled with partying and shopping. However, Hearst is so much more than that. She is an accomplished model and actress. She is also renowned for her charity work and support of several humanitarian causes. Find out more about her here including her bio and age, net worth and height, husband as well as other interesting facts about her.
Lydia Hearst – Bio (Age)
Lydia Marie Hearst Shaw Hardwick was born on the 19th of September 1984 in Wilton Connecticut. She had her education at the Lawrenceville School and Wilton High School. For college, Hearst attended the Sacred Heart University in Connecticut where she studied communications and technology. Since leaving college, Lydia Hearst has built a viable career as a model and an actress. She has appeared on the covers of fashion magazines in countries such as Japan, Italy, Korea and France. She has also graced the covers of magazines in Latin America as well as the United States of America. Hearst's modelling talents are not limited to the glossy pages of magazines. She has also walked the runway for big brands such as Three as Four, Twinkle, Chanel, Nicole Miller and Fendi.
Lydia Hearst is also an accomplished actress. She has featured in movies and TV shows such as Desire, South of Hell, The Haunting of Sharon Tate, Z Nation, 50k, Between Worlds, West of Time, Swing State, Cabin Fever 3: Patient Zero, All at Once, Guys Reading Poems, Condemned, Gossip Girl, Delirium and Stealing Chanel – a 2015 movie about a young man who is a compulsive thief of designer clothing. He later re-examines his ways and becomes a fashion designer himself. This change of heart is thanks to the intervention of a socialite named Chanel (aptly portrayed by Lydia Hearst).
Family
Lydia Hearst hails from the renowned Hearst family. Her great grandfather, William Randolph Hearst founded the Hearst Corporation which owns many magazines (including Good Housekeeping and Cosmopolitan) and cable TV stations.
When it comes to her immediate family, her mother's name is Patty Hearst while her father's name is Bernard Shaw. Patty was kidnapped in 1974 when she was 19 years old. Her abductors were a local left-wing terrorist group known as the Symbionese Liberation Army (SLA). She spent 24 months in captivity and even joined her captors in some of their criminal activities including a bank robbery. When Patty was rescued, she was sentenced to 8 years in prison for her criminal activities. She spent 22 months in jail and was granted a full pardon in 2001 by President Clinton.
Lydia Hearst – Husband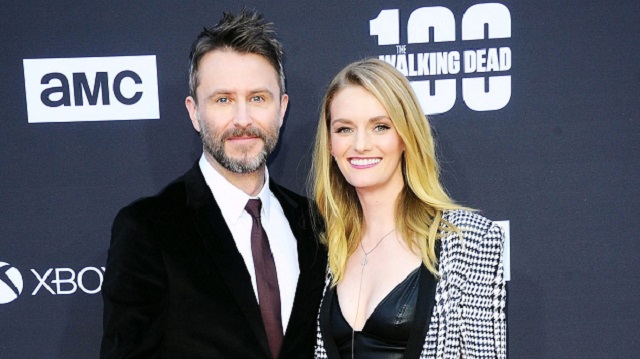 Lydia Hearst is married to the popular comic, actor, TV host and podcaster Chris Hardwick. Her husband is a producer and host of popular shows such as Talking Bad, Talking Saul and Talking Dead. He also hosts the Nerdist Podcast which Rolling Stone has described as one of the top ten comedy podcasts. Hearst and her beau first met in November 2013 during a filming of his show, Talking Bad. They liked each at first sight but were in other relationships at the time. Nine months later when they were both single, a mutual friend named Sean James set them up on a date. They spent some time getting to know each other and subsequently commenced a romantic relationship. The couple dated for two years before tying the knot in Pasadena in August 2016.
Height
Lydia Hearst is 5 feet 7 inches tall (1.70m) and weighs 50kg or 110 lbs. Other additional measurements are chest – 32 inches, waist – 23 inches and hip – 33 inches. She also has a beautiful doll-like face with green eyes and black hair. Hearst has disclosed that her relatively short height proved to be an obstacle when she was starting out as a model. Not many were willing to grant her an initial audition due to the fact that she was short by industry standards. She however persevered and triumphed in the end.
Net Worth
Lydia Hearst's net worth is estimated at a whopping $100 million. A good chunk of this is most likely from her family' fortune which is estimated at $4.4 billion. Hearst has also made money from her career; for instance, she has featured in national ads for brands such as MAC Cosmetics, Prada and Alexander McQueen. There is no doubt that she must have earned a good amount from these campaigns.
See Also:  Andrea Hissom – Bio, Celebrity Facts and Family Life of Steve Wynn's Wife
Other Facts About Chris Hardwick's Wife
• She is a writer and has contributed columns to the Page Six Magazine.
• Hearst is also a designer; she has designed a line of Lydia handbags for Puma.
• She won the award for best actress U.S.A at the International Film Festival of Manhattan in 2015. This was for her starring role in the movie, Stealing Chanel.
• Hearst is renowned for her charitable and humanitarian activities. She spoke out about the atrocities that were going on in the Darfur region of Sudan.
• She has also served as an ambassador for charitable causes such as Operation Smile which is a non-profit which assists children with cleft lip and palate issues.
• Hearst was named model of the year at the 2008 Michael Awards.