Lydia Hearst is an American actress, fashion model, and lifestyle blogger. She was born with the proverbial silver spoon. As an heiress to the Hearst publishing dynasty, she could have easily settled for a life filled with partying and shopping. But Lydia decided to build an identity away from her family and has over the years grown to become an accomplished model and actress, making her own money while doing what she loves. The Hollywood actress is also renowned for her charity work as she supports several humanitarian causes.
Born on the 19th of September 1984 in Wilton Connecticut, Lydia Marie Hearst Shaw Hardwick is a very hard working woman who has made a name for herself in the entertainment industry. The actress cum model hails from the illustrious Hearst family which owns the Hearst Communications – a multinational mass media and business information conglomerate.
Lydia Hearst's Net Worth Is Estimated at a Massive $100 Million
There is no doubt at all that Lydia Hearst is a wealthy woman who has been able to build streams of income by doing a number of things she loves. Having worked as a model, an actress, and even a journalist, it is expected that she has been able to rake in a lot of money for herself. But how much is she worth?
At the moment, Lydia Hearst's net worth is estimated at a whopping $100 million. This is not surprising considering the efforts she has put into her work over the years, including all the national ads she has done for brands such as MAC Cosmetics, Prada, and Alexander McQueen.
A Modeling Career that Dates Back to 2004 Is a Major Source of Her Wealth
Lydia Hearst is enjoying an amazing career as a model. She kickstarted her modeling career in 2004 after she was discovered by Steven Meisel, a popular American photographer. In April of that same year, she shot her first magazine cover for Vogue Italia and things picked up from there.
Hearst has gone ahead to appear on the covers of fashion magazines in different countries including Japan, Italy, Korea, and France. She has also graced the covers of magazines in Latin America as well as the United States of America. During this time, she worked with some of the greatest photographers in the world including Steven Meisel, Mario Testino, Patrick DeMarchelier, Ellen Von Unwerth, Paulo Roversi, and many others.
Hearst's modeling talents are not limited to the glossy pages of magazines. She has also walked the runway for big brands such as Three as Four, Twinkle, Chanel, Nicole Miller, and Fendi. In 2008, Hearst was named model of the year at the Michael Awards.
Earnings from Advertising Campaigns and Acting Have also Added to Her Fortune
In addition to gracing the pages of magazines and walking on runways, Lydia Hearst has appeared in several advertising campaigns for different companies.
Some of the companies she has done a campaign for are Louis Vuitton, Prada, as well as Bottega Veneta, Alexander McQueen, and many others. In 2012, she was chosen by the popular Austrian fashion company, Swarovski, to be the ambassador for its Heart Truth campaign.
Lydia Hearst is also an accomplished actress. She kickstarted her acting career in 2008 with an appearance in Last International Playboy, a comedy-drama movie. The same year, she starred in the popular TV series, Gossip Girl.
The actress has since gone on to star in a number of other movies and TV shows such as 2 Jacks and Amnesia in 2012, Mistresses in 2013, Cabin Fever 3: Patient Zero in 2014, Stealing Chanel and South of Hell in 2015, Guys Reading Poems in 2016, Swing State in 2017, Z Nation in 2018, The Haunting of Sharon Tate in 2019, and Psycho Sister-In-Law in 2020, among many others.
It is noteworthy that she won the award for best actress U.S.A at the International Film Festival of Manhattan in 2015. This was for her starring role in the movie, Stealing Chanel.
Lydia Hearst Earns from Journalism
The model is a multi-talented woman. Apart from her modeling and acting work, she has also worked as a journalist. For a brief period, she worked as a columnist for Page Six, the short-lived feature of the Sunday edition of the New York Post.
Interestingly, the actress has also launched a lifestyle/fashion blog where she regularly posts and is pulling quite a number of readers.
Beyond working and making money, Lydia Hearst has also involved herself in philanthropic causes. Hearst is renowned for her charitable and humanitarian activities. She spoke out about the atrocities that were going on in the Darfur region of Sudan.
She has also served as an ambassador for charitable causes such as Operation Smile which is a non-profit endeavor that assists children with cleft lip and palate issues.
The Actress Has Been Married to Chris Hardwick Since 2016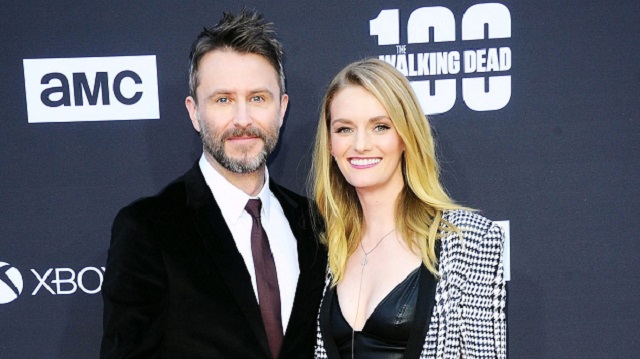 Lydia Hearst is a happily married woman. The model is married to the popular comic, actor, TV host, and podcaster, Chris Hardwick. Hardwick is a producer and host of popular shows such as Talking Bad, Talking Saul, and Talking Dead. He also hosts the Nerdist Podcast which Rolling Stone has ranked as one of the top ten comedy podcasts.
Born on the 23rd of November 1971 in Louisville, Kentucky, Chris is a versatile entertainer and his career has been traced to the mid-1990s when he worked as a DJ for a Los Angeles radio station.
The Couple Met for the First Time In 2013
Lydia Hearst and her husband first met in November 2013 during a filming of his show, Talking Bad. They liked each other at first sight but were in other relationships at the time.
Nine months later when they were both single, a mutual friend named Sean James set them up on a date. They spent some time getting to know each other and subsequently commenced a romantic relationship.
The couple dated for two years before tying the knot in Pasadena in August 2016. They have remained together ever since and from all indications, they are in a very happy place.