Maame Biney is an American speed-skater but originally of a Ghanaian descent.
It is always a thing of joy to see Africans in the diaspora who are doing great for themselves and representing Africa well.
The African born American, Maame Biney made history in the United States when she qualified for the 2018 Speedskating Short Track World Cup competitions. Biney won bronze in the 500 metres at the 2017 World Junior Short Track Speed Skating Championships.
Similarly, in August 2017, the ever laughing and happy Maame Biney gave a good display that singled her out amongst older and more-experienced ice skaters. During the process of qualifying for the winter Olympics, she won three of six finals over a three-day period.
The record-breaker loves laughing as much as she enjoys crying… Who would have thought the two extremes could ever agree.
Here are quick facts you need to know about the ice-skating star.
1. Ghanaian
Maame Biney was born on January 28, 2000, in Accra Ghana. She spent her early childhood in Rockville, Maryland, Ghana. She later moved to the United States with her dad at the age of five.
Leaving home was not an easy adjustment for 5-year-old Biney. In time she started adjusting to the new system but still missed her friends.
Biney hopes to be a chemical engineer someday. The Titanic movie is one of her all-time favourites.
See Also: These Three Women Want To Take Nigeria To The Winter Olympic Games For The First Time Ever
2. A US Record Breaker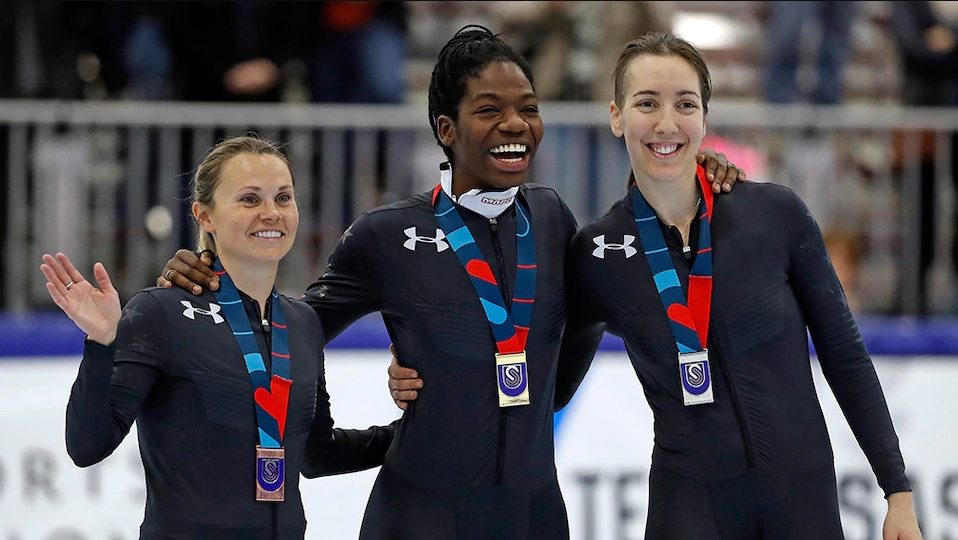 On Saturday, Dec. 16, 2017, in Kearns, Utah, Maame Biney became the second black speedskater on a U.S. Olympic team.
Shani Davis was the first black to do so. At 19, he qualified for the short track team in 2002. After that, he switched to long track where he won four medals, including two golds.
Maame Biney with her recent win has equally become the first Black woman to qualify for a U.S. Olympic speedskating team with a pair of victories in the 500 meters and the second African-born to represent the U.S at the Winter Olympics after Madagascar-born biathlete Dan Westover in 1998.
3. Daddy's Girl
It's always been Biney and her father. Not much is known about her mother and the family per se.
But as long as her relocation to the US and ice skating training go, her father played important roles at those vital stages.
It was gathered from one of her interviews that her father personally enrolled her in a training class. Fortunately, it was all in the young lady's favour as she turned out to be a natural at the game. Till date Kweku, Biney's father still shows support for her baby girl.
After her win, Biney dedicated her success to her father whom she says was instrumental to her present-day victories.
See Also: Chioma Ajunwa: 5 Quick Facts About Nigeria's Olympic Gold Medalist
4. Favorite Quote
For someone who practically enjoys laughing, it is no surprise that the favourite quote in the world is "Laugh until you can't laugh anymore."
Biney is a joyful skater who has rarely been seen without a smile on her face. 
5. 2018 Olympics
Having been the first black woman on the U.S Olympic short-track team and the first black woman to make either Team USA Olympic speedskating squad, Maame participated in the 2018 winter Olympics.
She led in the race briefly advancing out of the preliminary heats. But sadly fell out of the contest, finishing last in her 1,500-meter short-track heat.
She finished in a time of 2 minutes, 31.819 seconds almost two seconds behind the third and last qualifier from the heat, Valeria Maltais of Canada.  Therefore couldn't conquer a slow start in her quarterfinal.
Despite the turn out of the event which saw the end of her pioneering run at the Winter Olympics, the American Athlete is grateful for being part of the game.
According to her, even though her Winter Olympic dreams appear to have ended, the fact that she participated gives her joy since she feels she has inspired many women including African American girls and people of other race to be courageous enough to do what they can and flourish in it.
6. She is focused
Maame Biney loses no focus in the training ground and does that with her chronic and contagious laughter.
She is just a picture of a purpose-driven teenager who ultimately has fun doing what she knows how best to do.