Actor, vocalist, and musician, Macaulay Culkin started out as a child actor. He became famous for his Kevin McCallister roles in the Home Alone blockbuster, which made him a nominee for a Golden Globe award. Macaulay Culkin is also known for other productions like Home Alone 2: Lost in New York, My Girl, The Good Son, The Nutcracker, Getting Even with Dad, The Pagemaster, as well as Richie Rich. Being an early bird, the popular entertainer was able to make his fortune and retire from acting at the tender age of 14.
The Macaulay Culkin of 2020 is a completely different person who only accepts a role if it resonates with him and not for the accompanying fame or for the money. Presently, the New Yorker lives in both US and Paris but prefers Paris as he can walk freely without anyone recognizing him.
The former child entertainer came from a large family where was exposed to abuse growing up. As for his love life, it is far from being as robust as that of actor David Spade but he has had his share of failed relationships in the past. Macaulay Culkin's life is not devoid of troubles; the star has been arrested on accounts of substance abuse but from what is obvious, he seems to have put all that in his past. However, that is not all to know about Mack as there is still a whole lot more.
Macaulay Culkin Comes From A Large Family
Macaulay Carson Culkin is the third of seven children. He was born in New York City on August 26, 1980, to Patricia Brentrup – a telephone operator mother, and Christopher Cornelius Culkin a businessman, He was raised a Roman Catholic and also attended a Catholic school.
While the Culkin family was viewed by the outside world as successful and happy, only a few people knew the horror that Macaulay and his siblings were passing through behind closed doors. Recently in 2018, he revealed the ill-treatment he had to endure from his father, who terrorized his family on numerous occasions
Kit Culkin – Father
Macaulay Culkin's father worked as an entertainer and also functioned as a sacristan in their local church. He gave up his business to oversee the child actor's career and according to his son, Kit was an abusive father and also an abusive husband. Reports said Kit was actually jealous of his little boy's success at the time he was overseeing the boy's finances. It was later revealed that Kit Culkin was a failed child actor, who was not averse to taking out his frustrations on Macaulay by beating the youngster. To this day, the movie star still bears the scars from the numerous assaults he suffered at the hands of his dad. In addition to physically striking him, Kit would send the child actor into interviews without any form of preparation, coupled with the threat of 'Do good, or I'll hit you'
Patricia Brentrup – Mother
Macaulay's mother was earning a living as a telephone operator before she resigned to take charge of her son's fortune alongside Kit. Her marriage to Kit was an abusive one with her husband physically abusing everybody in the family. Reports revealed that Kit was not averse to beating her with pregnancy and did so on several occasions. Besides, Patricia had to suffer infidelity from her spouse. The couple's marriage endured for twenty years before it cracked under the weight of Kit's abuse. Patricia later earned relief in 1994 when their divorce was finalized.
Macaulay's siblings include four brothers and a couple of sisters in addition to an older step-sister. They are
Jennifer L. Adamson – Half Sister
Jennifer is Macaulay Culkin's half-sister, a daughter born to Kit and Adeena VanWagoner on the 27th of June 1970 in the city of New York. Jennifer who died from an apparent drug overdose on the 20th of May 2000 earned a living working at the South Hills Group Home in Missoula, Montana with developmentally disabled people.
Shane Arliss – Brother
Shane Arliss' year of birth is captured as 1976 and he is the second oldest among the actor's siblings. Shane is equally part of the entertainment industry, appearing in a single episode of Great Performances in 1989.
Dakota – Sister 
Dakota was born In New York City on the 15th of June 1979 and like Jennifer, she is also late. Culkin's sister passed on in Loss Angeles when she was hit by an oncoming vehicle on the 10th of December 2008. She was promptly rushed to the hospital but died the following day.
Kieran Kyle – Brother
Kieran Kyle is the next most successful among the Culkin children. His parents pushed Kieran and Mack the most during their formative years. However, Kieran didn't have the same luck as his brother since he did not receive instant stardom. He was part of Home Alone in 1990 playing the role of Fuller, but presently, Kieran is essaying the character of Roman Roy in the HBO series Succession. Macaulay Culkin's brother is a married man, his wife has been identified as Jazz Charton, and they share a beautiful daughter together.
Quinn – Sister
Quinn's date of birth is captured as the 8th of December 1984 and like her siblings, she also followed a career path in the movie industry. Her last project was in 1993 when she made an appearance on the set of The Good Son.
Christian Patrick – Brother
Born on the 30th of January 1987, Christian currently earns a living as a writer. However, before he went into writing, Macaulay Culkin's brother also had a career in front of the camera. He played Randy Parker in It Runs in the Family. Christian is a resident of New York.
Rory – Brother
The youngest among the Culkin brood Rory is equally an actor and has his date of birth captured as the 21st of June 1989. With his onscreen debut made in 1993, the last of Culkin children went ahead to appear in multiple productions. Notable among them is the Showtime show, City on a Hill where he depicted the character of Clay Roach.
Macaulay Culkin's Fall Out With His Parents
It would seem that the former child actor did not only outgrow drugs. He first decided to outgrow his parents even before he called it quits with hard substance. It all started when Macaulay was 15 years of age when he took an explosive step to officially liberate himself by removing his parents as his legal guardians.
By then, the teen had already amassed an astounding £13 million in fortune, as a result, he wanted to be the one in full control, thereby stop his mum and dad from having a say in his future. During the 90s, Macaulay Culkin attained stardom staring on the set of several movies. The cute wide-eyed and blonde-haired boy graced our screen in My Girl, Uncle Buck, Richie Rich, including the Home Alone franchise that was the favor of the 90s.
After he hit the big time, Macaulay's parents Kit and Patricia quickly quit their jobs in order to have enough time to oversee the youngster's movie career. With Culkin earning as much as £6million per movie, his mum and dad were said to be pocketing 15 percent of their son's paycheques.
Macaulay Opens Up About His Feelings On His Parents Taking A Cut From His Earnings
The rumors about the movie star's fall out with his parents were already making the rounds for a while before he finally opened up to express his feelings about the whole issue. In an interview session with Esquire, the former juvenile actor reflected that the whole situation sucked but could have been even worse.
According to Macaulay Culkin, he legally took his mum and dad's names off of his trust fund and replaced them with an executor, someone to assist in looking over his finances. He said he had to tow that line just in case anyone wanted to interfere. Culkin said, before he knows what was happening, speculations were already running rife that he divorced his parents. However, he added that he just thought he was doing it cleanly – taking their names off, so his opinion will be unbiased. And when he did that, the whole thing ended a lot faster.
Macaulay Culkin Has Had His Share Of Failed Relationship in The Past
As rocky as his lifestyle went the former juvenile actor isn't gay, Culkin still has his way in charming the ladies and was involved in a few relationships. The celebrated entertainer actually went all the way to the altar on one occasion.
Rachel Miner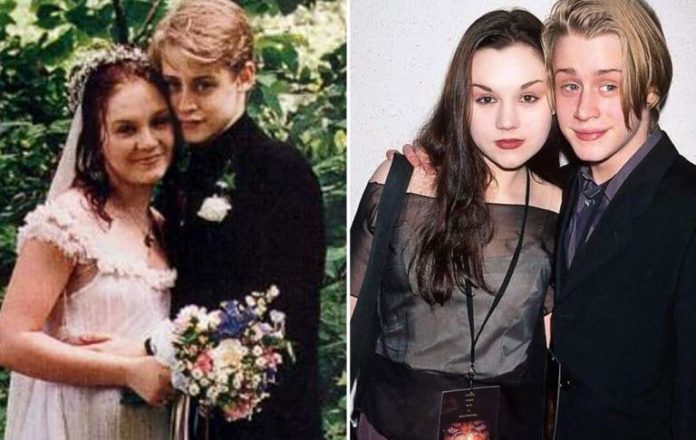 He was married for 4 years to actress Rachel Miner. The duo exchanged the commitment vows on the 21st of June 1998 after dating for a while. One interesting fact about their marriage is that they were barely out of their teens when they said "I do", both Rachel and Culkin were 18. Their union was far from peaceful as it lasted only a couple of years, leading them to separate in 2000. However, while they were still together, the husband and wife purchased a $1.7 million 5200-foot loft on lower Broadway in Manhattan; this was in November 1999. The couple's divorce was finalized two years after their separation in 2002. Rachel and Macaulay Culkin were 20 at their separation and 22 at their divorce.
Mila Kunis
We wouldn't be wrong to say that the ink was barely dry on his divorce papers before the former child star hooked up with another actress. This time, it was the turn of Mila Kunis; they became a couple in May 2002. Theirs seemed to be a long-distance relationship because as of 2006, we got to hear that Kunis was living in Los Angeles while Macaulay was a New York resident. However, on the 3rd of January 2011, confirmation of their ultimate separation came from Kunis's publicist who let on that the couple called it quits with their relationship seven months earlier. The publicist also said that they have remained friends as their split was an amicable one. The Kunis/Macaulay dalliance takes the credit for being the actor's longest relationship so far. Macaulay also dated actress, model, and singer, Jordan Lane Price briefly.
Brenda Song
The latest in the former actor's line of girlfriends is Brenda Julietta Song his Changeland co-star. Born in Carmichael, California, on the 27th of March 1988, Brenda is an American national. The star of Changeland began acting in 1994 and has graced our screen on the set of several notable productions such as The Suite Life of Zack & Cody, Phil of the Future, New Girl, and Scandal. She was the star of Netflix's movie Secret Obsession, appearing as Jennifer Williams. The couple met in 2017 while filming Changeland. Their relationship seems to be going fine, though they have kept it away from the prying eyes of the public.
However, it was let on that they now co-habit, share a lot of pets, and are actively trying to have a baby. Brenda and Macaulay are obviously not the type of couple to gush about each other on social media as you will rarely find pictures of the couple on each other's social media account. After years in the spotlight, Macaulay Culkin appears to have found his place in the world. The former juvenile entertainer has a happy life, a beautiful girlfriend, and a career that fulfills him. He is the owner of the comedy website Bunny Ears and runs a podcast of the same name. Mack owns a video channel and sells merchandise. He also plays the kazoo on the comedy rock band The Pizza Underground.
Macaulay Culkin's Addiction To Hard Drugs Led To Several Issues
The news of Culkin's drug habit started infiltrating into the public arena through rumors. Besides, in 2012, snaps of the former juvenile actor looking frail and gaunt surfaced on the internet. Culkin who was seen holding an energy drink in the photo was a shocking sight to fans and the general public.
In an interview with the Guardian, the New Yorker let on that he was far from pounding six grand of heroin monthly. In a later interview, he told Esquire he loves drugs, claiming they are like old friends. The actor added that sometimes you outgrow your friends, a hint he outgrew drug. However, the speculations that he was still experimenting with heroin and oxycodone kept making the rounds.
He Was Later Arrested In Connection With Substance Abuse
Things came to a head on the 17th of September 2004 when Macaulay Culkin had a run-in with the law. The former child star was in Oklahoma City when he was nabbed by the police who went ahead to retrieve some controlled substances from him. What the cops recovered from the actor include 17.3 grams of marijuana, 16.5 milligrams of Alprazolam (0.25 grains), and 16 rounds of white pills which was later identified as clonazepam (a sedative majorly used in the treatment of seizures and anxiety that can be addictive). Also in his possession were eight Xanax pills and a couple of other controlled substances.
For his crime, Macaulay Culkin was briefly jailed but regained his freedom after posting a $US 4000 ($A5005) bond. When he was arraigned in court for misdemeanor drug offenses, the star of Home Alone initially pleaded not guilty but reversed the plea to guilty as the trial progressed. His case lasted from October 15, 2004, to June 9, 2005, at the end of which he received three one-year suspended prison sentences with an order to pay the sum of $540 in fees.
When Macaulay finally admitted that he was involved with hard drugs, the actor was quick to claim that it was not as much as the media had been reporting. The movie star later came out to declare that he had come clean and no longer do drugs as he has outgrown them. However, Culkin admitted that he still drinks and smokes cigarettes.
Macaulay enjoyed a good relationship with late music legend Michael Jackson and when Jackson's case on child molestation and abuse came to the fore. People were quick to blame him for Mack's connection with substance abuse. However, the former child star himself came up in court to speak in Jackson's favor, saying that both of them have slept on the same bed before and nothing happened.