Mackenzie Bezos gained a good swing of popularity first from her literary works but then mostly from her personal life. She is an American novelist, journalist, and wife of billionaire founder of Amazon.com, Jeff Bezos. She has thrilled her fans in the literary world with her works which have won different awards such as the 'American Book Award' for 'Outstanding Literary Achievement' in 2006.
Mackenzie Bezos had the best of life with her soul mate and ex-husband Jeff Bezos as they had supported each other through the long periods of toil that eventually saw to their respective career boom and eventual billionaire status. While their marriage lasted, the couple also did a good deal of philanthropic works together which further endeared them to the hearts of the less privileged. They supported gay rights and have donated large sums of money to different health researches. However, all that came to an abrupt end when they got divorced.
Because Jeff Bezos' celebrity status made his wife equally popular, many soon got interested in what became of her after the troubles that led to their separation as husband and wife. Read on for all there is to know about the billionaire lady.
Mackenzie Bezos – Biography, Age
The billionaire lady was born as MacKenzie S. Tuttle on April 7, 1970, in San Francisco, California, to a financial planner father and a homemaker mother. As a child, Mackenzie loved literature and writing stories. Noticing this, her parents encouraged her by giving her the best of education for someone who wished to study journalism. She had her high school education at Hotchkiss High school, Connecticut, from where she graduated in 1988.
Her first attempt at writing happened at the age of six when she wrote a 142-page manuscript book that she called 'The Book Worm'. At that young age, it was a good achievement and was lauded by her parents. She went on to gain her bachelor's degree, with honors in English from Princeton University in 1992. As a student in the class of the famous Toni Morrison, Mackenzie excelled richly in her studies and was seen as one of the brightest students of the great scholar.
Career
Mackenzie Bezos started her career doing a variety of jobs including being a research assistant to Toni Morrison, which turned out to be a great learning experience after college. In her interviews and writings, she considers Morrison as her role model and a guru which by all means is true. Mackenzie Bezos published her first book which she titled 'The Testing of Luther Albright', in 2005. For someone who had the penchant for writing from since she was a child, it sure took her a long time to publish a work. However, the writer has explained that it took her ten years to complete the work because she had to put a pause on her passion to help her husband set up Amazon.com.
As her first book earned a huge recognition, many expected a second book to follow, but it was not until 2013 that she launched her second book titled 'Traps'. She has also written a review on the book 'The Everything Store: Jeff Bezos and the Age of Amazon'. Her works have been recognized on prominent platforms; her novel, 'The Testing of Luther Albright' was named 'Los Angeles Times' book of the year and the novel went ahead in 2006 to claim the American Book Award for Outstanding Literary Achievement.
Through all of this, Mackenzie Bezos has not backed down on her career as she keeps putting up her very best through the years. In 2014, she founded an anti-bullying organization, 'Bystander Revolution'. The website was dedicated to releasing videos of students, celebrities who were all united in discussing the best possible approach to dealing with bullying.
Kids and Life as Jeff Bezos' Wife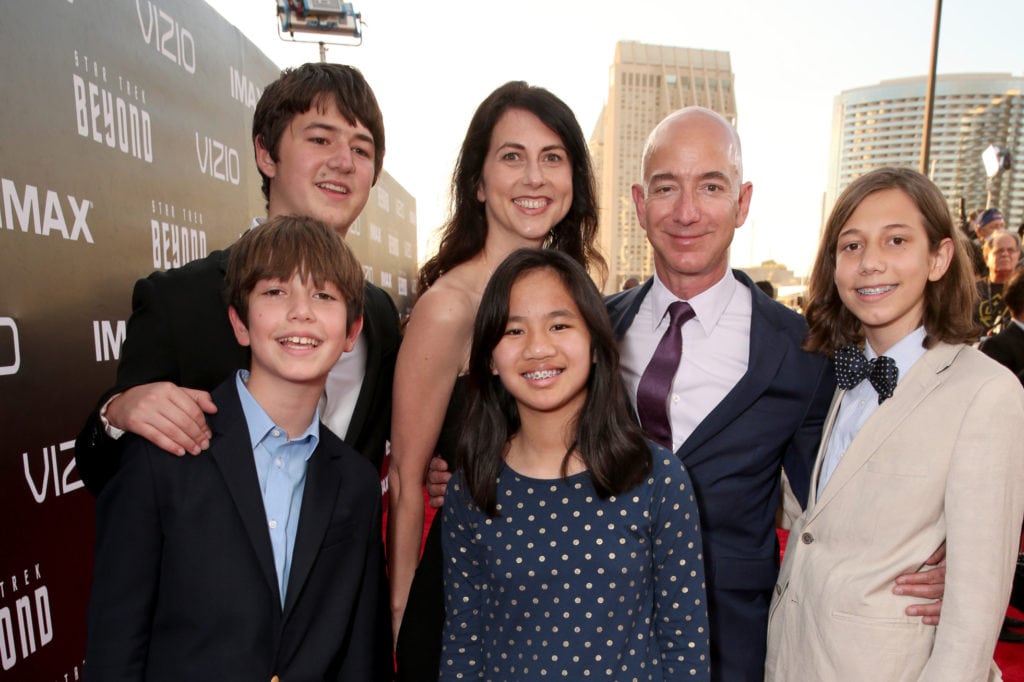 Mackenzie Bezos met Jeff Bezos while working under him at the New York City hedge fund company, D.E. Shaw in 1992. They took a liking to each other almost immediately and dated briefly before going ahead to tie the nuptial knot in 1993. Thereafter, they moved to Seattle, Washington. It was at this point that greatness was built as her husband Jeff Bezos kicked off with his online marketing business which turned out to be the world's largest online retailer, Amazon.com.
Jeff and Mackenzie Bezos have three sons together and an adopted daughter. On January 9, 2019, Mackenzie and her husband Jeff Bezos announced via Twitter that they are heading for a divorce. On April 4, 2019, the divorce was finalized with Jeff keeping 75% of Amazon stock and Mackenzie getting $35.6 billion in Amazon stock.
See Also: Jeff Goldblum Wife, Son, Height, Age, Net Worth, Ethnicity, Gay
Net Worth
With the divorce from her ex-husband finalized, Mackenzie Bezos' earnings and net worth has grown to a whopping $35.6 billion which automatically made her the third richest woman ranked among the richest people in the world. The settlement keeps Jeff Bezos in control of the voting rights of the business conglomerate, Amazon but still leaves Mackenzie with enough vote to serve as her settlement and right in the company.
Height
The mother of four has not failed to keep fit as she has maintained her trim physique over time. In her recent release of videos and pictures via her social media handle it seems she is not aging at all. She stands at a height of 5 feet 7 inches.