You may not recognize the name Macklemore, but chances are his ferociously catchy hit song and chart climber Thrift Shop is one of your favorites. From being fired at every high school job because of an attitude problem to being rejected by several colleges, the seemingly easygoing, laid-back rap star defiantly took his fame and success in the music world by force without waiting on anyone to bestow it on him.
Not only is the multi-award winning rapper changing the music scene with his lyrics, he hopes to soon be a pop culture phenomenon. Backed by his close-knit team, strong support network and ever-growing fan base, here are lesser known facts about Macklemore whose success has undoubtedly ruffled major labels.
Bio, Early Life
The Seattle-based indie rapper was born Benjamin Hammond Haggerty on June 19, 1983, in Kent, Washington. Macklemore and his brother Tim were born to Bill Haggerty and Julie Schott. Ben always had a flair for music from a young age. Influenced largely by East Coast underground hip-hop, he was inspired to begin writing his own lyrics by age 14.
He attended Nathan Hale High School where he was part of a hip-hop group called Elevated Elements. Ben's stage name can be traced back to his teenage years in high school when he was given an assignment in a graphics art class to invent a superhero and 'Professor Macklemore' was born, and the name eventually stuck. Though Ben initially used the name on his first few tracks and mixtape, he eventually dropped 'professor'.
Macklemore later attended Evergreen State College where he graduated from in 2009. Longing to reach the younger generation through his music, the rap star joined a project focused on education and culture, where he used his musical skills to organize music workshops.
Career Breakthrough
It is almost impossible to speak of Macklemore's success without mentioning his right-hand man, Ryan Lewis. Macklemore and Ryan are a duo who met since 2006 and later became future collaborators. In fact, the musical brand Macklemore officially began as 'Macklemore and Ryan Lewis'. The duo met when Ryan was just a photographer hired to shoot Macklemore. They went on to collaborate on a couple other projects and eventually became producer and artist. They have since continued working together as a package and team.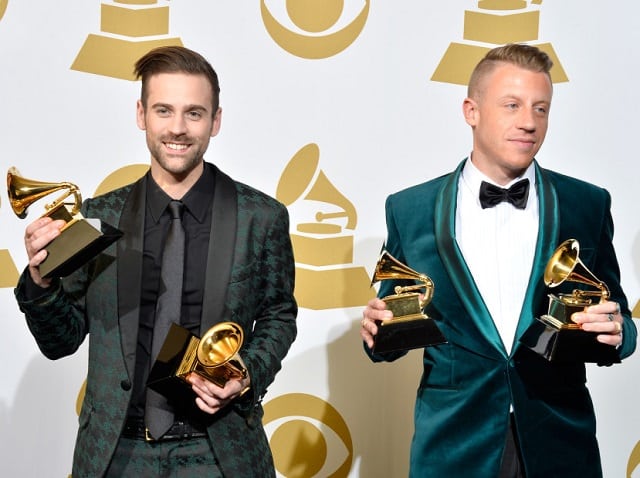 After several singles and EP, Macklemore and Ryan Lewis released their debut album The Heist in 2012 which peaked at number 2 on the US Billboard 200. Macklemore's musical breakthrough is undeniably his 2013 catchy hit song Thrift Shop which was literally everywhere. Not only did it peak at #1 on the Billboard charts, it topped digital downloads, as well as hip-hop and pop charts. The song attained almost impossible feats as it was released independently, with no major record label backing it but still climbed to the top. The duo's second album This Unruly Mess I've Made released in 2016 was also a success. The next year, Macklemore and Ryan Lewis amicably went their separate ways. They are now both focused on their individual careers.
See Also: Is Ricky Martin Gay, Who Is His Husband, Boyfriend, Partner, Kids, Net Worth?
The talented artist is a multi-award winner whose works have been appreciated by both fans and critics alike. Out of 64 prestigious award nominations, Macklemore has won 21 of them including 4 Grammys, 2 AMAs, 2 Billboard Music Awards, 5 MTV Awards, a BET Award, and many more.
Net Worth
For an independent, unsigned and self-made rapper, Macklemore earns a modest living for himself and has established his status as a successful star. With a couple of smash hits, two successful albums, and multiple sold-out tours, the rapper has amassed nearly a $20 million fortune for himself. His current net worth is estimated at $18 million.
Macklemore Wife, Is He Gay?
Given that Macklemore is also famously known as an outspoken advocate of LGBT rights, his sexuality has been questioned. However, his dating history should be a pointer to the obvious. Through his rocky path of fame, musical breakthroughs and multiple awards, Macklemore has had a backbone who has worked with him behind the scenes. Ben Haggerty's wife Tricia Davis, has been there for him for over ten years and still counting. The pair who began dating back in 2006, met online via MySpace and in January 2013, after 7 years of dating, Macklemore popped the big question. The lovebirds courted until June 27th, 2015 when they secretly tied the knot. They later revealed that the reason for their long journey to the altar was because they were waiting for the Supreme Court to rule in favor of same-sex couple marriages.
Tricia has stuck with Macklemore through thick and thin, especially during his addiction days. More so, she has been a major part of her beau's career as she often directs his videos and handles merchandising. The couple is happily married and together, they have a daughter Sloane Ava Simone Haggerty who was born on May 29, 2015.
Here are Facts You Must Know
Unlike most artists, Macklemore's success story is different. He is completely an independent artist who has never been signed to any record label since his music career began. As an artist who wants to be his own boss, Macklemore has his own record label – Macklemore LLC, which against all odds has taken him to the top. Despite all their success, Macklemore and his entrepreneurial collaborator Ryan Lewis remain unsigned. In other words, they are the first unsigned artists to reach #1 on the US Billboard chart in more than a decade.
The rap star struggled with both drug addiction and alcoholism in his youth especially when his career was just kicking off. But in 2008, he checked into rehab following an intervention from his father but relapsed in 2011. He has been sober since then, although he admits its been quite difficult to maintain his sobriety given his current fame. With the signs looking good, the rapper hopes to continue traversing the rocky path of fame, stay sober, continue to break down barriers and change the world one rap at a time.
Macklemore loves to see himself as far more spiritual than religious. Interestingly, the rapper discovered his spirituality back in his teenage days through mushrooms. According to him, the discovery opened up his imaginations, made him see the universe in a different way, and helped him realize he had a connection with a greater force.
The rapper is a huge baseball fan and has got a major love for the Seattle Mariners, his hometown team. He has even expressed his love for the sport in one of his songs.