Several aspects of Macklemore's life are truly inspiring. Firstly, The Seattle-born rapper whose real name is Benjamin Hammond Haggerty overcame some highly-troubled formative years, as well as a debilitating drug addiction, to burst onto the music scene. Since then, he has gone on to drop several hit songs including Thrift Shop, Glorious and Same Love.
He has also won a host of accolades, including at least 4 Grammys, 2 AMAs, 2 Billboard Music Awards, 5 MTV Awards, a BET, and has made history as the first unsigned artists (together with Ryan Lewis) to reach #1 on the US Billboard Chart in more than a decade.
Throughout this rollercoaster ride, one person that has unflinchingly stood by Macklemore is girlfriend-turned-wife Tricia Davis. The two commenced their relationship during the rapper's troubled years and faced a lot of opposition from their close ones. They however stuck together as Davis helped mastermind her man's success. The two have now weathered the storms and are reaping the benefits of a blissful family life.
How Tricia Davis Helped The Rapper Overcome Drug Addiction
Macklemore first met fellow-Seattle native Tricia Davis via the social networking site, Myspace, in 2006. At that time, the rapper was still struggling to make headway in his music career while Davis worked as a nurse. The two took to each other immediately and commenced a relationship. Their romance bloomed for the next two years but the couple soon ran into troubled waters due to the rapper's drug addiction issues.
The young man had a long history of substance abuse, which started when he was about 13 or 14 and would spend after-school hours drinking copious amounts of hard liquor. He later progressed to the intense synthetic heroin, OxyContin, and his problems only got worse. Macklemore hid this addiction from his girlfriend as well as his family but it eventually manifested in the form of his selfish and uncaring attitude which threatened to wreck the romance.
This served as a wakeup call to the young man, and encouraged by his father, he went into rehab in the year 2008. Davis could have easily thrown in the towel and moved on with her life, especially because her family despised the relationship. She however decided not to do so as she saw that her boyfriend was truly gifted in his craft. She, therefore, stuck by him through the rehab and the rapper came back ready to face his music career.
Davis' Contributions To Macklemore's Career Success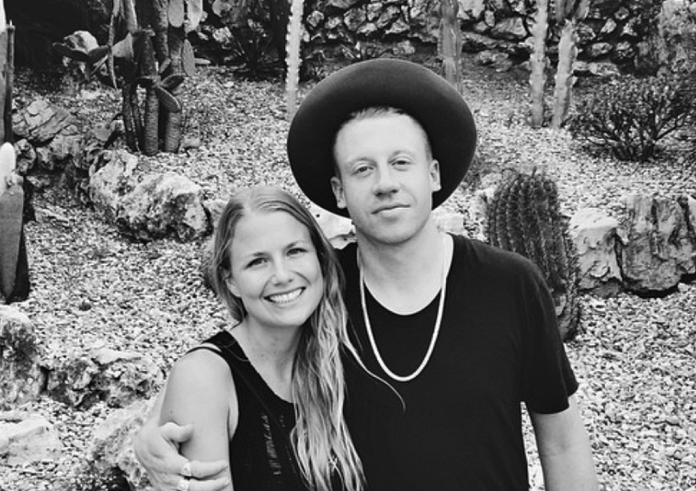 On getting out of rehab, Macklemore refocused on his music career and joined hands with his collaborator/producer, Ryan Lewis, to release several singles and one EP in the next four years. These songs only achieved minimal success but the duo soldiered on, performing at scantily-filled shows for peanuts. Through it all, Tricia Davis was not only there for her boyfriend but took an active part in his career. She made artistic contributions to his work and also helped out at concerts.
The couple didn't have much but they were fulfilled and their hard work paid off in the year 2012 when Macklemore and Ryan Lewis released their debut album, The Heist. The album peaked at number 2 on the US Billboard 200 and the duo immediately followed it up with the 2013 catchy hit song, Thrift Shop, which was everywhere. Not only did it peak at #1 on the Billboard Hot 100 charts, it also topped digital downloads, as well as hip-hop and pop charts, all without a major record label backing it.
Since then, Macklemore and Lewis have gone on to drop another album before taking a hiatus. The Seattle-native has now forged on solo, and has continued to record major milestones, and Davis is with him every step of the way. She serves as the tour, merchandise, and artist manager for his eponymous record label. In this capacity, she heads a small management team and coordinates issues relating to branding, marketing, and public relations. The lady has also managed some of her husband's successful tours; dealing with merchandise, travel booking, weekly reports, and financial settlements.
As a result of this, the couple get to be together most of the time and enjoy their romance. It has however not been all smooth-sailing. Macklemore has relapsed on two occasions, 2011 and 2014, but with the help of Davis as well as 12-step treatments, a supportive sober network, and professional treatment, he has been able to get back on his feet. The rapper is now an outspoken advocate on the issue of substance abuse. He has rapped about it in his 2016 single, Drug Dealer, and even appeared in President Obama's weekly presidential address to talk about it.
The Couple Got Engaged In 2013
After seven years of dating, Macklemore and Trisha got engaged in January 2013 with the rapper sharing the good news on his Instagram page and describing his girl as the love of his life. The news of this engagement reverberated around the world as many of his admirers agonized over the fact that he was now off the market. Others were, however, more interested in when the couple would tie the knot and so began the frequent interrogation on the issue.
The rapper deftly avoided the interrogation but on the occasion that he couldn't escape it, he pointed out that they were as good as being married since they already live together. Such an answer served no purpose in dousing the curiosity and it persisted until the couple tied the knot on the 27th of June 2015.
They however hid the news for about a month before going public in an Instagram post shared by Trisha. She revealed that they waited until the Supreme Court legalized marriage for everybody, same-sex marriages, before taking their vows.
They Are Now Parents To Two Girls
Trisha and her husband have been legally married for about five years now and have welcomed two daughters. Their first is Sloane Ava Simone Haggerty, who was born on the 29th of May 2015 while their second, Colette Koala Haggerty, was born in March 2018.
Macklemore is smitten with the three women in his life and never fails to shower them with love. The rapper is also determined to raise strong ladies and penned a song for his firstborn titled Growing Up in 2015. In the single which featured Ed Sheeran, the rapper described his wife as the toughest person he knew and states that he wants to raise his girls to be just like her.
See Also:  New Details About Trey Songz' Baby Mama, His Relationships and Why Many Think He Is Gay
Truth About Macklemore's Rumored Romance With Ryan Lewis 
Given that Macklemore is an outspoken advocate of LGBT rights, his sexuality has been questioned. These questions first reared up its head in the early 2010s when he and then-collaborator, Ryan Lewis, released their same-sex-themed song titled Same Love in 2013.
As the single celebrated gay rights and was done by two males, some people jumped to the conclusion that the duo was gay and possibly dating each other.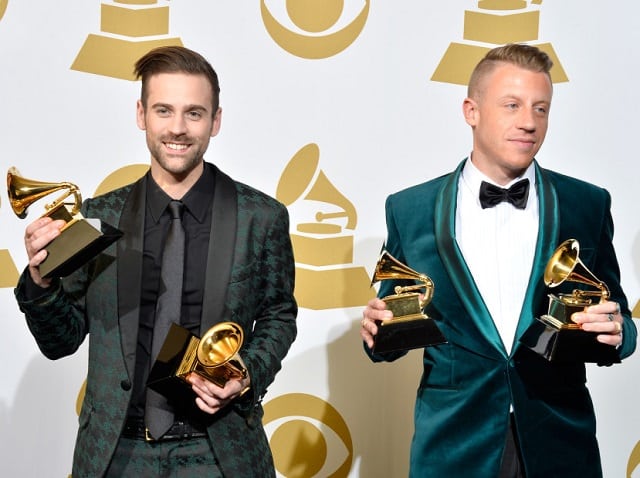 The internet ran with it so much so that when they appeared on the Chelsea Lately Show in December 2013, they were asked about it. The pair maintained that they were not gay but Macklemore went ahead to confess that he was a bit confused about his sexuality as a child. According to him, he loved watching the Broadway musical, Cats, as a kid and thought he could be possibly gay.
The Rapper Remains an Unapologetic Supporter of Gay Rights
Macklemore is not gay but he is an unapologetic advocate for gay rights. He talks about it every chance he gets and he and his wife waited for the Supreme Court to legalize same-sex marriages before having their wedding.
The rapper also continues to perform Same Love at various concerts, both in and outside the United States, despite pressure from some quarters.
Performing Same Love at the #NRLGF was one of the greatest honors of my career. Thank you @NRL for the opportunity & supporting equality

— Macklemore (@macklemore) October 1, 2017
For instance, the rapper performed the song during the National Rugby League Grand Finale in Australia in October 2017. Even though Australia's top politicians had warned him not to perform that particular song, as the country was entangled in a same-sex marriage debate at that time, the rapper went ahead to do the song.
He also boldly declared equality for all after his performance. Such courage fetched him praise from a section of fans but the political authorities weren't too pleased and they registered their displeasure.