Malcolm Ford is the son of the legendary Hollywood actor Harrison Ford, but the young guy is quite unlike his dad, especially with his appearance which is totally different. When you consider his unkempt red hair and the plethora of tattoos inscribed on his person, you will agree that he is the complete opposite of his father, besides, he followed a different career path too even though he has still managed to appear in one movie.
The young artist's talent lies in music where he is busy making a name for himself away from the shadows of his iconic actor dad. While Malcolm is yet to achieve mainstream fame, he is working relentlessly to make it to the top, a feat he might soon achieve with the creation of his promising band, Dough Rollers, who have started to gain a fair share of popularity. The band has embarked on tours with notable names like John Mellencamp.
7 Interesting Things To Know About Malcolm Ford
1. He Portrayed Himself in Water to Wine
The 2004 movie Water to Wine is centered on a young guy widely recognized as the best snowboarder worldwide until he finds himself in jail. Malcolm Ford depicted his own character in the movie, same as some other members of the cast. However, the only exception is Harrison Ford, Malcolm's real dad, who played a leading role in the movie, portraying the character of a bus driver called Jethro. The film, which is written and directed by Willie McMillon, happens to be the only production where Malcolm has appeared so far.
2. He Has Many Siblings
Malcolm Ford has numerous siblings from his father's multiple marriages. Harrison Ford was first married to veteran chef Mary Marquardt; with whom he had two children; Ben and Willard Ford. Willard grew up to become a fitness trainer with his own gym located in LA while Ben earns a living as a successful restaurateur and chef, just like his mum. The artist's only direct sibling is his sister Georgia Ford who towed the same line as their dad. She is currently creating a niche for herself in the movie world with productions like American Milkshake and True Story to her credit.
However, Malcolm Ford's dad has since embarked on a third marriage with actress Calista Flockhart. He has gone ahead to adopt the actresses son Liam who is now the artist's stepbrother.
3. He is a Part of a Band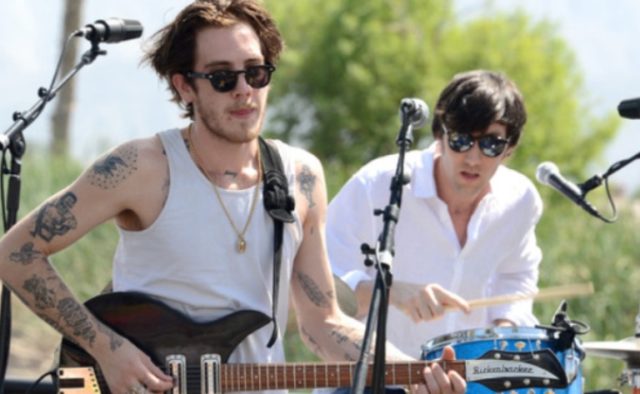 Though he did not follow the same path with either of his parents, Malcolm Ford still received some creative genes from them. He has decided to follow a profession in the music world and currently belongs to a band known as The Dough Rollers where he serves as the lead singer and back-up guitarist. The band's co-founder, Jack Byrne, further contributes with vocals and also plays the guitar. The band has been around for quite some time and are signed to Third Man Records.
4. His Mum Died in  2015
Like her husband, Malcolm Ford's mum, Melissa Mathison, was also part of the entertainment world where she worked as a screenwriter. Some of her work includes Black Stallion, The Indian in the Cupboard, The BFG, Kundun, and E.T: The Extra-Terrestrial. Unfortunately, Melissa died in LA on the 4th of November 2015 as a result of complications from neuroendocrine cancer.
5. He Is a Fan of Tattoos
Unlike his father who has what can be described as a clean-cut look, the vocalist is the typical rock star with his untidy red hair and a good number of tattoos on different parts of his body.
6. His Net worth is Inching Towards a Million
Malcolm Ford may not be in the same league as his dad who is part of the crème de la crème of the entertainment world, but he is painstakingly building his own wealth which is believed to be close to $1 million. This is nothing compared to his father's net worth of $230 million but the young man has time on his side.
7. Malcolm Ford's Relationship History
Despite all the differences, Malcolm still has something in common with his father. Both keep the details of their personal life under lock and key, however, it is public knowledge that he had a romantic relationship with model Jessica Stam the same year that his music career took-off.