Malina Weissman is an American-born actress and model. The lovely celebrity is mostly known for playing the role of April O'Neil in Nickelodeon's Teenage Mutant Ninja Turtles. Others know her as Violet Baudelaire, a role she played in Netflix's sensational series, A Series of Unfortunate Events. The model in the course of her career has been linked to brands like Calvin Klein and Ralph Lauren. This young actress has a beautiful family and siblings. Discover who her family members are and how old she really is in this article.
How Old Is Malina Weissman Now?
Like every other person, the age of Malina Opal Weissman can be calculated from her date of birth, she was born on March 12, 2003. She grew up in a family that's supportive. Her sister is an Instagram celebrity who always keep her page busy with fashion, lifestyle, and other kinds of contents to entertain her numerous followers.
Although many facts about this talented actress who speaks three languages (German, Spanish, and English) are unknown, we know that her mother is also a model. Therefore, it was not out of place for the beauty to follow the path set by her mom, although she had yearned to be a veterinary doctor.
Malina Weissman who was mostly home-schooled wasted no time in clinching a modeling deal with the company which her mother modeled for. The age of this youngster has not deterred her from achieving a good number of feats and more exploits are still expected from her in no distant time.
The young Weissman started off her modeling career as early as when she was eight years. Apart from being represented by the same modeling agency that her mother works for, Malina Weissman has also modeled for some high profile clothing brands like Calvin Klein, Ralph Lauren, and Levis.
She made advertorial appearances for Purell, Maybelline, My Little Pony, amongst others; before she vied into the small and big screens as an actress. Malina Weissman made her debut in acting in 2014 when she was featured in the animated heroic sci-fi, Teenage Mutant Ninja Turtles. She played the role of April O'Neil. She has also appeared in movies like Nine Lives (2016) and Thirsty (2016).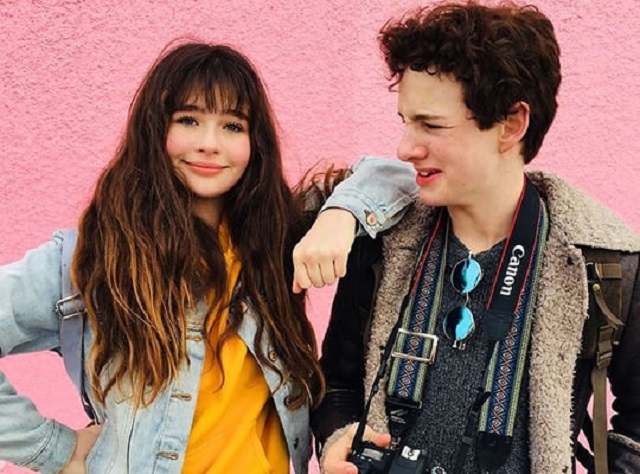 The New York-born actress attained a new level of stardom when she was featured in Netflix's sensational TV series – A Series of Unfortunate Events. In the series, she played the role of Violet Baudelaire. Although Malina has not had many films and series to her credit, she's already a household name in the industry. It is believed that she's already worth $6 million and this is only the beginning of her rise.
Who Are Her Siblings and Family Members?
This actress has not really said much about herself, though we know she has an elder sister named Ayla Weissman who shares the same birth month and day with Malina. Her sister is an Instagram sensation and model. The names of her parents have not yet been disclosed to the public but as time progresses, we are sure that the information and many more will be unveiled.
From her social media interactions and posts, it clear that Malina Weissman has a strong bond with her family as she had on some occasion celebrated them openly. The outspoken lady never fails to gush about her family members on her social media pages. On the 12th of March 2018, she took to Instagram to gush over her sister and also shared some childhood pictures of theirs.
This Weissman is known to be an animal lover, her fondness for animals especially dogs are seen on Instagram, and she regards them as family.
Other Facts About Malina Weissman
Who Is Her Boyfriend?
Malina Weissman has not publicly dated anyone. Although, there was a time it was rumored that she was having an affair with Louis Hynes, her co-star in A Series of Unfortunate Events. The two debunked the rumor and made it clear that they are just friends. As it stands now, it seems our young actress is more focused on building her career first, than starting a relationship.
See Also: Is Natalie Martinez Married or in a Relationship, How Old is She?
Social Media Presence
Malina's social media presence is commendable. Her Facebook, Instagram, and Twitter handles are verified. They have racked up a sizable following in thousands.
Height and Body Measurements
The petite lady stands at a height of 5 feet 4 inches (1.63 m), and her weight is said to be around 43 kg. The rest of her body measurements (bust, waist, and hips) are 28, 20, and 28 inches respectively.
The captivating Weissman has lovely dark brown hair and sparkling blue eyes that sends admirations her way.